Hotel Development in the 21st Century: Adapting to a New Real Estate Landscape
By Jim Holthouser Senior Vice President Brand Management, Embassy Suites Hotels | November 14, 2010
Co-authored by William Fortier, Senior Vice President, Development, Americas, Hilton Worldwide
Looking at the global landscape, we've seen North America fall behind in hotel development over the past couple of years, but a gradual turnaround is now in progress. While still slow, development is starting to pick up as occupancy levels increase, raising the potential for a healthier ROI and attracting new owners to venture into the hospitality business and existing ones to expand their portfolios. Historically, there's a two-year cycle that follows a downswing in this industry, and we're about a year into that cycle. I think we can anticipate a greatly improved investment outlook by the fall of 2011.
Without doubt, it's been a tough time for new hotel owners, and the continued volatility of our economy makes financing a challenge still. At Embassy Suites we encourage owners to be creative and to design targeted strategies for attracting multiple lenders and securing loan assistance. We work with them, also, to keep construction costs manageable, and to contain them through an innovative approach without cutting corners or sacrificing style.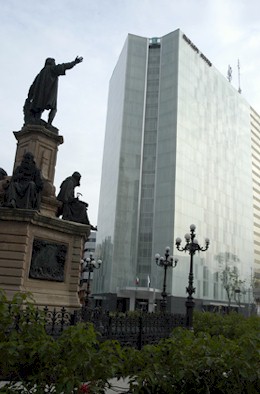 Embassy Suites Mexico City
Our own Kit of Parts system supports maximum versatility in layout and in the design process; and Design Option III is a hotel prototype that makes investment dollars go a long way and sparks a faster ROI. Both Design Option III and the Kit of Parts address the increasing difficulty of finding a plot of land well-suited for a new-build hotel project. As land prices soar, so the properties available become progressively more challenging-smaller, for reasons of price, or perhaps because of the location when the setting is a metropolitan city-and often irregular in shape, defying any concept of building at 90˚angles. The land a developer chooses will naturally determine whether the hotel will be an expansive three-story structure spread over a couple of landscaped areas in a rural setting, or a sleek downtown high-rise elevated on a mere 8,000 square feet with just seven guestrooms per floor.
In the second scenario, and in a market where corporate travelers make up the majority of business, Design Option III can be tweaked to incorporate Embassy Suites' new one-room suite design, introduced to developers last year. The redesigned room option is spacious – approximately 370 square feet – and features the same amenities as a traditional two-room suite: a living area, wet bar, bathroom and bedroom area. While it is geared toward business travelers, developers also benefit from the new design, which packs more rooms into a conventional Embassy Suites footprint. Developers can allocate up to 20 percent of the guestrooms as one-room suites. When the owner takes the incremental number of rooms and multiplies it by rate and occupancy over the lifetime of the franchise agreement, that owner really sees an impressive jump in the ROI of the property.