5 Customer Loyalty Tips that You May Not Know About
By Jim Holthouser Senior Vice President Brand Management, Embassy Suites Hotels | May 22, 2011
At Embassy Suites, we respect the old saying "the customer is king," but we recognized early on that it takes a lot to bring that simple saying to life, each and every day. In our brand's earlier years, we focused on mastering the fundamentals of customer service, because we are true believers that before you can earn customer loyalty, you must have the basics down pat.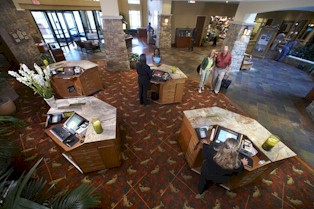 If your hotel is not spotless and your front desk employees are not hospitable and welcoming, there aren't any tricks in the book that will keep customers returning to your hotels. Now that we've built a strong foundation, we live by the following five guidelines that help us build loyalty and obtain real results for our hotels' bottom lines.
1. A fanatical focus on consistent execution of the brand pillars at every property
If you ask our guests what keeps them coming back to our hotels stay after stay, we're confident many of them would mention at least one of our brand pillars – two-room suites, free cooked-to-order breakfast, nightly Manager's Receptions serving complimentary beverages and snacks, and an atrium or open public area that provides a sense of space, light and nature. The brand pillars allow us to differentiate the brand in a crowded marketplace and create an incredibly strong value proposition for guests. While these factors certainly impact customer loyalty, we think it's the special attention that we pay to the execution of these brand pillars at every property that makes a difference. The fanatical focus on consistent execution of the brand pillars gives us confidence that guests will have a positive experience time and again, no matter which of our 200+ properties they visit throughout the Americas. We're so focused on maintaining these standards, we'll turn down new deals if a developer doesn't agree to incorporate these elements, because we know guests count on us to deliver this hallmark experience.
2. Acknowledge and recognize your repeat customers
Everyone likes to walk into a party or get-together and have that feeling of being recognized and known. At Embassy Suites Hotels and across the Hilton Worldwide portfolio of brands, we strive to bring that special experience to life for our customers every time they walk into our lobbies. Through proprietary tools like our Hilton HHonors loyalty program and Customer Really Matters (CRM) technology, we have the ability to acknowledge and recognize our repeat customers in a highly personalized fashion. From seeing if they have stayed at a Hilton Worldwide property within the past 12 months to having visibility into any issues that might have occurred at a past stay, we empower our front desk employees to create a tailored experience for all of our repeat customers. The extra bit of personalized service goes a long way when it comes to customer loyalty.