Hotel Garden: Tips on showcasing your garden beds and plant design
By Ken Hutcheson President, U.S. Lawns | December 02, 2012
In today's economy, it is important for hotels to find something that makes them rise above the competition and provide a unique experience; yet one of the most oft overlooked areas is the property grounds. Not only can a beautiful garden showcase your property but it can also be a simple and cost-effective way to differentiate your hotel from the competition. Careful selection of plant varieties and regular maintenance can help keep the landscape within budget while still showing the hotel's property in its best light. By choosing varieties that are hearty and that last for years, there is a cost saving benefit of not needing to replace plants with every season change. And adding varieties native to the region will ensure that the garden thrives in its local climate and environment. There are often many appropriate varieties that are colorful, tasteful and professional, and that can be nicely accented with themed features to create a motif unique.
Marrying budget and beauty can seem like a daunting task, but appearance does not have to come at the cost of practicality. Cost-savings can come from many sources in plant selection and garden maintenance and add both short- and long-term benefits to the hotel property. Simply choosing the proper major foundation pieces that have a long lifespan—such as colorful shrubs and evergreen trees—can allow for up to 15 years of life before replacement is necessary. By working around the mainstay foundations pieces, a rotation of seasonal or perennial flowers can round out the aesthetic, leaving the hotel garden with a consistently updated and well-maintained appearance.
Deciding which elements to incorporate is essential to ensuring cohesion and consistency throughout any landscape. Gardens can be regional or hotel-image specific, and can include elements such as color-specific plants which showcase the hotel's brand colors or the natural flora of the hotel's aesthetic theme. For example, Asian-inspired hotels may choose to decorate their exteriors with plants like bamboo, jasmine or lotus instead of species native to the hotel's location. For more urban properties, a sense of privacy can be created by selecting tall growing plants and denser shrubs. After specific elements are chosen, your landscape professional can help incorporate those elements to highlight certain areas, plants or features and create layers in the finished product.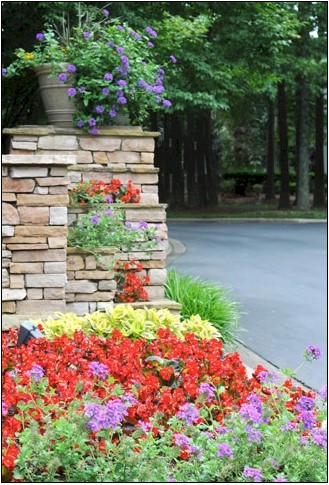 Areas to consider highlighting include pathways, fountains, seating areas or any other guest access area. Adding landscape elements such as flower beds or planters can lend a finished look to the hotel's landscape and provide a sense of serenity. It is important when planting along pathways to choose plants that won't hinder access or create hazards, such as low-lying branches or thorns.
Another way to showcase a garden in the most favorable fashion is to combine a variety of fauna that are both robust and vibrant. Mixing evergreens with seasonal flowers creates a continuously bright and floral garden throughout the year. Keeping perennials in a garden bed is a practical and budget-friendly as they bloom for years without needing to be replaced. Additionally, it is helpful to select plants that are native to the environment and that will require less care and watering than other varieties. For example, hotels with locations in the American south can choose to use irises, black-eyed susans or phlox while a hotel in the Pacific Northwest may select lewisia, columbines or camass. Native plants are less susceptible to seasonal climate changes and inclement weather and selecting indigenous varieties creates a natural and authentic looking landscape.
Using a variety of plant types, forms and colors is a clever way to bring depth to the property's landscape. These differences can help create texture in a garden while providing a more interesting presentation. For example, pairing rougher foliage with delicate flowers can bring a unique texture, but when combined with intertwining complimentary colors of blooms it can make a bold statement. Alternatively, weaving a pattern of greens can help to create a 'carpet-like' look to any exterior. Incorporating different plant sizes and heights can help build a visually pleasing and variegated appearance. Smaller trees or dwarf varieties can be excellent cornerstones to any garden and help establish a backdrop on which to elaborate with different colors and forms.
Please Login to read the full story, or you can Get Free 30-Days Hotel Business Review
The Hotel Business Review articles are free to read on a weekly basis, but you must purchase a subscription to access
our library archives. We have more than 5000 best practice articles on hotel management and operations, so our
knowledge bank is an excellent investment! Subscribe today and access the articles in our archives.