Internal Marketing Is the Key to Success at Fairmont
By Simon Hudson Endowed Chair in Tourism & Hospitality, University of South Carolina | June 22, 2014
The services marketing triangle is framework that addresses the challenges inherent in services, and can be used to assess and guide strategies for hotels, as well as provide a roadmap for implementation planning. The triangle below (see Figure 1) shows the three interlinked groups that work together to develop, promote, and deliver services. These key players-the company, the customers, and the providers-are labeled on the points of the triangle. Between these three points there are three types of marketing that must be successfully carried out for a service to succeed: external, interactive, and internal marketing. For all services, especially for tourism and hospitality services, all three types of marketing activities are essential for building and maintaining relationships. Through its external marketing efforts, a company makes promises to its customers regarding what they can expect and how it can be delivered. Traditional marketing activities facilitate this type of marketing, but for services, other factors such as the servicescape and the process itself help to establish customer expectations.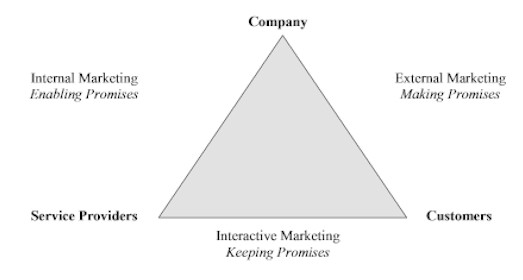 Figure 1: The services marketing triangle
(Source: Based on Zeithaml and Bitner, 2000)
Keeping promises, or interactive marketing, is the second kind of marketing activity captured by the triangle. Interactive marketing occurs in the 'moment of truth' when the customer interacts with the organization and the service is produced and consumed. From the customer's point of view, the most vivid impression of service occurs in the service encounter or the moment of truth. It is in these encounters that customers receive a snapshot of the organization's service quality, and each encounter contributes to the customer's overall satisfaction and willingness to do business with the organization again.
Finally, internal marketing takes place through the enabling of promises. Promises are easy to make, but unless providers are recruited, trained, provided with tools and appropriate internal systems, and rewarded for good service, the promises may not be kept. Internal marketing was first proposed in the 1970s as a way to deliver consistently high service quality, but despite the rapidly growing literature on internal marketing, very few organizations actually apply the concept in practice. One of the main problems is that a single unified concept of what is meant by internal marketing does not exist. Lack of investment in internal marketing may also be the result of corporate distraction. Companies that are busy trying to boost revenues and cut costs may not see why they should spend money on employees, thus missing the point that these are the very people who ultimately deliver the brand promises the company makes.
However, there is growing awareness that an effective internal marketing program will have a positive effect on service quality, customer satisfaction and loyalty, and eventually profits. The main objective of internal marketing is to enable employees to deliver satisfying products to guests. This takes place through a four-step process: the establishment of a service culture, the development of a marketing approach to human resource management, the dissemination of marketing information to employees, and the implementation of a reward and recognition system.
Fairmont Hotels and Resorts is a good example of a company that aims its marketing efforts toward its employees. Fairmont is one of the largest luxury hotel management companies in North America and has achieved great success since the brand was established in 1907. The company now operates more than 65 hotels in 19 countries with approximately 30,000 rooms and a similar number of employees. The company sees internal marketing as critical in achieving guest satisfaction, and consequently Fairmont is world-renowned for its excellent guest service. The company measures the success or failure of its internal marketing programs through employee turnover rate which is much lower than industry averages. Staff loyalty in turn encourages customer loyalty; repeat guests make up approximately 60 % of Fairmont's business.