A New Model for Global Employee Engagement
By Kimberly Abel-Lanier, Vice President & General Manager Workforce Solutions, Maritz Motivation Solutions
Engaging and retaining talented, trained workers is a critical component of success for any business in any sector. When employees are disengaged or turnover is high, organizations face challenges of subpar customer service, high costs, and human resource inefficiencies. Gallup estimates rampant disengagement among employees costs American businesses between $450 billion and $550 billion per year. High turnover also carries exorbitant costs to organizations, averaging approximately 1.5x an employee's salary for replacement.
The State of Turnover and Engagement in Hospitality
In the hospitality sector, delivery of impactful customer experiences is strongly connected to employee engagement and satisfaction. Happy, engaged employees can make happy, loyal customers. Currently; however, the hospitality sector suffers higher than average employee turnover. According to the Bureau of Labor Statistics' Job Openings and Labor Turnover (JOLTS) data, turnover in the hospitality sector grew by 10 percentage points from 56.6 percent in 2010 to 66.3 percent in 2014, compared to a 44.4 percent average across all private sector workers.(1)
Turnover is also inextricably linked to engagement, with increasing engagement serving as one of the most effective strategies to reducing churn. Analyst firm Bersin by Deloitte reported companies with programs to effectively address employee engagement saw 31 percent lower voluntary turnover.(2) That makes sense, since the number one reason employees cite for leaving their jobs, according to Gallup, is feeling unappreciated.
Understanding the impact of engagement on hospitality service and performance is a sound place to start in reducing turnover and tapping into the discretionary effort that leads to exceptional, memorable customer experiences. When employees are engaged, they are more likely to have positive opinions are their work and higher job satisfaction, which can increase loyalty and performance.
A New Model for Global Engagement
There are hundreds of models for employee engagement, most often incorporating academic approaches for improving satisfaction. When Maritz Motivation Solutions, The Maritz Institute and the Employee Engagement Awards set out to define a new global model for engagement, what we did differently was crowdsource input from around the world. Rather than a top-down academic model, the new "Global Employee Engagement Model" was created with input from HR practitioners and senior leaders as well as academic input from global experts in engagement.
The result yielded seven flexible dimensions of engagement: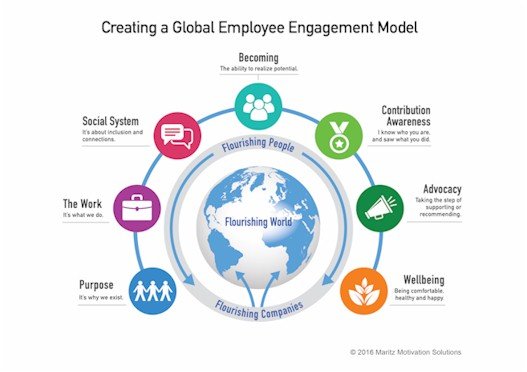 The seven dimensions address the various aspects of what employees want from their work as well as how organizations benefit when they invest in their people and recognize their employees as their greatest asset. Together, the dimensions address what helps people, companies, and our shared world flourish.
Dimension No. 1 - Purpose (Why we Exist)
Meaningful and purpose-driven work was most recently popularized as a demand of Millennials; however, everyone wants to know their contributions are valued and worthwhile. Consumer brands have long infused purpose with products and experiences and, today, many organizations have realized the benefits of incorporating and connecting purpose to work done at all levels of the organization. In the hospitality sector, for example, customer-facing employees can find meaning when they are empowered and trusted to go above and beyond to deliver experiences they can take ownership and pride in. Administrative and office workers can find meaning, in another example, when their work helps the organization smoothly deliver customer experiences that range from hassle-free travel to once-in-a-lifetime experiences. In this dimension of engagement, organizations define purpose and value propositions and communicate the impact of outstanding work effectively to employees.
Dimension No. 2 - The Work (What we do)
Whether "the work" itself is engaging is another primary dimension of engagement. Most people spend more time at work than with their families. The work itself must be satisfying or engaging in some way, its benefit communicated clearly, and its impact and perception rewarded. Do employees have input on the work they do in your organization? How is the shared, human desire for meaningful work addressed by opportunities in your company? Considering the work itself as a critical component of engagement means asking questions about the work we ask employees to do on a daily basis and making a clear connection to the impact that work has on the organization.
Dimension No. 3 - Social System (Inclusion and Connections)
The third dimension of engagement involves whether or not we feel like part of a community in our work. In a 2015 New York Times article, Adam Grant wrote(3) , "In 1985, about half of Americans said they had a close friend at work; by 2004, this was true for only 30 percent." As noted, Americans spend more time working than they do sleeping or spending time with their families. If the workplace feels transactional, it is not likely engaging employees. Instead, when organizations are intentional about inclusion and building connections, the social systems foster productive and positive relationships, where employees are contributing and advancing the organization.
Dimension No. 4 - Becoming (The Ability to Realize Potential)
Is ambition welcome at all levels of your organization? Do employees have the opportunity and means to grow within the company? Are managers equipped to identify ambition and support untapped potential accordingly? The ability to realize potential is a critical dimension of engagement in hospitality. Within the private sector, the Bureau of Labor Statistics reports hospitality had the lowest median tenure in September 2016.(4) When employees feel there is no more room to grow, they are more likely to seek opportunities outside their current organization to find the encouragement for the personal and professional growth they desire.
Dimension No. 5 - Contribution Awareness (I Know Who You Are, and I Saw What You Did)
Everyone wants to know their work is seen and appreciated - and they want to be told in a way that is genuine and personal. Top performers, in particular, want to know their extra effort and results are noted by peers, managers, and senior leaders. Instead, it is too easy for organizations focused on recognizing tenure and major milestone results to overlook daily contributions that impact teams and the way work gets done. In a 2016 report by Gallup, authors Annamarie Mann and Nate Dvorak wrote, "Acknowledging employees' best work can be a low-cost endeavor - it can be as small as a personal note or a thank-you card. But the key is to know what makes it meaningful and memorable for the employee, and who is doing the recognizing."
Dimension No. 6 - Advocacy (Taking the Step of Supporting or Recommending)
While employee advocacy is a relatively new trend supported by technology, referrals and recommendations is as old as business. Many organizations in the hospitality sector are familiar with the more modern methodology for measuring referrals - the popular (and proprietary) Net Promoter Score (NPS) model. Even more recently, technological providers like Influitive have emerged to measure and facilitate advocacy by enabling social sharing, gamifying the referral and engagement process for employees and clients. Whatever tools organizations leverage, encouraging, measuring, and rewarding referrals is a standard practice. Beyond recommending and referring, employees can also be inspired to show support for employers financially through making a choice to spend their money with the organization they work for or by giving discretionary effort to work they believe in. Organizations can return this culture of advocacy by encouraging managers to support and recommend top performers for new opportunities and new benefits as they become available.
Dimension No. 7 - Wellbeing (Being Comfortable, Healthy, and Happy)
The benefits of workplace wellness are vast and measurable - from increased productivity to decreased healthcare costs. According to a 2016 report from the U.S. Chamber of Commerce,(5) employees with low "life satisfaction" stayed home from work 1.25 more days per month than those with high scores in factors that impact wellbeing - those additional days added up to as many as 15 additional days off per year. In the same report, more than 60 percent of employers surveyed said workplace wellness programs reduced their organizations' healthcare costs. Further, employee engagement and recognition programs can encourage a healthy sense of self-worth in recipients and can improve happiness, which can improve health. It is no secret why happy, healthy employees would perform higher, with more productivity, than those who are unhappy and unhealthy. When someone feels valued by their organization, they are more likely to feel valued in their personal lives, with a clear understanding of the meaning of their work and the impact they make on others with their substantial time and energy investments per week, month and year.
Supporting Engagement in 2017
The results are in - low engagement costs Americans organizations hundreds of billions of dollars per year and leads to poor organizational performance alongside high-cost consequences like turnover, active disengagement on the job and poor customer service experiences. With the hospitality sector facing daunting high turnover rates, addressing the engagement equation should be at the top of every leader's list this year.
According to analyst firm Aberdeen Group(6) , only 14 percent of companies provide managers with the tools they need to implement rewards and recognition. With the new global model for employee engagement, leaders have at least one powerful tool in hand to empower managers as they approach engagement in 2017. Crowdsourced with input from HR professionals, academics, and experts in the field, the seven dimensions of engagement provide a flexible framework for helping employees find meaning in their work, a rewarding social system, the ability to grow and reach their potential, and more.
By connecting employee engagement to employee retention and ultimately customer satisfaction, leaders in the hospitality sector have an especially compelling case to invest in engagement this year.
References:
(1) National Restaurant Association. 2015. "Hospitality employee turnover rose in 2014." http://www.restaurant.org/News-Research/News/Hospitality-employee-turnover-rose-in-2014
(2) Bersin by Deloitte. 2012. https://www.bersin.com/News/Content.aspx?id=15543
(3) The New York Times. Grant, Adam. 2015. "Friends at Work? Not So Much." http://www.nytimes.com/2015/09/06/opinion/sunday/adam-grant-friends-at-work-not-so-much.html
(4) Bureau of Labor Statistics. September 2016. https://www.bls.gov/news.release/tenure.nr0.htm
(5) U.S. Chamber of Commerce. 2016. "Winning with Wellness." https://www.uschamber.com/sites/default/files/022436_labr_wellness_report_opt.pdf
(6) Aberdeen Group. 2013. "The Power of Employee Recognition."
Kimberly Abel-Lanier is Vice President and General Manager of Workforce Solutions for Maritz Motivation Solutions. Ms. Abel-Lanier leads the strategy and development of the company's employee recognition solution, CultureNext. Ms. Abel-Lanier is passionate about helping companies create a culture of engagement and purpose. She has over 20 years of experience in employee engagement strategies and has worked with many F500 global brands. Previously Ms. Abel-Lanier was Vice President of Strategy and Business Development at Inspirus. Before Inspirus, she was the Co-Founder and President of Prosperiti, a privately held company focused on providing enterprise performance technologies to Fortune 1000 companies. Ms. Abel-Lanier can be contacted at 817-507-7386 or kimberly.abel@maritz.com Please visit http://www.maritz.com/culturenext for more information. Extended Bio...
HotelExecutive.com retains the copyright to the articles published in the Hotel Business Review. Articles cannot be republished without prior written consent by HotelExecutive.com.