Interactive Hotel Design is All About Knowing Your Target Guest
By Eric Rahe, Principal, BLT Architects
Donna D. Lisle, AIA LEED AP and Doug Soehl RA contributed to this article
The advent of social media brought with it an important shift in the hospitality industry. Any guest's experience might be amplified to thousands of potential customers, and you want to be sure that your hotel stands out for the right reasons.
Furthermore, technology has increased competition. According to Euromonitor International, the travel industry will have the highest online payment percentage of any industry by 2020, often occurring through third-party sites that display your competitors alongside you. As a result, many hoteliers are looking to stand out by engaging customers and the experience has become more interactive than ever.
Interactive Technology
But what does this mean, really? Not only do our definitions of interactivity vary, but so also do our preferences. As such, the key to a truly interactive hotel experience is to understand your target customers and how they want to be engaged. This is especially true when it comes to hotel technology, which offers near infinite options to tailor your experience to your guests.
For hotels catering to business travelers, such tech is key to streamlining quick and efficient service. For these travelers, check-in kiosks are still king, but we are already moving towards even more advanced options. Hilton Hotels and Resorts, for instance, has begun introducing 'mobile-enabled room key technology' allowing guests to bypass the front desk entirely in favor of using a cell phone as a room key. Similarly, Near field communications, still in its infancy, can ensure that a preset room temperature, lighting, and even window shade level will be ready - per a traveler's specifications - as soon as they walk through the door. This level of control can be a real selling point to experienced travelers who know exactly what they are looking for.
For millennials, motivation is less about control and efficiency, but rather the option for customization. To this audience, interactivity means the ability to create their own experience. Despite this demographics taste for experiential travel, immersing themselves in the local culture and lifestyle, they often want to stay in a hotel that feels like "home." Customizable technology makes this balance possible.
Aloft, for instance, debuted voice activated rooms in 2016. Each room is outfitted with an iPad running a custom Aloft app, and guests can use Siri to control the temperature, lighting and more. As early as 2014, Whitbread had opened its first Premier Inn 'hub' in London. What these micro-units lacked in space, they made up for in flexibility; guests could book their stay and check in online, preload their preferred TV or radio station, and even order room service directly from an app. For a generation who dreads using their phones for voice calls, the appeal is undeniable.
Before you consider swapping your concierge desk for a tablet with a chatbot however, consider your audience. For guests who prefer a more service-oriented hotel experience, "interactive" can be much more literal - that is, the "outdated" notion that you just want to talk to a real human. Rather than pushing to stay ahead of the curve with your technology, rise to the top by investing in superior talent and service-oriented amenities such as 24-hour concierges, private drivers or in-room spa services.
Social Interactions
As hotel rooms shrink and lobbies become more exciting, it's clear that guests have developed a taste for communal spaces. Yet there is a notable difference between group spaces and group activities. Often, hotel guests want to "coexist" rather than interact directly. Previously, check-in and central spaces were simply utilitarian and existed only to serve a purpose. Now, guests want to explore their accommodations, venturing beyond their room into every corner of the hotel.
It is a fine line designing spaces that balance the energy of a group with the intimacy that guests crave, but it can be accomplished with thoughtful additions that allow them to engage in solitary activities side by side. Libraries and reading rooms are examples, such as The Logan Hotel's Commons Lounge & Library, complete with billiards.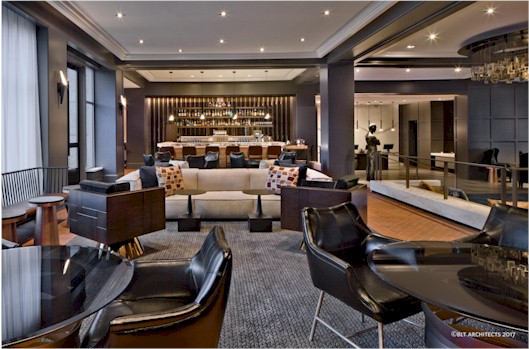 As fitness becomes a part of more Americans' daily lives, hotels have also begun providing group yoga, Zumba®, and pilates classes. This option is particularly popular with the growing population of female business travelers. Like reading rooms, group fitness offers the opportunity to engage in an activity together in an environment where personal space is still respected.
If your fitness center is filled with stationary weight machines, group classes may seem difficult to execute. However, there is simply no need for a dedicated barre room or rows of stationary bikes. Outdoor spaces like courtyards and roof decks can be repurposed as scenic exercise venues, while existing pools can redefine "water aerobics" with activities like Aqua Zumba®, interval workouts, or even stand-up paddleboard yoga.
For hotels adjacent to parks and trails, or landmarks like Philadelphia's Art Museum steps, your surroundings might serve as an extension of your property, engaging guests with not just your hotel but the city around it. The Rittenhouse takes advantage of its location overlooking Rittenhouse Square, encouraging guests to join them for a "Yoga in the Park" series.
For leisure travelers who arrive in groups, the inclination is to interact more directly - just not with other guests. Billiards rooms, small clusters of seats, and more intimate "break-out bars" offer places that feel more like a living room than a lobby. These areas offer more space and comfort than an individual guest room, without having to leave the property or make a reservation in the hotel restaurant.
Likewise, business groups are always looking for creative spaces to interact among themselves. Located in the downtown business district, the Sonesta Philadelphia Downtown provides exactly that in their gallery space and seating areas in the restaurant.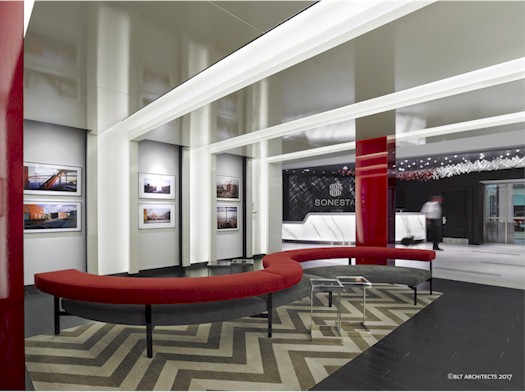 But what about extended stay guests? Philadelphia's FMC Tower at Cira Centre South is home to AKA University City, with 268 suites that cater largely to this audience. From Cira Green, an expansive elevated urban park, to Level 28, a floor dedicated to more practical and time-consuming amenities like a media screening room and virtual golf course, FMC considers extended stay guests' schedules and tastes. After all, a solo business traveler will get much more use out of a lap pool than a pool table.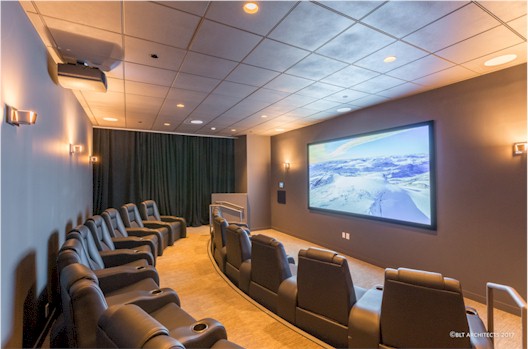 This secular mindset, however, may not apply when it comes to locals. Rather, socializing with a city's residents is an important element of experiential travel. Rather than sending guests to local hotspots, The Standard East Village has taken a creative approach to bringing native New Yorkers to their guests. While their unfurnished penthouse occasionally hosts visiting celebrities, each Sunday the room transforms into a private venue for "Annie O's Music Series." Here, anyone from Tegan and Sara to Moby to the Queen of Calypso might treat you to a free, hour and a half-long show.
Likewise, the Rittenhouse Hotel leverages their elegant, existing courtyard to host events that attract Philadelphians. In addition to champagne celebrations on Bastille Day, once a month the space becomes "Aubergine," an elite pop-up restaurant with just six four-top tables. "Designing" these experiences requires no change to your property - simply creativity in how you are using it.
Food
Today, chefs are the new celebrities and guests expect that much of what they see on their menus to be sourced locally. As such, there is an increasing desire to know more about what we eat, where it came from, and who prepared it.
With "foodie" culture showing no signs of slowing, hotels are taking advantage of the opportunity to pull back the curtain for this insatiable audience. Their restaurants are increasingly embracing open kitchens for both interactivity and authenticity. Chefs' tables, sushi and hibachi stations, luxe buffets, and tableside service are, to the delight of customers, no longer reserved for casinos and cruise ships.
At The Logan's Urban Farmer restaurant, for example, a communal charcuterie table adjacent to an open kitchen draws you in inches from the chef who is preparing your meal. Opening up to the hotel's first floor, the kitchen, dining room, and lobby all flow seamlessly into each other.
Similarly at the Walnut Street Cafe, located on the ground floor below the AKA, a chef's counter has been installed to achieve the same goal. The Rittenhouse takes the trend one-step further; as part of their brunch program, a station is located inside the kitchen, and during dinner, you have the option to dine alongside the chefs.
Logically, cocktails, wine, and craft beer might follow suit. For example, the Union League, a private club with an 84-room Inn includes a dine-in wine cellar that was carved out from its original keg vault. The exclusive experience would make a welcome addition to any hotel bar or restaurant with an A-list wine program.
Like technology, as much as these trends appeal to some audiences, they will polarize others. As such, private dining areas are not declining, but becoming more important accompaniments to otherwise open concepts. In some cases, movable walls and partitions provide the ideal balance of privacy and flexibility.
Whether considering technology, common spaces, or dining, one thing is clear - interactivity cannot succeed without versatility. As the case has always been, the most successful business owners are the ones who understand their audiences and give them what they need. After all, this is the true meaning of hospitality.
Eric M. Rahe is a principal and member of the executive leadership team at BLT Architects. Eric's thirty years of practice span the hospitality, residential, retail, commercial office, and educational sectors with a special focus on large-scale hospitality and resort projects. Mr. Rahe has led projects at more than 17 hotels, ranging from limited service hotels to large-scale, multi-billion dollar resorts. Having developed a strong interest in how the design process influences the success of each project and a passion for clarity in design and communication, Mr. Rahe has built a reputation for his analytical approach to understanding his clients' needs and managing large and diverse teams. Mr. Rahe can be contacted at 215-563-3900 or hmt@blta.com Extended Bio...
HotelExecutive.com retains the copyright to the articles published in the Hotel Business Review. Articles cannot be republished without prior written consent by HotelExecutive.com.