Designing Interesting Hotel Experiences
By Patrick Burke, Principal, Michael Graves Architecture & Design
Interesting guest experiences continue to drive hotel trends. We've seen this for years in the food industry as our everyday encounters with food become wider and more global. For example, food and beverages that were once sought-out specialties are now widespread. The experience became more than the coffee, or the croissant or the sushi, hence the coffee shop, the patisserie, the sushi bar. They are remembered as places, specially designed places that stimulate the senses.
I am currently working on a large scale master plan for a resort in China where the food offerings represent culinary experiences from around the globe. And I'm also designing a hotel in the Egypt where the influence is hyper local. What differentiates these projects from others is the power of architecture and design.
Our firm, like some other designers in the hospitality field, has been working for years on reimagining and customizing guest experiences. Despite all that's changed, we have consistently found that savvy travelers value memorable experiences unique to the places they visit. They value destinations that embody a sense of place and resonate with history, the environment, and local culture and cuisine. This expectation of having an "experience" wasn't always the case.
The Rise of the Boutique Hotel and the Signature Restaurant
Sameness used to dominate the hospitality industry, in both interiors and services. When our firm started designing hotels and resorts in the 1980s, hotel chains - like fast food chains -- thought consistency of product was paramount. Clearly, there are tremendous business efficiencies to be gained, straight to the bottom line. The industry's business experts famously characterized hotels as money-making machines, operating with precision, cookie cutter style. Public relations promoted the value of consistency: the guest experience would be the same no matter where in the United States or abroad, a predictable comfort to weary travelers. Brand loyalty surged. Frequent traveler points became popular. Design was secondary to brand standards. The guest experience was rarely unique since it wasn't supposed to be.
At that time, hotel operators sought to deliver a sense of being at home while away. That has evolved dramatically. Many of today's travelers are looking to get away from home. They seek new living, working and dining experiences they don't have at home, whether traveling for business or pleasure. People want to be surprised. Today, people seek out opportunities for new experiences.
Unique travel experiences took hold when exciting interior designs for boutique hotels and themed interiors were pioneered in the late 1980s and early 1990s. At first, they were just successful on their own. A few eccentric examples where design delivered surprising new experiences would not have happened through "brand standards." Before long, everyone in the hospitality industry was influenced by boutique hotels and they transformed the industry. Bold and customized designs were much more attractive than standard ones (though some designs became iconic features of their brands). This occurred not only in hotels but also in signature restaurants, and affected both the design and the services.
In the digital age, the physical environment does not have to be predictable, but robust Wi-Fi and reliable cell phone coverage are absolute requirements. Today's travelers appreciate environments geared to wellness, good food, and concierge services -- from pet-friendly services to Zip Cars. There is an explosion of these ideas to the point that the diversity of choices is remarkable. What an opportunity for developers, operators and designers!
I'm belaboring this point as a preamble since, in my career as an architect and designer, I have had firsthand experience of this heated battle and participated in the change. In the process, I developed an interest in how hyper-local context and character create unique and authentic guest experiences, a point of view that has informed our recent and current work and keeps us exploring.
I have four diverse examples to offer, each of which addresses ideas of authenticity and sustainability, and permit either immersion in culture or interaction between people and place, largely as a result of their character and response to context:
Early work that contributed to the rise of boutique hotels;
An immersive Egyptian seaside experience that draws on the local architectural and landscape context;
A modern, engaging and highly sustainable resort in Singapore;
An urban hotel in Cairo opening in late 2017 that balances modernity with traditional motifs to create a luxury experience.
A Boutique Experience Writ Large
Character is important in architecture and interior design, especially in hospitality projects, because it communicates the identity of a place, its personality. It's a large component of what makes a place authentic and memorable. Character might be inspired by the history and physical context of the built and natural landscape of the region, and local customs. It can also be inspired by a fabricated experience, which coincidentally may be no less authentic. An example of the latter is the Walt Disney World Swan and Dolphin Hotel complex in Lake Buena Vista, Florida.
For its time, it created an interactive and, in places, immersive experience. Children could jump from beach blanket to beach blanket along the guestroom corridor carpet. Conventioneers passed through groves of artificial palm trees to enter ballrooms filled with gigantic flower motifs. The hotels surprised everyone who expected a standard large-scale complex with over 2,000 keys and the fifth largest convention complex in the Southeast operated by flags that were known for their own standard brands.
Instead, these hotels were associated with an entertainment company that saw value in entertainment architecture. They were meant to provoke fun and delight. Boutique hotels and themed restaurants were just being conceived at this time and our designs became a large-scale version of a growing trend. The complex was authentic in the sense that it fit with the neighboring theme parks and sustainably managed the site's land and water, but it was largely a grand experiential invention.
Character and Context on the Egyptian Waterfront
While we always strived for designs that fit the surrounding context, we learned a valuable lesson about experiential design in a series of coastal resort commissions in Egypt for the developer Orascom. This is a great example of creating an authentic experience that is completely of its place. It also takes a sustainable approach to land and water management, furthering the ability to be immersed in natural surroundings. Although the Miramar was completed years ago, we are currently working on renovating it within the same imaginative spirit and today's eye.
Michael Graves and I were invited by the developer to go to Egypt to see a site on the Red Sea in El Gouna, near Hurgada. The existing coastline had beautiful beaches along the sea facing bright blue water that has long been a haven for snorkelers, divers and fisherman. We were invited, as it turned out, because the developer liked a midrise apartment building that we designed in South Beach Miami. That building is deliberately contextual in that it uses color and detail reminiscent of the adjacent Art Deco district architecture. What the client had been building in Egypt were typical pink modern hotels that were somewhat "Mediterranean" but most generic midrise blocks on the beach. They looked like they could be anywhere in the world, even Miami.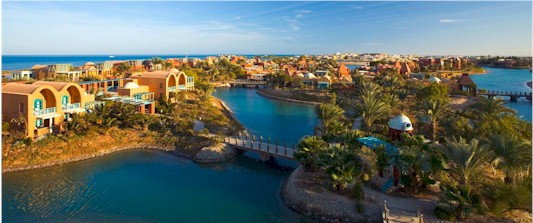 On our way to see the site in Egypt, we passed through small towns that had been built for the local workers who serviced the hotels. They were charming villages, low in scale, built using local vernacular construction techniques with stuccoed handmade brick walls and roofs of brick vaults and domes. We were inspired to create a hotel experience that was just as authentic. Most of the guest audience came from Europe and we sought to create a resort experience that was specific to Egypt.
We also realized that creating a low rise complex on the beach would mean that only a few guestrooms would enjoy water views. We therefore created waterways, lagoons and garden courtyards throughout the site, ensuring that the guestrooms were always oriented to water or landscape. Now that the vegetation is fully grown, the experience is one of literally being immersed in nature surrounded by architecture inspired by local vernacular. Developing an authentic aesthetic character infused with location traditions and sustainably integrated with landscape became a guiding principle for the five subsequent resorts and golf clubhouses that Michael Graves Architecture & Design created for Orascom's hospitality portfolio in Egypt, whether in the mountains of the Sinai Peninsula or on the Red Sea.
Modern Boutique and Sustainable Design
Recently completed, this 3.5-million-square-foot integrated eco-resort in the leisure island of Sentosa in Singapore is a destination attractive to families and people of all ages. The intention was to provide obvious public value beyond the large-scale casino that is the development's economic engine. The attractions - from theme parks to a maritime museum and an aquarium - were each intended to be interactive and immersive. Given Singapore's location and historical relationship with the sea and trade routes, facilities related to maritime history and marine ecology are large components of the experience.
To create variety, the brand positioning and interiors are different in the six boutique hotels, the world class ESPA spa, the many restaurants (we designed 16 of them, all very different) and the theaters and entertainment venues throughout the resort. What would give the resort its sense of place? The natural characteristics of the site and climate.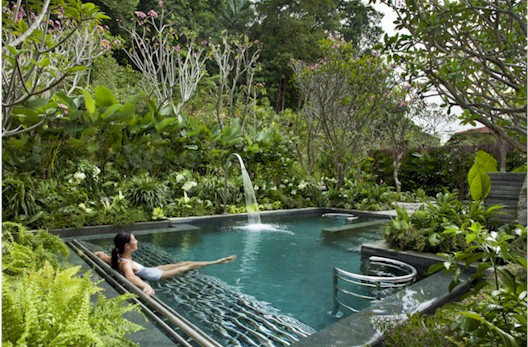 The site is located on the waterfront of a tropical island at the base of the steep hills of a heritage forest. Here, architecture and landscape converge to create a special sense of place, a getaway from urban life. The iconic roofs on the two hotels framing the view to Singapore's colossal Merlion statue are undulating green forms that from a distance blend into the landscape beyond. By using natural materials like wood and stone and incorporating gardens throughout, we ensured that landscape created the unifying effect.
Climate of course was a major influence on the design. We tried to mitigate the effects of the climate, whether rainy or hot and humid, by creating open-air but covered walkways connecting the buildings through the center of the site. Awnings and arcades throughout the resort shelter visitors from the rain or the hot sun. Open-air but covered, these spaces are cooled with eco-coolers. These and other intermediary spaces between the indoors and the open air allow people to be comfortable in all weather conditions and reinforce the atmosphere of being in a resort.
The resort, sustainable in its design approach, was awarded one of the two highest Green Marks ever given to buildings in Singapore, and has consistently proved the importance of ecological responsibility.
The Most Luxurious Address in Cairo
Nearing completion and set to open later this year, the 2-million-square-foot mixed-use complex known as the Nile Corniche marries the sophistication of the storied St. Regis brand with décor using materials and motifs authentic to the region. Located on the Nile, where the river bends, the project is organized to take advantage of the views in both directions. The building is organized as two towers above a podium; the L-shaped tower contains the hotel and serviced apartments and the other, residential apartments. The podium contains office, retail and the ballroom complex, entered through an elliptical form with gold glass tile shingles that shine from afar.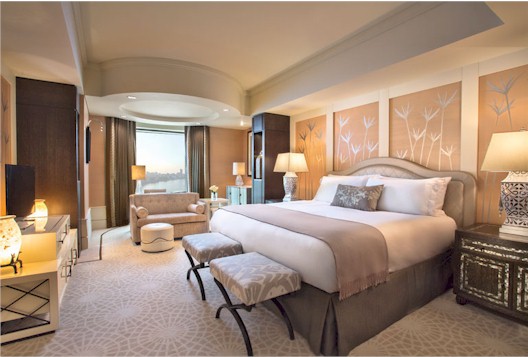 Throughout the project, from the exterior facades to the public interiors and guestrooms, the character balances traditional motifs of the region with contemporary international flair befitting the hotel's location and its flag. The hotel is both cosmopolitan and local, creating an imaginative experience unique to its city and site.
Patrick Burke, AIA is a Principal with Michael Graves & Architecture & Design (MGA&D) and was the Principal-in-Charge and Lead Designer for the planning, architectural design and interior design of Resorts World Sentosa. Since joining the firm in 1982, he has led design teams for well over 50 projects, including the majority of MGA&D's work in the hospitality sector. Mr. Burke has also designed numerous, award winning cultural facilities such as museums and theaters, office buildings and training centers, courthouses, university buildings and residences. Mr. Burke received his architectural education at the University of Illinois, Chicago and at Princeton University, where he studied under Michael Graves. Mr. Burke can be contacted at 609-924-6409 or pburke@michaelgraves.com Please visit http://www.michaelgraves.com for more information. Extended Bio...
HotelExecutive.com retains the copyright to the articles published in the Hotel Business Review. Articles cannot be republished without prior written consent by HotelExecutive.com.