Applying Consumer Marketing Best Practices to Employee Loyalty
By Fred Bendaña Executive Director of Client Services & Marketing Development, Maritz Motivation Solutions | March 04, 2012
Hotel customers are researching and making purchasing decisions very differently than they have in the past, thanks largely in part to the web, and related digital/social media. Subsequently, this has led to a profound shift in thinking among hotel marketers. For years, marketers have used the analogy of moving through a funnel to describe the process by which consumers make their decisions. At the top of the funnel, consumers begin with an awareness of many potential hotel brands. As they move down the funnel, consumers evaluate these options and narrow their choices until, at the bottom of the funnel, they decide to book their reservation.
This traditional funnel model was challenged in a June 2009 article in McKinsey Quarterly, in which David Court introduced a more evolved and dynamic decision-making process called the Consumer Decision Journey (Exhibit 1). The journey consists of four phases in which consumers: 1. Consider, 2. Evaluate, 3. Buy, and ultimately 4. Enjoy, Advocate and Bond, with their preferred brands.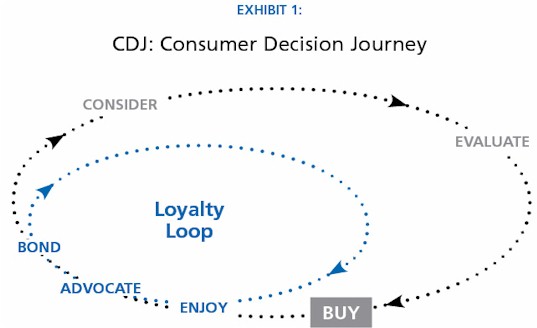 Exhibit 1: Consumer Decision Journey
The genius in this revised perspective, particularly for brands that effectively execute the final stage, is that when the bond with the brand is cemented, consumers enter an Enjoy-Advocate-Buy loop that skips the competitive waters within the Consider and Evaluate stages. As a result, the cycle of consumer loyalty is accelerated and grows over the long term.
The hospitality industry has long understood the connection between their front-line employees and their customers' experience with their brand. Now that marketers are embracing this new cycle of consumer loyalty, it's time for the industry to apply these marketing practices to their employee loyalty and engagement strategies.
A New Framework for Employee Loyalty