From Farm to Chef with Love: How to Build a Relationship that Benefits the Product and the Customer
By Mathias Gervais Executive Chef, The Setai, Miami Beach | August 26, 2012
The local food movement continues to grow in popularity making buzz words like "going local" and "farm to table" critically important to the food service industry. With so much attention on local farmers including the U.S. Department of Agriculture's "Know Your Farmer, Know Your Food" campaign, an increasing number of guests are seeking out locally sourced food options causing the mom and pop shop to the national chain, and restaurateurs around the country to turn to their own backyards for locally grown and sustainably farmed products.
We've all heard the benefits of buying locally, including peak freshness, better taste and added nutrients. All of these elements support a healthy lifestyle and who doesn't want to be healthy in today's fast-paced world? Today's society wants to "have their cake and eat it too" (pun intended). People today are consistently on-the-go and want a world of food that is quick and economically correct, yet good for the community, good for business, and good for their stomachs. It's true that as an industry we need to be conscious of how our customers value a healthy lifestyle. People want a healthy lifestyle they can taste. However, we can't meet the changing demands of our customers, before we consider the value a strong relationship between the chef or restaurant owner and purveyor brings to the proverbial table. The right match between the two will surely lead to greener pastures for all. So how exactly do we achieve this?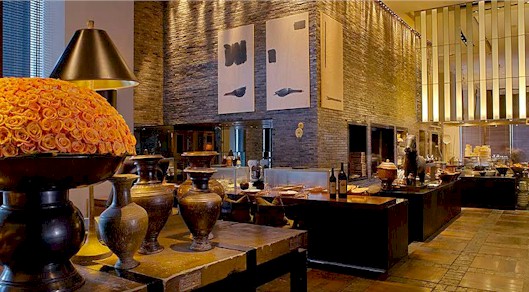 The Restaurant at The Setai, Miami Beach
At The Setai, Miami Beach we have seen a steady increase in guests who value our commitment to incorporate locally grown produce into our menu. Although most of our guests are visiting from Europe or the Northeast, they want to experience the flavors of South Florida and know we are good stewards of our community. With the increase in demand, we have developed a unique recipe for our farm to table program that includes locally sourced, handpicked produce and embraces an uncomplicated approach to the culinary style to ensure that the quality of the ingredients is showcased.
Let's start with the obvious.
Impact of Local Ingredients