Ladies First: The concierge profession's first ladies share their unique service platforms
By Roberta Nedry President and Founder, Hospitality Excellence, Inc. | December 16, 2012
First Ladies, like Michelle Obama and first lady candidates like Ann Romney during this election year in the USA, are pioneering new paths of influence in today's society and many first ladies have used their position to change perceptions and raise awareness for lesser known causes. Hilary Clinton maximized her first lady role by creating awareness for her own capabilities, eventually running for President and now serving as Secretary of State. Country leaders like Chancellor Angela Merkel of Germany, President Cristina Fernandez de Kirchner of Argentina and Prime Minister Portia Simpson Miller of Jamiaca, elected by the people of their countries, are showing that female leadership is powerful and impactful in ways that might be different than male predecessors. We are currently living during a time with the most women ever serving in power simultaneously throughout the world. Forbes Magazine noted that 2012 is the year of the "Impact Woman" in their annual list of the 100 most powerful women in the world and showcases how these female leaders are inspiring the world around them, beyond their material successes.
Adding to that power throughout the world, that path of influence, that leadership and that impact are several "First Ladies" in the hospitality arena as this year is also a unique one in the history of the concierge profession. The hospitality industry's ambassadors of service, Les Clefs d'Or, the professional association of hotel concierges, representing the top 3% of the concierge profession has their own First Ladies making an impact in their countries and around the world.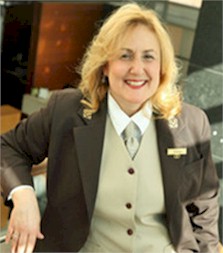 Virginia Casale For only the second year in the organization's 60 year history, a woman is leading this international organization, representing approximately 4000 leading concierges in almost 50 countries. Virginia Casale, President of the Union Internationale des Concierges d'Hôtels, UICH, also concierge at the Hôtel Sofitel Golden Mile in Montreal, Canada as well as the first Canadian ever elected is also pioneering new areas of impact and influence. When elected, Virginia dedicated her presidency to the ladies of Les Clefs d'Or, recognizing the need for more female leadership since only 17% of the organization are women. Of 43 country presidents, only three are women. On an Executive Board of 17 members, 10 officers and 7 zone directors, Virginia has been the only woman sitting board member since 2005. Now in her second year of her presidency, she believes more women need to step up and have the courage to aspire to and claim leadership roles.
Virginia also explained her vision for education through her platform as President. She is bringing awareness to the different tourism and hospitality institutes around the world which teach the concierge profession. She and her team are creating a new document which will showcase the different possibilities available to concierges and aspiring concierges around the world and create links between them. She is particularly proud of assisting four Canadian students from Montreal in getting hands on education in experience in Mumbai, India as they pursue their concierge careers, enhancing their international experience and guest service knowledge. This was all thanks to the Les Clefs d'Or network and this education effort. "The future is in this type of education which will form the great concierges of tomorrow, "says Virginia.
She notes that the Les Clefs d'Or keys open doors to even more guests, serving more than 126 million guests per year, based on the organization's 4000 members and calculated on the number of rooms and percentage of occupancy, based on a single guest room. She also shared that statistics from an interactive questionnaire of active members showed that over 60% plan to remain in the profession for more than ten years. She feels this has huge significance in the hospitality industry where turnover is a challenge and shows true professional commitment to a profession that some have deemed questionable in this time of technology and new information tools. "We still know our guests better than any technology source and can relate to their emotions. We know how to create experiences that are memorable and exceed guest expectations," claims Virginia. "Our international association and my presidency need to play our part in enhancing our good name and promoting our mission of 'In Service through Friendship with our worldwide professional network and commitment to excellence."
On a broader concept of women in the Hospitality industry, Virginia was invited to the HORECAVA tourism convention in January 2012 in Amsterdam, the biggest tourism event in the Benelux region. The theme this year was the SHE Economy, what SHE could do for tourism. "As you could see the woman's role in leadership is being taken very seriously in our industry," notes Virginia. "I was asked to participate because I am the second woman in 60 years to reach the President post. I wish to be an inspiration to Clefs d'Or ladies and other women interested in hospitality leadership around the world."
Please Login to read the full story, or you can Get Free 30-Days Hotel Business Review
The Hotel Business Review articles are free to read on a weekly basis, but you must purchase a subscription to access
our library archives. We have more than 5000 best practice articles on hotel management and operations, so our
knowledge bank is an excellent investment! Subscribe today and access the articles in our archives.