Adaptive Reuse, a Strategic and Sustainable Way to Penetrate New Markets
One of these overlooked strategies is also one of the most effective "green design" measures: the adaptive reuse of existing structures. And when we say "effective" in the context of sustainability, we mean that the strategy increases what green hospitality experts call the "triple bottom line"—that is, the notion that sustainability is good for people, the planet, and profit as well. Done strategically, adaptive reuse of older buildings—some of which may be local landmarks—contributes more fundamentally to our clients' sustainability goals and overall success than many other sustainability methods and campaigns combined.
The key word here is strategically. If, for instance, a developer decides to transform an unoccupied local landmark building into a boutique hotel, they will certainly realize some of the important benefits for the triple bottom line. By reusing the structure, they will save on the cost of steel, concrete and masonry required to build new, and leaving those resources untapped means the hotel will have a lower embodied energy as compared to a completely new structure. Of course adaptive reuse does require prudence in selecting the property to convert to the new occupancy. For example, is the fenestration of the existing building suitable for the new use? Does its infrastructure support the mechanical requirements for plumbing, electrical, and ventilation? Will the adapted structure be healthy for its occupants, both staff and patrons?
Identifying Opportunities for Reuse
Another key question is whether there will be a good market for this new business in this location. Calculating a new venue's likelihood of success is always a factor in the overall sustainability of a project, whether it focuses on adaptive reuse or not. In this way, truly sustainable hospitality development is linked closely to successful market identification and penetration. So which potential locations for adaptive reuse of existing structures have a higher likelihood of success for the long run?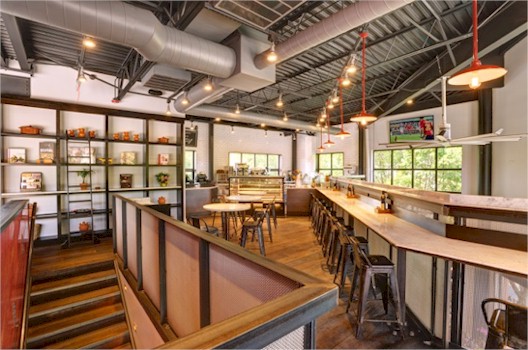 Photo by Michael Slack, courtesy JZA+D
Two well-known market trends offer possible answers to that question. The first is the continuing economic shift away from industrial and manufacturing activity toward high-tech and white collar sectors. This trend results quite naturally in the current or potential vacancy of older industrial structures in densely populated urban areas. An empty warehouse, for instance, with a rich character and robust infrastructure may present an ideal opportunity for reuse as a hotel. The same is true for many office buildings as well, whether in similar urban settings or in suburban or exurban corporate parks. In some real estate markets -- including Princeton, N.J., where JZA+D is headquartered -- entire office buildings are sitting empty following shifts in economic paradigms: perhaps the sector that the building supported has shrunk, or the tenant companies have been successful and have moved elsewhere to consolidate. Sometimes the building itself does not have the infrastructure necessary to support the needs of firms in emerging sectors, such as high-tech, or medical research. Like warehouses, office buildings may already have much of the needed infrastructure for a hotel. In addition, the required parking capacity for commercial properties is practically tailor-made for conversion to hotel usage, as are the open plans with widely-spaced columns typical of most office building floor plates.
Please Login to read the full story, or you can Get Free 30-Days Hotel Business Review
The Hotel Business Review articles are free to read on a weekly basis, but you must purchase a subscription to access
our library archives. We have more than 5000 best practice articles on hotel management and operations, so our
knowledge bank is an excellent investment! Subscribe today and access the articles in our archives.