Flexibility of Your Hotel Spa Brand: It Is Time To Meet TOBI Again?
By Laszlo Puczko CEOI & Co-Founder, Health Tourism Worldwide | July 19, 2020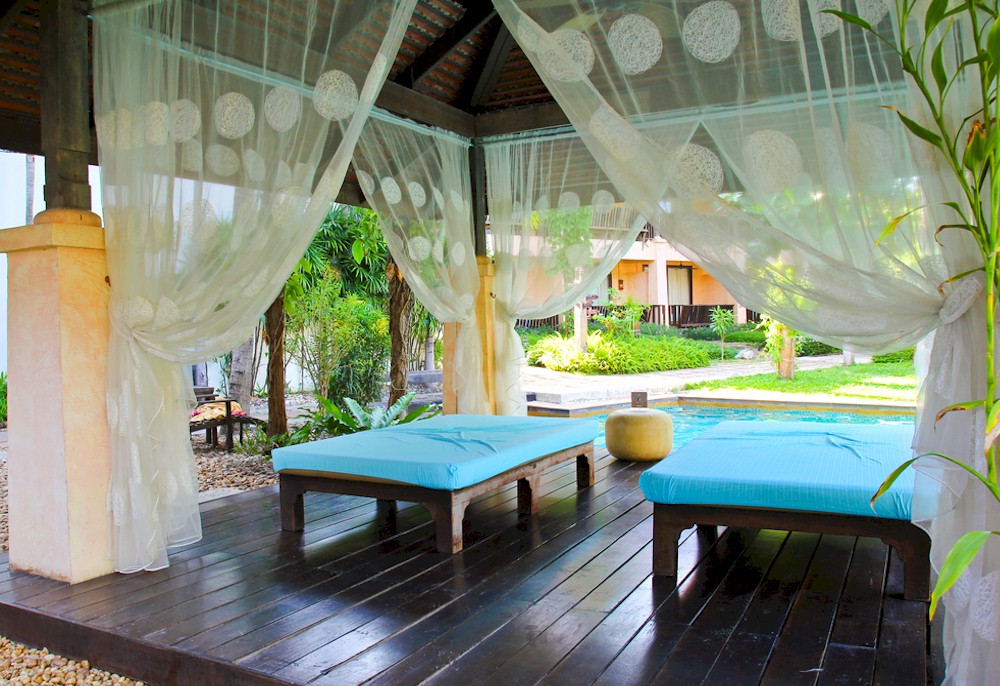 Who is TOBI, you may ask? TOBI represents the new-old question... Take Outside / Bring In. How much of the spa can we Take Outside and/or how much of nature shall we Bring In the spa?
Oscar Wilde once said: "I have spent most of the day putting in a comma and the rest of the day taking it out". You may find that hotels and resorts spas may battle with the opposite problem. Do not quite know or find how to bring nature in and/or how to take the spa out? And, how to balance these two alternatives?
Nature deficit disorder (NDD). This is not one of those weird illnesses but very much a new disease we have created by ourselves to ourselves. Most of the world's population lives in urbanized areas where accessing green space can be a real challenge. The urban jungle as a term may suggest that it stands for something green but you cannot be more mistaken! NDD may be detected in every segment of the urban population. It affects young and old, poor and rich alike. Still, this is not a new problem. Shall we not forget that the very first steam train took urban dwellers to the beach giving an option to breathe freely!
Most hotel spas are not exempt from such urban jungle challenges. Space is one of the most expensive and rare commodities.
Hotel and spa customers appreciate the quality and the security of what the brand may represent and ensure. Hotel and resort spas tend to be operated under management contracts. These contracts define the strict brand and operation standards. Such standards may have limited interest in the TOBI situation. What is a good thing on the one hand may represent strict limitations on the other. This is most certainly true about how the outdoors can be brought into the spa or how much of the spa can be taken out. Similar issues may arise both in urban or in a more remote and consequently greener setting.
Revisiting the TOBI situation, there are a couple of key issues any hotel or spa developer and operator may need to consider.
General Development Approach – is nature a design question or a conceptual approach issue?
Design Issue – anything natural or anything that appears natural may only be limited to a design opportunity. Faux or in better cases real trees and plants, natural floorboards, etc. can represent a relevant and suitable solution, especially in a confined space. The illusion can create a perfect green environment – indoors. This approach can result in expensive operations, e.g. green walls and wear & tear can also be a critical issue. Still, the green façade can be changed relatively easily and quickly, should the guests prefer a different kind of natural setting after 2 years. Taking the spa outside may have even more limited options, should there be no space available for such use. A running concierge may represent an extension of the spa or wellness offer.
Overall Concept & Philosophy– when the nature orientation is infused in every aspect of the spa from design, through fittings and treatments to cleaning agents used. Such an approach can be considered as the 'darkest of green' but we know that CAPEX as well as the operational costs can be significantly higher. The higher prices may or may not be appreciated by the guests.
Location of the Hotel/Resort
Urban setting – in an urban location the opportunities for bringing the outdoors in or taking the spa out can be rather limited. The urban jungle sets the situation and probably the spa is left with no other opportunity than using a nature-inspired design. Still, the smallest outdoor space, can be appreciated by the guests. Even those who are not spa guests, can appreciate the landscaping from their windows, for example.
Resort setting– the resort setting certainly gives a wide range of opportunities bringing the outdoors in and/or taking the spa out. What has typically been offered indoors can be offered outdoors. New services and programs can be added to the spa offer taking full advantage of the nearby natural environment. The beauty of such an approach is that most of the outdoor programs and services may not even require additional investment, or not any at all! Still offering spa services outdoors can result in higher operation costs, the spa extended space can take space from other, potentially more lucrative uses and conflicts between various resort departments can become an issue.
The Climate
The climate is an elemental part of nature. Still, the climatic conditions may limit options of bringing nature in, or taking spa out. Almost any climate can bring certain limitations.
The continental climates with four seasons can give great options to introduce a seasonal spa program. That said, however, winter can mean unfriendly outdoor temperatures and conditions. Autumn can be very wet and summer very dry and hot. Spa brands and operations need to be very flexible to be able to make the most of it.
Extreme climates such as Nordic or desert may require a different kind of flexibility since they may have 'only' two seasons. Still, the extremeness of some climates may not attract every guest and can even become dangerous.
Tropical climates may be the most balanced offering of one (or 1.5) season all year around. In such situations the wet climate can limit operations outdoors and can have an impact on equipment and protocols. Still, to many guests such climates offer an alternative of experiencing familiar treatments or programs, but out in the warm rain. This can become the experience of their stay. Spas have psychological as well as climatic barriers to deal with.
Location of the Spa in the Hotel/Resort
Up until recently spas have not really been given prime locations or spaces in the hotel or resort. Putting the spa in the basement, or close to BoH areas have been the popular choice. A basement with no windows or skylights might be left with the option of creating the illusion. Almost any spa location can bring nature in, or can take spa out. Rooftops, dedicated platforms, balconies, gardens, even skylights in basements can do the job. In a resort environment spa gardens, tree/bush or cactus mazes, landscaping, patios, cabanas, walking/cycling/riding paths, ying/yang gardens, etc. can all be incorporated into the spa offer.
Operational Approach
A soft introduction of some sort of TOBI for existing operations may become an option during the next renovation cycle which can be years away. Still, soft applications can be considered. This does not have to be limited to some interior alternations. Changing the treatment menu, creating signature treatments and journeys using local natural components and resources, reconsidering the suppliers' products used for treatments, introducing and AI/VR solution, revisiting the cleaning protocol and introducing environment-friendly disinfectants can all become a small step to be more environmentally conscious.
Hotel Brand Standards
The hotel or resort where the spa is located may provide a good launching pad for the greening up. Even global hotel brands have started to open up to the idea of offering healthier and greener options. Brand standards may change and new brands may emerge which already applies a very different approach to the indoor-outdoor ratio and relationship. Still, if the spa was outsourced the mismatch between the two units can be critical. The hotel brand standards may define the boundaries within which spas can bring in nature and/or take the spa out.
Spa Brand Standards
Spas are often operated by the hotels' own spa brand team, by a white label operator or a third party operator. The operators bring their very own standards, protocols, and suppliers. The spa operator may or may not yet have incorporated the nature into their operations and services. If the hotel has already shifted in this direction then the guests may experience a discrepancy between what they see in the hotel and what they receive in the spa. Spa operators may not permit individual locations to alter the brand protocols or allow the spa to change suppliers. Spa managers, however, may understand their markets better than brand headquarters. We can now see that certain locations are granted permission to alter treatment menus, suppliers and other protocol defined components, too.
Product/Guest Mix
The current guest-mix can also define how much of the outdoor-indoor shift can be implemented. A resort setting with a predominantly hedonistic crowd may not respond so well to the newly introduced outdoor activities. At a business hotel some of the gym space, or I am sorry the fitness or wellness space may be located outdoors offering functional programs on the deck. At a retreat environment the nature is an eternal part of the retreat environment and services. It would be way more difficult to offer silent meditation in a basement location without access to the grounds of the property…
What is Next?
The spas or more appropriately the facilities offering wellness services play an educational role, too. They can introduce certain elements of nature and through that they can educate their guests. They may need to apply different communication approaches to address guests' expectations. Offering nature walks out in the hotel's garden, may not sound very inviting. With proper storytelling, however, nature can become a very attractive proposition. Guided energy walks in the lavender field, or YingYang walk in a maze of cacti, anyone? Take forest bathing to the next level and introduce nature bathing!
We can see that hotel spas are re-negotiating their contracts with suppliers and operators. They try to balance the TOBI situation based on the changing guest expectations. There are guests who look for the familiar brands and everything that comes with that. Still, even the most perfect branded service can become the same-old-same-old even at a different location.
Established brands have already launched new, more nature-oriented/infused brands in response to the market changes. We can also see that global brands give more and more flexibility to their spa managers in introducing new, local resources to their offering. Smaller operations are already enjoying the flexibility of incorporating seasonal resources to their programming and treatments. All this can be done only after proper testing and analysis of those natural assets and resources. Brands and operations cannot risk the safety of their products and the health of their guests. Especially after such a pandemic!
The safest solution is provided by AI/VR. These create the almost perfect illusion of bringing nature in or taking the spa out. Still, AI/VR has its limits on the high touch-no touch spectrum.
Spas can certainly take in what nature offers around them and incorporate that into signature treatments and journeys. There are, however, a couple of questions to be answered in the coming months or years:
How can spa managers be enabled to take on the challenges of signature treatment/journey development using local resources?

How can the spas and/or hotels enforce global brands to offer more flexibility? How does the

glocal

approach work in spas?

How can global brands control the new services offered at only one location and still ensure brand quality?
There can be many answers to the these questions but what we already know is that guests demand those answers and they are very much looking forward to seeing the solutions sooner rather than later. The question is not which approach spas should consider, but more how to optimize both in tandem. Sometimes a very simple approach can be successful. Spas provide the view and vista of nature, while still being indoors. Saunas with windows, rest areas oriented to overlook the surrounding landscape or a small ornamental garden can make all the difference – with minimal investment.
One of the great examples shows that responsible urban development projects may take over derelict sites and even demolish buildings to create great spaces with full public access. Revisiting how hotels and spas think of TOBI requires joint cooperation between operators, owners, architects, product suppliers and marketers. And this thinking should be coordinated by well-being engineers.
HotelExecutive retains the copyright to the articles published in the Hotel Business Review. Articles cannot be republished without prior written consent by HotelExecutive.