The Growing Trend of Empathetic Hotel Design
By Scott Lee President & Principal, SB Architects | November 01, 2020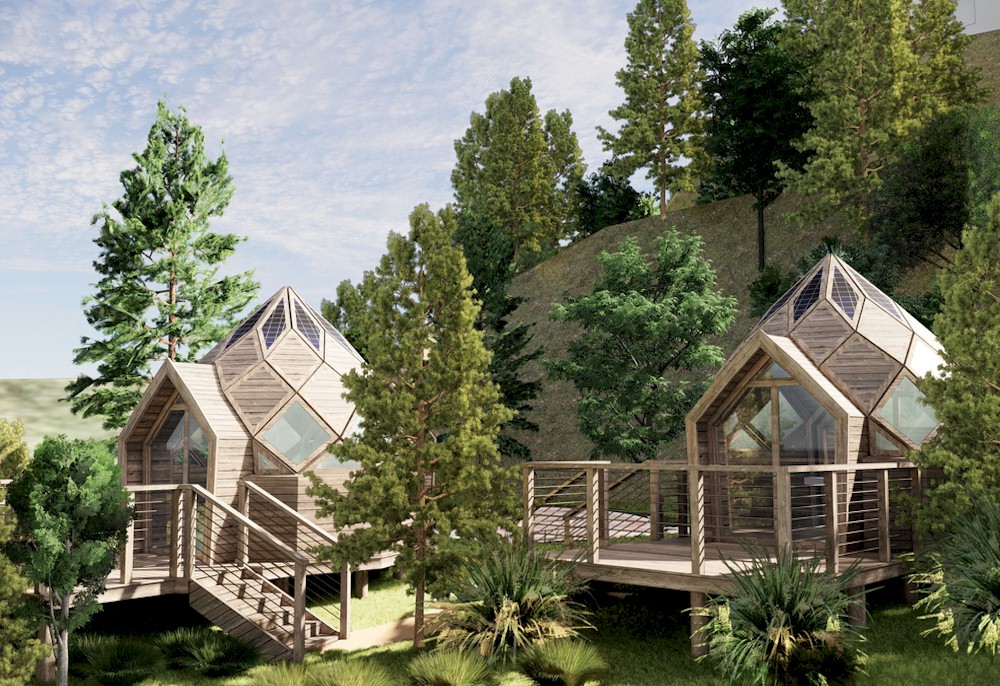 As architects, we may not always be conscious of how we employ empathy during the design process, but our role naturally entails aiming for an empathetic understanding of the nuances of the people we are designing for, paying close attention to how they live, work and play; listening to the subtleties of the site and considering how they might shape the design solution; and listening to our client's desires.
To empathize is to step outside yourself and create a sense of belonging for something else. In architecture, this can take many forms - it could be preserving history or an existing element of nature and incorporating it into your design or heeding and working within the existing architectural narrative of an area.
Making a conscious effort to activate this mindset has the potential to shape the future of hotel design, but a certain level of humility is required. Designers are often faced with a choice, which for us, is simple: make a purely architectural statement or design something authentic to place, reflective of its natural surroundings, and attuned to the prospective guest journey.
Resorts like Calistoga Ranch, an Auberge Resort, where you arrive into a private suite nestled into the surrounding landscape, appeal to today's traveler. Created with an empathetic design approach, we let nature's contours take the lead and worked around the tree growth through the decks and bungalows to give guests a unique experience based on the living environment surrounding their lodge. A series of prefabricated modular units were placed so as not to disrupt the environment and the existing trees were left intact and incorporated as part of the experience.
The willingness to let other voices shine and resist preconceived notions of what a project will be like, relates to the way we run SB Architects; it's not "Scott Lee Architects" or "Bruce Wright Architects" but SB Architects. We believe that everyone should be recognized for their contribution and projects should be approached with the wisdom of uncertainty, a kind of "beginner's mind." Sometimes with named firms there is an association with a single person, attitude, and ego that dictates approach and style, and we have made a conscious effort to avoid that. We are committed to creating enduring architecture that pierces the surface of the human experience.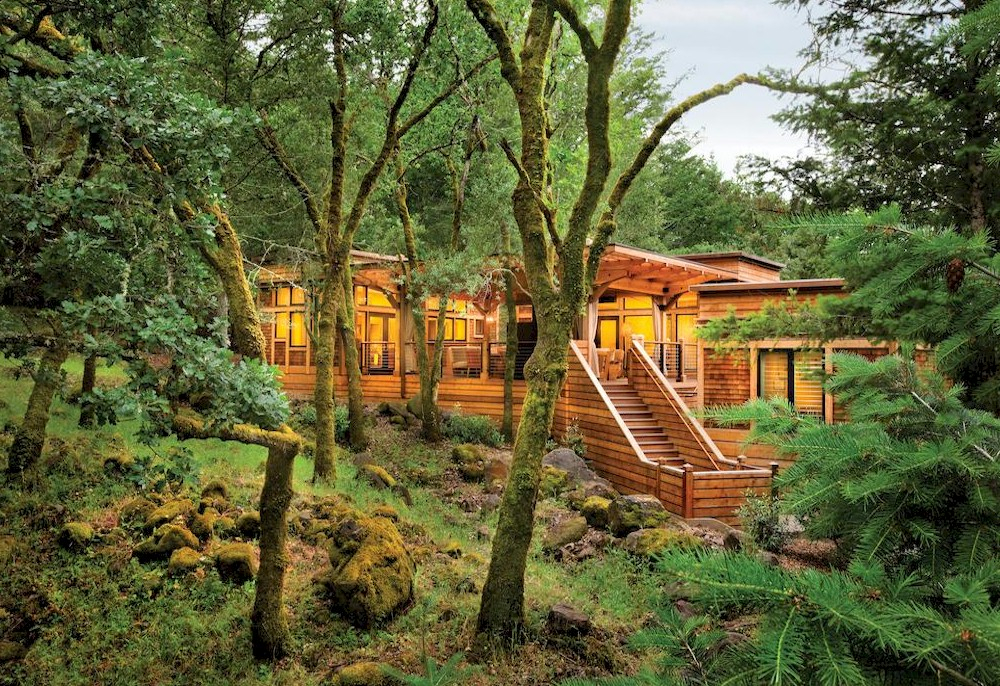 Calistoga Ranch, an Auberge Resort, Napa Valley, California
Of course, clients expect us to lend our expertise and perspectives and demonstrate a level of confidence and authority, but empathetic design entails attentive listening, genuine curiosity, openness to spontaneity, and flexibility to adapt to change. If the vision is so meticulously planned that it becomes rigid, it risks resulting in a design that is so controlled that it leaves both designer and end user uninspired.
Learning from the Slow Travel Mindset
To approach each project without ego and without preconceptions, we must resist the urge to overwhelm a place with design before immersing in the culture, knowledge, and history of a locale. If you think of the distinction between traditional tourism and slow travel, the same dynamic exists in allowing what we observe, hear, and feel intuitively guide the design. In "The art of slow travel," an article published to Independent Traveler online, Sarah Schlichter wrote that slow travel could be defined as: "not so much a particular mode of transportation as it is a mindset. Rather than attempting to squeeze as many sights or cities as possible into each trip, the slow traveler takes the time to explore each destination thoroughly and to experience the local culture."
An offshoot of the slow food movement, slow travel emphasizes forging strong connections with the local food, people, culture, and rhythms of life in a place rather than trying to tackle a checklist of experiences there. It challenges notions of what is worth "sightseeing" and focuses on slow observation and mindful participation.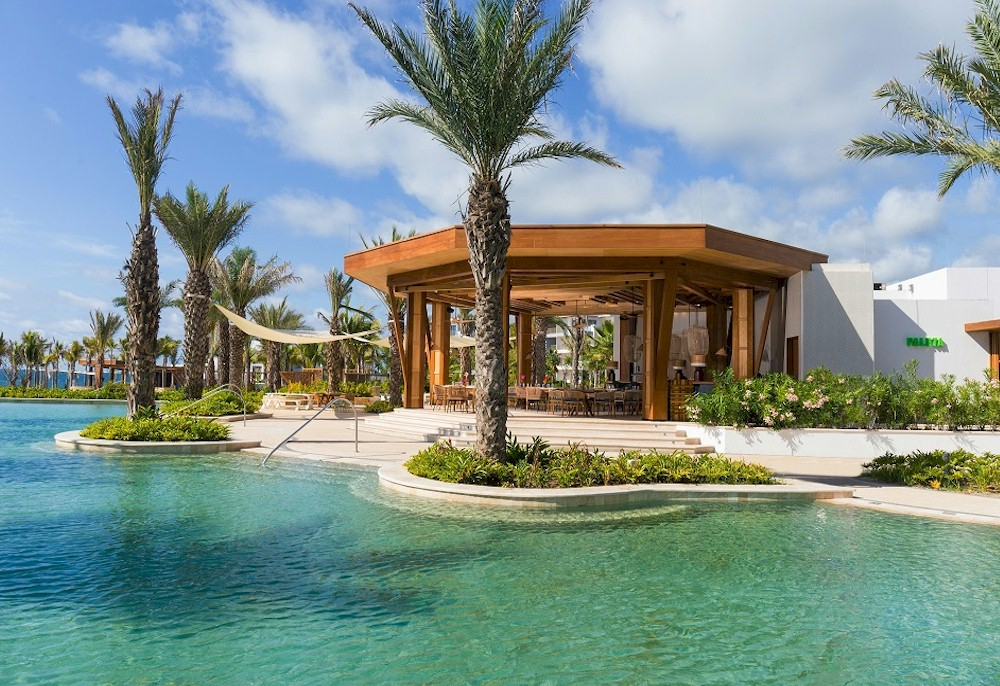 Conrad Punta de Mita in Higuera Blanca, Riviera Nayarit, Mexico
At the new Conrad Punta de Mita - a 324-room hotel located in Litibu on the Riviera Nayarit - our design team conducted intensive research to understand the history, art, culture, including rituals and customs of the region before beginning to craft the story. Honoring Huichol religious symbolism, tradition, and decorative art became an integral part of the creative design process.
Accentuated by lush tropical vegetation, open corridors and contemporary and coastal decor, the resort's nature-centric design enhances wellness and reflects a core belief of the Huichol that transformation and personal development occur through connection to nature. Regionally sourced stone and a muted color palette allow the landscape and natural environment to shine, blending seamlessly with white contemporary architecture that showcases rather than overtakes the natural beauty of the landscape.
History presented itself in an unpredictable way and informed a design approach sensitive to the surroundings at the AMARA Hotel in Cyprus. All hotel rooms, nine apartments, and 14 villas were carefully planned and designed to have access to a sea view, and tactile experiences. Indigenous building materials, and vegetation were incorporated throughout the resort to bring the region and its history to life for guests.
Our team drew inspiration from Mediterranean style, scaling, and traditional proportions to create a timeless, yet contemporary resort, and to our surprise, when excavating and clearing the area for construction, remnants were uncovered, including a 50-foot section of an ancient wall and spring well. The relics were encapsulated and preserved, creating a unique design feature in the spa, and authentically connecting guests to the hotel.
The roots and romance of the site - located on the historic Greek settlement of Amathus, one of the ancient royal cities of Cyprus dating back to four centuries BC - inspired the AMARA as a site-sensitive hotel recalling a historic time and place. In rebuilding Ojai's non-profit Baptiste Sanctuary after devastating wildfire damage, we sought to recall a dream first realized by Baron Baptiste's parents, Walt and Magna Baptiste, who wanted to use the healing power of Baptiste Yoga to bring about social change through personal transformation.
Replacing the site's previous infrastructure, which was largely destroyed by catastrophic wildfires in December 2017, we designed the new yoga and meditation center as a nurturing and enriching setting that reflects the simplicity and untouched beauty of nature. The structures tread lightly on the land, while providing a defense and resilience against any future natural disasters that may occur. Nestled near a swimming pool, natural creek, and geothermal soaking pools fed by Wheeler Hot Springs, the experience in and around the site is shaped by the sights and sounds of nature.
Similarly, in urban environments, designing empathetically is often a balancing act between the past and present, or drawing upon a long tradition or legacy while creating visual expressions that resonate with an evolving neighborhood. At The Mandarin Oriental Hotel and Residences, we sought to express both the history of Boca Raton, synonymous with Addison Mizner's visionary prowess, and its vision for the future.
It was imperative to convey the sense of sophistication and discovery inherent in the Mandarin Oriental brand, whilst authentically integrating into the area. In homage to Mizner, the mixed-use destination is designed in a transitional modern Mediterranean style. The richly layered architecture references the Mizner legacy at eye level and as the levels of the project progress upward, the architecture steps back and moves toward the contemporary, in a visual expression of Boca Raton's evolution.
Lessons in Empathetic Design from the Spa and Wellness Space
We have found that the most visionary destinations are realized when considered holistically from the very beginning. Putting wellness front and center can help craft and deepen the story, creating a location-centric vocabulary that heightens and harmonizes the guest's experiential journey. Through our collaborations with global spa and wellness consultants TLEE Spas, we have honed a deeper sensitivity to both the profound and subtle effects of multisensory design, that enrich the end-user experience while enhancing both their physical and emotional wellbeing.
At the aforementioned Conrad Punta de Mita, we wanted the design to harness the ambiance of the site, with resort bungalows and pavilions complementing the gorgeous Litibu scenery. The rich, multi-cultural identity of the region paved the path for a cohesive story and robust wellness component. Strong connections to the rich Mexican culture and Huichol rituals are found in a material palette of natural fibers and locally sourced stone in the spa, along with outdoor cocoon-style pods inspired by the indigenous peyote plant. We left spaces open to the sky – such as the beach grill and sunset bar's butterfly roof - and in the spa, authentic patterns created with woven wood adorn the rooftops, allowing light to enter and dance un a pattern across the floor.
The guest journey is one to wellness through indigenous rituals, natural elements, and universal patterns. For example, a special ritual mandala of the Huichol, representing odysseys of the soul, is showcased through woven and awe-inspiring colors. Representing five points - the center as origin, and north, south, east, and west - the mandala is expressed in built structures, columns, and terraces throughout the hotel, inspiring personal reflection, and connection to the environment.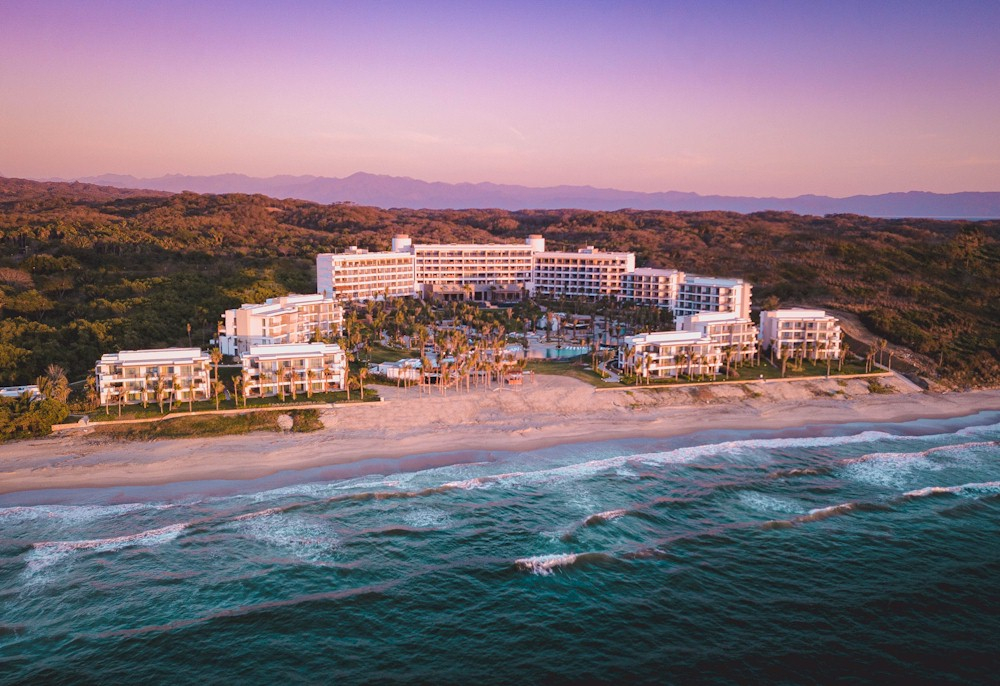 Conrad Punta de Mita aerial view
In honor of the Huichol shamanism traditions, we worked alongside landscape designers, EDSA, to open Conrad Punta de Mita's corridors from the lobby into the landscape and out over the pool toward the ocean, creating floating outdoor terraces to both increase circulation around the hotel and to resonate with guests emotionally. The hotel is situated on a relatively large site, so, one of our main challenges was breaking down the scale and reflecting a more intimate ambience. The existing on-site building had a narrow opening, limiting the view, but we were able to open the view corridors and with an efficient circulation path, create a walkable resort and reduce the feeling of distance in the built environment.
Looking to spas, we see a broader trend in luxury hospitality design for intimately scaled environments that emphasize privacy and personal space. For the Vale de Moses Meditation Cabin Competition, we conceived of a series of adaptable healing spaces – 'Zomes' – designed to awaken guests' inner worlds while celebrating the culture, character, and soulful spirit of Portugal.
Like the sacred geometry of the special ritual mandala, zomes belong to a family of geometric shapes, composed of diamond forms arranged within a double spiral, which is said to resemble the pineal gland cone, the third eye, also known as the door of consciousness. Incorporating a form of sacred geometry into a personal refuge where guests might feel oneness with the living world and cultivate a deeper sense of self, we made nature the project's key reference point and visual anchor.
The Zomes are nestled in the Serra de Estrela mountains, where guests might absorb the healing effects of nature and recalibrate the mind-body connection within a private space. Our proposed master plan begins the guest journey at an arbor entryway, leading towards a communal seating area that surrounds a fire pit. A waterway flows alongside the pathway leading to the Zome, immersing guests in the rhythmical sounds of water. Sustainability features include a natural material palette of local stone, wood and painted mosaics and rooftop translucent photovoltaic solar panels to filter natural light and power the structure, along with a water harvesting system with cistern storage for irrigation.
Aligning with Earth-friendly Values and Interests
The guest journey is changing. COVID-19 has increased people's desire to feel regenerated amidst the beauty of nature, and with less frequent air travel, more people are opting to jump in a car and drive to wide-open spaces. There is great opportunity in thoughtfully designing hotels near the over 400 national parks in the U.S. Currently, the luxury hospitality offering close to these parks is minimal, opening an opportunity to design base camps close to the national parks that cater to an audience seeking a luxe experience after a long day exploring the outdoors.
Tempering the ego and designing hotels with an empathetic design approach entails thinking about the guest and their holistic experience and recognizing that you, as the hotel designer, and the hotel itself are not the "be all end all." The national park, not the hotel at the gate of it, is the draw. In a similar way, the meandering pathway to the Zome is what allows guests to synchronize with nature and ground themselves before arriving. We are increasingly interested in designing hotels and resorts that act as a base for exploring idyllic natural environments, with an understanding that guests will be looking to hotels as portals to experience and catalysts to positive transformation.
Guests visiting a hotel or resort with a goal to better themselves and leave the place with a sense of renewal might have a complementary desire to go to a place that is not just celebrating the environment but bettering it. We are currently working on a few projects with a heavy emphasis on renewable energy that will resonate with this set of travelers who are likely to choose destinations based on how they align with their values.
At a mixed-use wellness and sustainable resort and residential community in Hawaii, where wellness and hospitality are inherent in the culture, we are proposing a design that seeks to preserve the environment and local traditions and repair the scars of past development, recovering what has been lost. Individuals may have been interested in a hotel's sustainability features prior to COVID-19, but with increased awareness of the impact of environmental degradation, we are exploring making those features more of an explicit part of the storytelling.
The proposed master-planned community in Hawaii redefines and reshapes tourism as we know it by instilling a sense of appreciation, belonging, and responsibility to the land and community in residents and visitors. To increase awareness of where food comes from, we are envisioning a shift from landscaping to foodscaping, where food production is part of the community, lot design, and/or in proximity to residences. Integrating agrihoods and walkable food forests where people can explore wellness trails and opportunities for glamping will introduce a new level of immersion and education into the experience. And to put residents and visitors in touch with aspects serving the community's long-range viability, in addition to community gardens, we are proposing a renewable energy farm on site, with possible integration of a biofuel and biogas processing system.
Dissolving the boundaries between site and visitor in this way allows the "occupant" to become interdependent with their environment. As architects, we are employing an empathetic design approach when our design reveals this delicate relationship. Earlier I proposed that to empathize is to step outside yourself and create a sense of belonging for something else. But perhaps to empathize is to realize there is no separate self in the first place, and to educate oneself in the ways that all things belong and bear responsibility to one other.
Addendum
At the time of authoring this article we learned that Calistoga Ranch was extensively damaged by the Glass Fire that wreaked havoc through a broad swath of California's famed wine country. We mourn the loss of this fabled property, one of our firm's iconic projects and clearest examples of SB Architects' empathetic design approach. We take this opportunity to honor the development and operational teams that collectively brought this pioneering vision to life and we take comfort in the myriad of positive memories made within its enchanted ecosystem.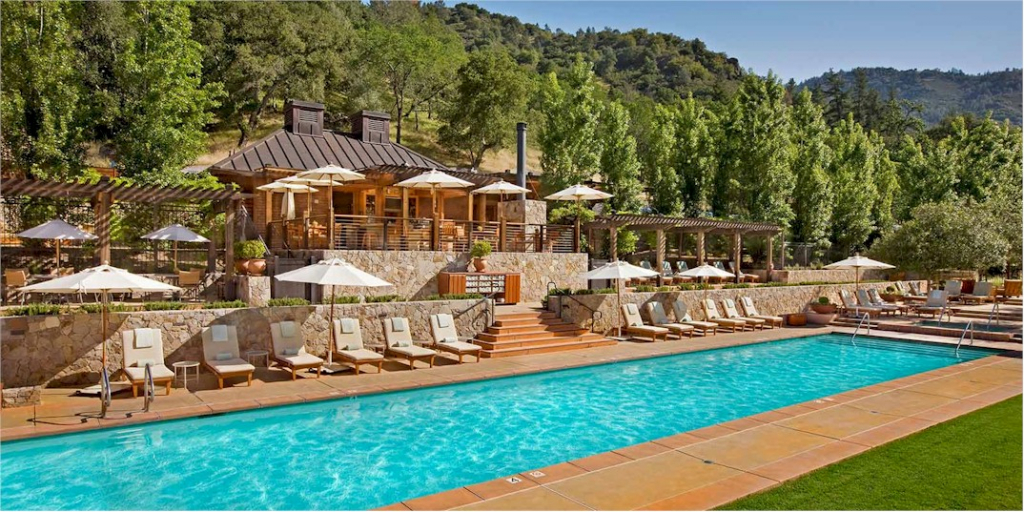 HotelExecutive retains the copyright to the articles published in the Hotel Business Review. Articles cannot be republished without prior written consent by HotelExecutive.