TripAdvisor Ranking Matters to Both Hotelier and Guests
Learn How to Improve your TripAdvisor Ranking


NEW DELHI, INDIA - April 4, 2017 - As per a Forrester survey of over 2, 100 travelers commissioned by TripAdvisor, 81% of travelers suggest reviews are important, while only 3% suggest they were not. However, almost half of the respondents to the survey said they would not book a hotel unless it had reviews.
Another report published by the Cornell University School of Hotel Administration, online reviews of hotels are increasingly having an impact on room demand and now appear to be responsible for rate swings of more than 10%,
With so many travelers trusting online reviews before their room booking, it has become vital for hotels to pay special consideration to their Guest Reviews. A hotel's ranking on TripAdvisor is increasingly becoming an essential criterion both for hotel and traveler community. This has gained importance because TripAdvisor pays special attention to the content and authenticity of the reviews.
A recent study by Google and Ipsos MediaCT confirms this trend, as shown below: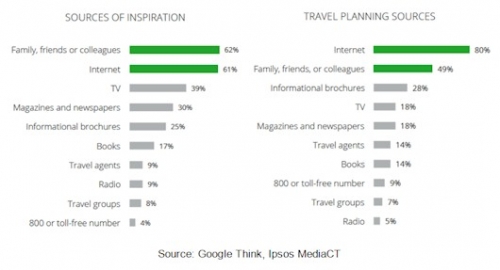 In this article, we are sharing the established practices and researched facts that play a significant role in improving a hotel's TripAdvisor ranking.
About RateGain
Founded in 2004, RateGain is a leading provider of cloud-based product and service around the function of hotel Rate Intelligence, Price Optimization, Seamless Electronic Distribution and Brand Engagement to the world's leading Hotels and Online Travel Agents. With continued innovation and excellence in customer focus, we are proud to serve over 12, 000 clients and numerous industry partners. Our customers are global and so are we, with offices in 10 countries across all major continents, supported by over 500 passionate professionals and seasoned industry experts. Through world-class solutions, RateGain helps its industry leading customers beat their competition and make more revenue every day.
Media Contact:
Aditi Bhandari
Manager –PR & Events
RateGain
aditi.bhandari@rategain.com
+91- 0120 497 5700
Skype: aditi.bhandari6
Twitter: @RateGain
Americas: +1 312 238 9880
Europe: +44 (0) 20 337 191 13
Asia: +91 120 4388300
www.rategain.com