Editorial Board Guest Author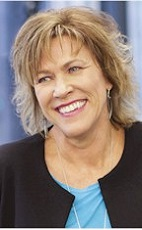 Ms. McCleese
Gail McCleese
Co-Leader Global Hospitality Design, Gensler
Gail McCleese is the co-leader of the global Hospitality design practice area at Gensler, the world's largest architecture, design and planning firm. She also serves as Design Director, Design Experience Leader, Client Relationship Leader and Studio Director within the firm's Houston office.
With more than 30 years of hospitality experience — 25 of those at her own, award-winning design firm — Ms. McCleese has an in-depth knowledge of the global hospitality industry and a flair for crafting inviting and memorable experiences for guests. At her core, Ms. McCleese is a positive-thinking, sensory designer driven to create spaces that speak to all human senses. She has been recognized for her award-winning interiors of high-end restaurants, four- and five-star luxury hotels and resorts, casinos, and active aging environments. Her client roster includes Hyatt, Hilton, Omni, Landry's, InterContinental Hotels, Kimpton, and Wanda Hotels & Resorts.
Ms. McCleese is an active member of American Society of Interior Designers (ASID) and the ACE Houston Mentor Program. She has served as Executive Vice President and Membership Chairperson of the Houston chapter of Network of Executive Women in Hospitality (NEWH). Ms. McCleese has spoken at a number of local and national industry events throughout her career, most recently discussing the future for meeting and conference venue spaces at the International Association of Conference Centers' (IACC) Meeting Room of the Future Showcase in Toronto. She was also a contributor to the firm's latest research into Hospitality Design as included in the Hospitality Experience IndexSM, the culmination of a multiyear, mixed-methods research effort leveraging ethnographic research and a 1,200-person survey to find patterns in how guests interact with hotel environments.
Please visit http://www.gensler.com for more information.
Ms. McCleese can be contacted at +1 713-209-7962 or gail_mccleese@gensler.com