Editorial Board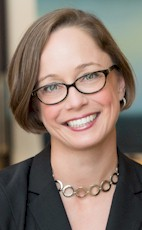 Ms. Stroud
Gretchen Stroud
Vice President, Talent & Inclusion , Hilton
Gretchen Stroud is Vice President, Talent & Inclusion for Hilton. In this role, she oversees the strategic direction of recognition, learning, leadership development and talent management initiatives for global operations and corporate Team Members. With her team, Ms. Stroud leads Hilton's Team Member development programs and succession management activities as well as the company's internal and external recognition and engagement strategies.
With more than 15 years of experience in the hospitality industry, Ms. Stroud has successfully led a variety of initiatives across Hilton's Talent, Learning & Engagement disciplines and is passionate about championing and building talent diversity strategies, developing effective leaders at all levels and driving learning innovation. Among her professional accomplishments, Ms. Stroud led the launch of the company's Thrive at Hilton employee value proposition and leads the team responsible for Hilton's Great Place to Work award submissions. This is

Ms. Stroud directs Hilton's Talent & Leadership initiatives, including emerging leader and executive pipeline development and talent management programs and strategies. Within learning, she has led the modernization of the Hilton University platform introducing new technologies and approaches to drive Hilton's global workforce development efforts.
Prior to joining Hilton in 2011, Ms. Stroud worked in several leadership roles at Marriott International, including learning strategy for the company's Full Service, Luxury and Lifestyle brands. She also spent several years within the International Lodging and Owner and Franchise Services functions during her tenure. Ms. Stroud currently resides in Memphis and is a graduate of American University, in Washington, D.C.

Please visit http://www.hilton.com for more information.
Linkedin Profile: https://www.linkedin.com/in/gretchenstroud/
Ms. Stroud can be contacted at +1 571-286-6268 or Gretchen.Stroud@hilton.com