Editorial Board Guest Author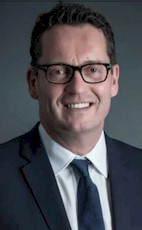 Mr. Buiring
Bart Buiring
Chief Sales & Marketing Officer, Marriott International
Bart Buiring, Chief Sales and Marketing Officer, Asia Pacific oversees the Asia Pacific consumer strategy to Marriott International's core hotel business and brands-powered by world-class technology. In this capacity, Mr. Buiring provides leadership to the Sales, Marketing, Revenue Management, Brand Management & Operations, Digital, Communications, Loyalty, and Consumer Insights.
In close partnership with the Presidents, Mr. Buiring and the regional Sales & Marketing teams have accountability for top line Rooms and Food & Beverage revenue generation budgeted to amount to approximately $11.5B across our growing portfolio of 800 hotels, across 24 brands, in 23 countries.
This is Mr. Buiring's 12th role with Marriott International. He started his career with Marriott International 19 years ago in India as opening Food & Beverage Director of the JW Marriott Mumbai and was later promoted to Director of Operations at the same hotel. He subsequently was promoted to Area Director of Operations for South East Asia, India and Australia, and later regional Food & Beverage responsibilities for Asia Pacific.
Mr. Buiring moved to the United States in 2008 with the company to serve as the Corporate Vice President, Food & Beverage for The Ritz-Carlton Hotel Company, and returned to Asia Pacific in 2010 to establish the Continent Lodging Services structure, which included Rooms, F&B, Culinary, Engineering, Procurement and a team of talented Area Directors of Operations. He was promoted to Senior Vice President - Continent Operations in 2013 with a dual role as market leader with P&L responsibility for our South Korea market. He was appointed to the role of Chief Operations Services Officer in early 2016.
Mr. Buiring is passionate about the guest experience, and during his tenure has exponentially lifted the APAC Guest Voice scores, which are leading in terms of Intent to Recommend and Elite Appreciation performance. He has always been a strong advocate for BSA compliance and working in close partnership with our Brand teams at HQ and in Continent to deliver relevant, localized branded customer experiences.
Mr. Buiring has always been passionate about F&B and he has made many contributions to elevate the F&B offerings working alongside the Design Development and Global Design teams. Under Bart's leadership, he consistently achieves high associate engagement through building and developing a strong Operations organization to support our business.
Mr. Buiring loves to read non-fiction books, socialize, dine out and travel. He recently completed the seven-week Advance Management Program at Harvard Business School.
Please visit https://www.marriott.com/marriott/aboutmarriott.mi for more information.
Linkedin Profile: https://www.linkedin.com/in/bartbuiring
Mr. Buiring can be contacted at +852 21926000 or bart.buiring@marriott.com