Editorial Board Guest Author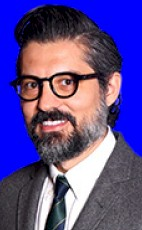 Dr. Bilgihan
Anil Bilgihan
Associate Professor, Florida Atlantic University
Dr. Anil Bilgihan is an associate professor at the Florida Atlantic University within the College of Business where he holds the Dean's Distinguished Research Fellowship. He has over 70 refereed journal articles and 80 conference proceedings in the areas of e-commerce and Hospitality Information Systems with an h-index of 38 and i10-index of 68.
Dr. Bilgihan holds a Ph.D. degree from Rosen College of Hospitality Management, an M.S. degree from the Universiity of Delaware, and a B.S in Computer Technology and Information Systems from Bilkent University. His research involves the use and impact of technology, user experience, digital marketing, and online social interactions in the services industries that appeared in prestigious journals including Tourism Management, Information & Management, Internet Research, International Journal of Hospitality Management, Computers in Human Behavior, Electronic Research Commerce and Applications, Journal of Service Management, and International Journal of Information Management among others.
Dr. Bilgihan is the co-author of 'Hospitality Information Technology, Learning How to Use It'. He serves on the editorial board of international journals including the International Journal of Contemporary Hospitality Management. He is the associate editor of the Psychology & Marketing and co-editor of the Journal of International Hospitality Management.
Dr. Bilgihan is the recipient of several awards including the Cisco Extensive Research Award and Highly Commended Award winner of the Emerald/EFMD Outstanding Doctoral Research Awards. He teaches hotel marketing and revenue management. Prior to joining Florida Atlantic University, he was a faculty member at the Ohio State University.
Please visit http://www.fau.edu for more information.
Linkedin Profile: https://www.linkedin.com/in/anil-bilgihan-70214320
Dr. Bilgihan can be contacted at +1 717-715-2050 or abilgihan@fau.edu