Editorial Board Guest Author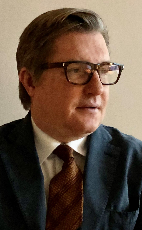 Mr. Kjellberg
Peter Kjellberg
Group CMO & Global Head of Verticals, Dometic
Peter Kjellberg, has over 25 years of expertise in luxury facing industries. Joining the Dometic Group in 2015, Kjellberg serves as the brand's Chief Marketing Office and Head of Global Verticals. Dometic is a global market leader in branded solutions for mobile living in the areas of Food & Beverage, Climate, Power & Control and Other Applications. Dometic's motivation is to create smart and reliable products with outstanding design. Based in Stockholm, Sweden, Mr. Kjellberg is a member of the Group Management team at Dometic's headquarters.
Before joining Dometic, Mr. Kjellberg assumed management positions at world-leading, global brands like Ferrero, DaimlerChrysler and Thule. He has a long and proud history of successful brand management and offers deep insight on how best to communicate within many key, global markets.
Mr. Kjellberg also handles the development of Dometic Group's new global businesses with the additional title of Head of Other Verticals. He is responsible for managing P/L expectations within Dometic's global Mobile Delivery, Residential, Outdoor, and Hospitality sectors.
As an engaged executive professional, Mr. Kjellberg is driven by opportunities to drive brand growth and positively impact the market across key industries. With a proven track record of creating sustainable value, he leads on brand strategy and platforms overseeing market research, analytics, marketing strategy, dealer programs and leadership of marketing teams in his CMO responsibilities.
Expertly leading the company through rebranding and consolidation, he successfully launched the well-perceived brand identity - Mobile Living Made Easy. Overseeing Global Verticals for Dometic, Mr. Kjellberg is responsible for the brand's global business units including: Residential, Outdoor and Mobile Deliveries, and Hospitality. These responsibilities across units incorporate business development, product management, product development as well as sales and operations.
Please visit http://www.dometic.com/en-us/lp/mobar for more information.
Linkedin Profile: https://www.linkedin.com/in/peter-kjellberg-01322116/
Mr. Kjellberg can be contacted at +1 770-356-0323 or peter.kjellberg@dometic.com