Editorial Board Guest Author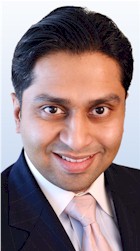 Mr. Punyapu
Anil Punyapu
Vice President, Cvent
With nearly a decade of experience in the meetings industry, Anil Punyapu drives strategy for and leads sales of enterprise meetings solutions at Cvent, the world's largest meetings management technology company.
With more than 800 employees worldwide and over 90,000 users in 40 countries, Cvent offers web-based software for meeting site selection, online registration, meetings management and marketing, and web surveys. The company's online site selection and Request for Proposal (RFP) tool, the Cvent Supplier Network, is expected to carry more than $4 billion in group business to hotels and special event venues in 2011.
In his current role, Mr. Punyapu combines technology expertise with deep knowledge of the meetings industry to shape development of Cvent's Strategic Meetings Management product, marketing initiatives and sales and training processes.
Under his leadership, Cvent helps some of the largest pharmaceutical, financial, consumer product and healthcare organizations centrally manage enterprise-wide meetings spend and streamline meetings processes.
Previously, Mr. Punyapu built Cvent's Chapter Sales Division, which focused on chapter-based associations. Prior to Cvent, Mr. Punyapu co-founded Entertainment Ventures, a hedge fund of funds based in the Washington, D.C. area, and also served as a Senior Associate at Friedman Billings Ramsey (FBR), a full-services investment firm.
Please visit http://www.cvent.com for more information.
Mr. Punyapu can be contacted at +1 517-830-2466 or apunyapu@cvent.com