Editorial Board Guest Author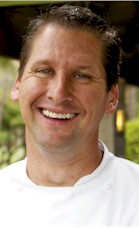 Mr. McDowell
Marc McDowell
Executive Chef, Makena Beach & Golf Resort
Since his appointment as Makena Beach & Golf Resort's Executive Chef in October 2010, Chef Marc McDowell has revolutionized the resort's culinary program, with creative menu development, providing expert direction and training to the resort's culinary team, and overseeing food production in the resort's four restaurants and catering department.
Trained at the prestigious Culinary Institute of America, Hyde Park, New York, Chef McDowell has a background in French cooking, specializing in a fusion of exotic herbs and spices with fresh Hawaiian ingredients to create new flavor profiles for the palette. His professional experience includes senior culinary positions at the Grand Wailea Resort, Maui and most recently as the Executive Sous Chef at the Ritz Carlton in Kapalua, Maui.
Chef McDowell's passions for foods that are fresh and wholesome have inspired at Makena a new focus on seasonal offerings that are served in their peak window of freshness. In addition, since his arrival, the kitchens at Makena have baked their own breads and make their own sauces, stocks, soups and salad dressings due to his classic "made-from-scratch" approach to food preparation. "I want the Makena food experience to be beautiful and delicious," says McDowell, "Not only do I want our guest to experience favorable and quality food but I want to develop my culinary staff's sensibilities to fresh ingredients, fresh flavors, and a fresh outlook on cooking. My mantra is "Fresh! Fresh! Fresh!"
Chef McDowell is also a Certified Master Gardener having developed a resort herb garden featuring a wide selection of 90 exotic herbs, 100 plus vegetables, and over 8 varieties of butterfly flowers. His plans for Makena also include the addition of an aquaponics garden, a combination of aquaculture (raising fish) and hydroponics (growing plants without soil). This new sustainable method of farming is being recognized worldwide as an exceedingly viable method of food production.
To top it all off, Chef McDowell also has a passion for garde manger skills and techniques. He delights guests to intricate carved fruit presentations and spectacular ice carvings that can be found at the resort's famed Sunday Brunch. Chef McDowell remains active in the community working with high school students to set up gardens. He hopes to one day have a Farmer's Market right in the resort's parking lot for which these students can sell their locally-grown produce.
Big dreams and ambitious goals keep Chef McDowell constantly engaged with his staff, local farmers and suppliers, restaurant guests and other members of the community. He says, "The opportunity to lead the culinary team has unleashed my creativity and opened new doors to my love for sustainable farm-to-table eating, a love that I hope to inspire in those around me." And with his infectious can-do attitude, it is hard not to be inspired.
Mr. McDowell can be contacted at 808-875-5850 or mmcdowell@makenaresortmaui.com
Author's Articles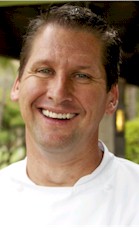 By Marc McDowell, Executive Chef, Makena Beach & Golf Resort