Integrative Design: Engineering Your Hotel's Mechanical and Electrical Systems for Profitability
By Jerry Schmits Director, KLH Energy Solutions | January 26, 2014
The success of hotels and resort developments hinge on the ability to balance profitability and a first-class guest experience. Achieving this balance requires a responsible mixture of quality equipment, capable facility management, and technology. Combined, these operational components can respond to the demands of hotel guests while delivering a level of energy efficiency that keeps operating costs low. But in order to realize optimal system performance and cost-efficiency, developers need not sacrifice first-cost considerations: intelligent, integrative design that includes sensible master planning can create a baseline efficiency that will pay dividends for the entire lifecycle of the property.
Like most commercial hospitality developments, the primary power consuming systems are HVAC, lighting, and water. These systems are typically designed and engineered to meet the occupancy demands at full capacity, relying on sophisticated controls to manage the respective demand of each system at any given point in time. Inherently, while delivering their intended and designed performance, these systems too often create unintended consequences that can adversely affect each other. For example, lighting and domestic hot water distribution systems emit heat, which increases air temperature. Neutralizing this effect requires additional cooling capacity. These systems often operate against each other, resulting in unnecessary energy consumption. Integrative design accounts for all of the building systems and incorporates them into a synchronized unit working as a whole. This practice makes the most efficient use of habitat, energy, water, and materials, which (when integrated) creates efficiency. It's a common misperception that the notion of increased energy efficiency in building design will drive up the cost of construction-but that outdated thought is not the case anymore.
High-performance buildings are achieved when there is collaboration of all stakeholders across the design and construction continuum before the first structural design renderings are drafted. John Boecker is an architect and a founding partner at 7group, an internationally-recognized consulting firm focused on sustainable design and regenerative development. He acknowledges that technology is critical for managing system efficiency, but asserts that integrated design is key to fully optimizing a facility's total efficiency potential. Over time, technology plays a lesser role in energy efficiency, and is replaced with the synchronicity of systems, people and intelligent design to contribute more to a building's performance (see Figure 1). Boecker claims that most building performance issues aren't a function of technological limitations, but rather a result of the people operating the systems.
How many times has an architect developed or implemented a sophisticated control system only to find that six months later it's operating in manual mode? When asked about root cause of inefficient building performance, Boecker says: "We don't have a technology problem, we have a people problem. Involving O&M staff in the early stages of building design typically creates ownership and promotes a better understanding of what it is that a developer or building owner is trying to achieve."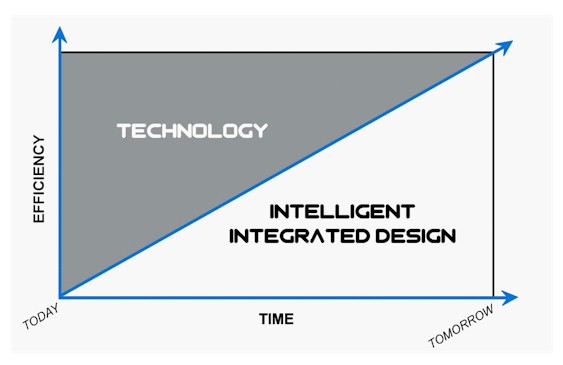 Image created by 7group
This collaboration begins at site selection, where factors such as geo-spatial positioning can determine the ability to take advantage of daylight harvesting, thermal sources or prevailing winds. I once visited a beach resort hotel in Florida that had a pool located on the inland side of the property. Shortly after the building was commissioned, the pool-water temperature was found to be so hot during the summer months that the pool had to be retrofitted with a small chiller in order to cool the recirculating pool water. Likewise, the pool at an adjacent property was located on the ocean-side, where prevailing winds kept the water temperature comfortably cool-and without the unnecessary cost of a chiller.
Please Login to read the full story, or you can Get Free 30-Days Hotel Business Review
The Hotel Business Review articles are free to read on a weekly basis, but you must purchase a subscription to access
our library archives. We have more than 5000 best practice articles on hotel management and operations, so our
knowledge bank is an excellent investment! Subscribe today and access the articles in our archives.