Sustainable, Reusable and Responsible Hotel Practices Through Site Planning, Construction and Operating
By Bruce Collins Regional Director of Development, East, OTO Development | May 03, 2015
From the advent of "Earth Day" in 1970 to today's opportunities for offsetting a carbon footprint, sustainability has evolved from an ideal and a concept to a way of life. And it's just as critical to the hospitality industry, because consumers are increasingly making their purchase decisions through the lens of environmental impact, today and in the future. As hospitality developers, this is something we can address at every single stage, from site planning to construction as well as daily operations.
OTO Development has been on the forefront of building sustainable hotels, from green initiatives to some of the first LEED-certified hotels in Washington DC and Los Angeles, and recognition by Marriott with their first sustainability award. When comparing these specific properties to similar hotels we've owned and operated across the country, OTO has seen significant reduction in energy and water consumption directly related to sustainable practices and initiatives. The reduction in annual utility costs will have a direct return on investment for the life of each hotel, and the lessons here are transferrable to development companies seeking the same impact.
OTO Development CEO Corry Oakes comments, "We're committed to providing the best experience for our guests while also being environmentally responsible. Toward that mission all future development from 2015 and forward will be LEED certified or better." Specific opportunities in site planning, construction and daily operations are as follows.
Site Planning: Residence Inn Gainesville, FL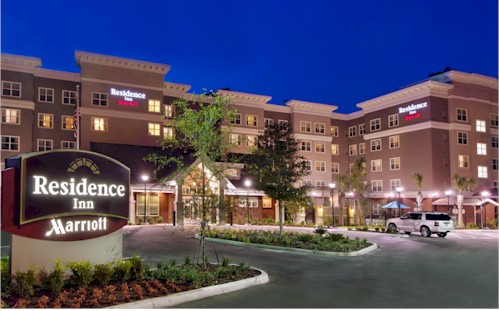 A focus on the environment and sustainability begins during the design and construction phase of each hotel, when company architects and development managers work with brand partners to incorporate resource conservation, waste minimization, and environmentally-friendly systems into every project. Commitment to environmental sustainability can be demonstrated, in part, by developing a wide range of hotels on contaminated sites or as re-use projects. In the case of Residence Inn Gainesville, FL property, existing structures contained hazardous materials that were remediated, and past uses within those structures also created contaminated soils within the building footprint – these were remediated as well. During the process, demolition and construction wastes were recycled, and this site – which was previously designated as an EPA "brownfield" – was ultimately restored to pristine condition.