Wide Open: Latest Trends in Hotel Public Space Design
By David Ashen Principal & Founder, dash design | December 01, 2019
One of the world's most prolific inventors and scientists, Albert Einstein, once said that the important thing is to not stop questioning. He advocated that curiosity has its own reason for existing. If only Einstein had been in the hotel business!
Einstein's wisdom serves as an excellent reminder to all of us in the hospitality industry; truthfully, we could all benefit from a bit of extra questioning. After all, we're often charged with thinking about not just what was, or what is, but what could be when it comes to creating spaces that the public will enjoy for many years to come. Key to embracing this level of creativity and problem-solving is to examine trends, think about how those will shape attitudes and needs and to ask a question beginning with two simple words: What if…?
Of all areas affected by changes in the way people live, work and play, public spaces are chief among them. If we want to stay relevant to the leisure and business guests who visit hotel properties, we should rethink meeting spaces and ballrooms. We could start with a realistic look at the current need for informality and flexibility, the increase in co-working spaces and the desire for innovative public spaces that allow for "possibilities."
Thank You, Tech
The biggest driver in the shift we are seeing in public space design is technology. Its advent has undoubtedly changed the way we work. The digital age has given us freedoms that we have never had before, while keeping us tethered to our little glass screens 24/7.
The result has been a boom in alternative workplace environments and a decreased need to travel for business meetings. Why head to another state when you can Skype or access a GoToMeeting from your laptop or iPad? Even conference rooms are becoming virtual and remote work environments are no longer a perk reserved for tech start-ups, hipsters and the C-suite set. In fact, according to video conferencing company Owl Labs, in its State of Remote Work 2019 survey of 1,200 U.S. workers between the ages of 22 and 65, more than 62% work remotely at least part of the time.
Connectivity and Connection
That doesn't mean we all want to be alone with our digital devices, however. To the contrary, the ability to do so much on our own has led to an increased need to make social connections – and, by that, I mean beyond social media. Even though people no longer need to be in a typical office environment to do their jobs, and may do so from a hotel lobby or coffee bar, if there's anything the huge growth in co-working spaces has taught us, it's that people still want a human touch. Business communication these days should be more than B-to-B (business to business) or B-to-C (business to consumer). The most effective approach for gaining market dominance is communication that is H-to-H (human to human).
For an example of an effective approach to answering today's needs, look no further than NeueHouse, an American company founded by Joshua Abram, Alan Murray and James O'Reilly that has blown up the paradigm with its chicly designed collaborative workspaces in New York and Los Angeles. Central to these shared offices spaces, which serve as a cultural co-working home for creators, innovators and thought-leaders, are flexible meeting and socialization spaces that have become a model for how we can work and meet.
The conclusion can be drawn that hoteliers ought to reconsider how they think about traditional meeting and ballroom spaces as a result, leaning on co-working spaces for inspiration.
Business in the Front, Party in the Back
One of the first to think differently about public spaces on the hotel side of the equation was YOTEL, the edgy hotel brand that first opened in 2007 at London Gatwick, and then Heathrow airport, featuring "cabins" for rest. In 2011, YOTEL staked its claim in New York City, over at 570 10th Avenue, as part of the $300 million MiMA (an abbreviation for "Middle of Manhattan") complex comprised of luxury rentals, condominiums and a hotel on its lower levels.
I'll never forget when it first opened, because YOTEL, a brand started by a forward-thinking founder who marveled at the first-class flight experience and realized that, with smart design and technology, compact spaces could still be lush. That same sense of disruption happened in the brand's public spaces, where it innovated with clever meeting spaces, and hotel lounges that were set up just as much for social activity as they were for work, seamlessly adapting from day to night to become places to engage and, yes, party.
Proof of Concept
Marriott's new meeting space initiatives are an excellent example of learning from trendsetters, such as NeueHouse and YOTEL, and imagining what other possibilities exist. For instance, Renaissance St. Louis Airport Hotel recently underwent a reprogramming of spaces that added unique design elements to the property to differentiate from other hotels in that market. Our firm worked with the brand to bring to life some of the new Renaissance meeting space programming, such as the Paparazzi Retreat, which is a tricked out lounge we converted a previously sterile meeting room into.
The lounge was purposely designed and furnished to create a VIP vibe and has proven to be a popular meeting venue. Other design features added to this rather vast conference center include a destination bar, which replaces the standard old porto-bar, and open, furnished lounge areas adjacent to meeting rooms, allowing for breakout spaces and more informal opportunities to connect.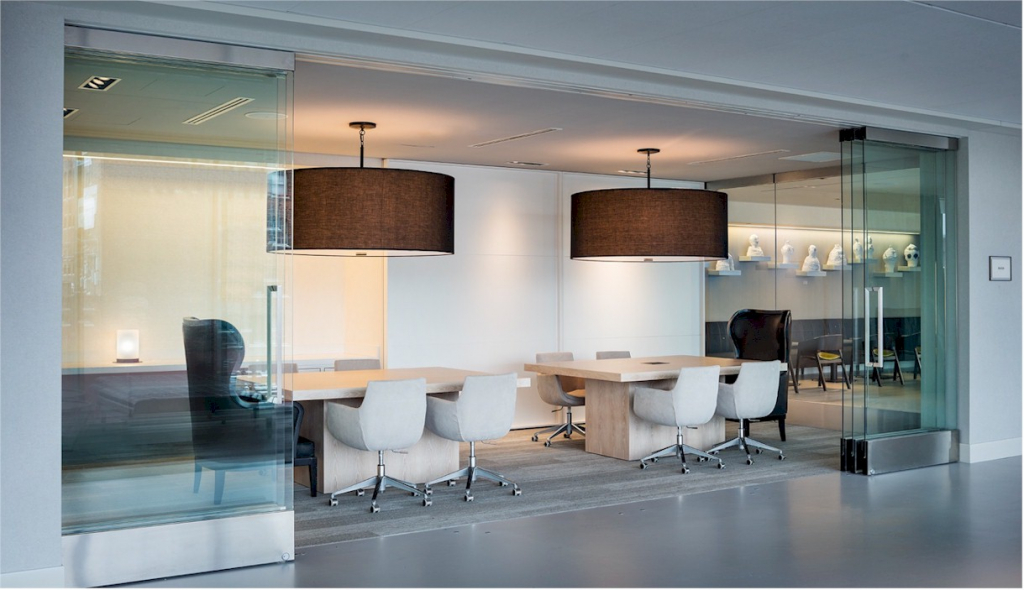 Glass Conference Room at Hotel Commonwealth in Boston, M. Photo Credit: John Horner
Sticky Themes
In contrast to that, Hotel Commonwealth in Boston, located near Fenway Park and considered "the official hotel of the Boston Red Sox," and another project our firm served as interior designer for, involved both a renovation and an expansion. The goal of the $55 million project was to not only create new rooms and suites and to freshen up hallways and public areas, but also to transform the iconic hotel's traditional spaces. In doing so, the public spaces now embody a 'modern prep' design aesthetic, better capture the vibe, personify the neighborhood's personality and hotel's clientele and successfully create a memorable, signature experience for guests.
Added into the equation through the addition was 6,000 square feet of indoor space, including two flex meeting rooms, a boardroom, a multi-function room, ballroom, and a 2,000-square-foot outdoor terrace that can be utilized as event space. What stands out here is the very open and large pre-function space. We designed it to have "nooks and crannies" so that there were plentiful options for seating and places for flexible open meetings to happen.
The long, narrow pre-function area allowed us to carve out open rooms that tuck to the side. One of these areas has operable glass walls that allow a more traditional meeting set up if desired, but the fishbowl effect of the glass walls always allows for better connection to the open spaces.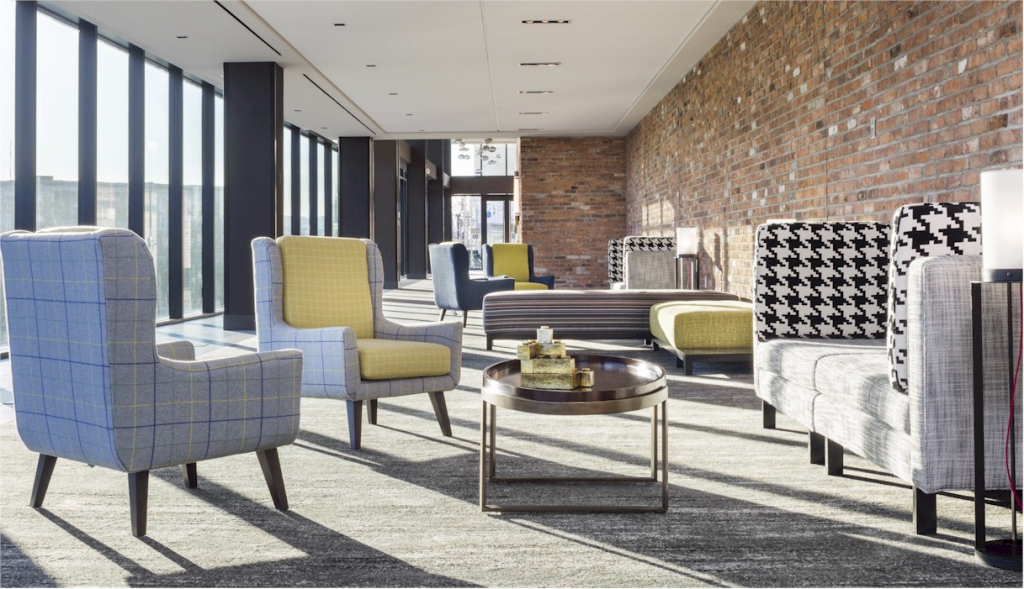 Pre-function space at Hotel Commonwealth in Boston, MA
Social Causes and Shared Values
Connecting to not only design trends, but also belief systems – something that has become increasingly important to hoteliers due to its focus for Millennials and now Gen Y – is Eaton House in Washington. It's what I call a work-live-inspire project, as it presents a new paradigm of mixed-use development. Conceptualized out of Hong Kong and from the family who bought us the luxurious Langham hotels, the next generation of the family has created a cause- and community-centric development. Even in its marketing materials, Eaton House touts the property as a place to seek "inspiration, innovation and impact" and somewhere visitors can "congregate around creativity and consciousness-building." Quite telling!
Included in the design is the Eaton Workshop, which is a shared workspace similar to WeWork or the aforementioned NeueHouse. Collaboration is fostered and ideas are shared through programmed workshops, incubators and a community-based radio station that supports grassroots initiatives as well as emerging music. Food and beverage and wellness are layered in and support a very well-rounded and on-brand lifestyle.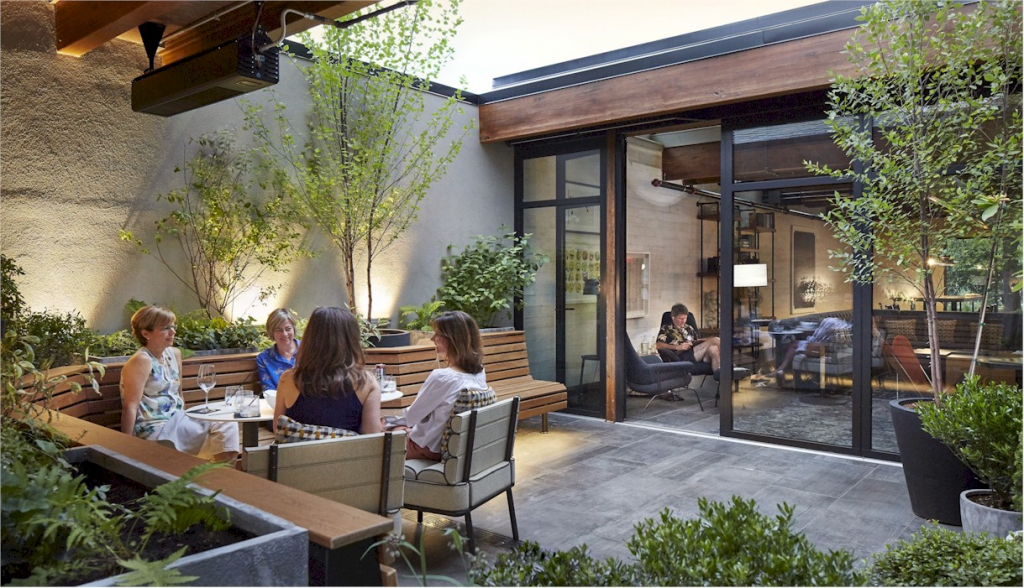 Secret Garden at Freepoint Hotel Cambridge in Cambridge, MA . Photo Credit: John Muggenborg
Surprise and Delight
Last, but not least, there's Freepoint Hotel Cambridge in Cambridge, Massachusetts, which has undergone its own transformation. Formerly a Best Western Inn that sat in the parking lot of a Whole Foods store surrounded by development, it was rebranded into a cool 3-star property, designed with the millennial business and leisure traveler in mind. The win for this project was how the public spaces within it were reimagined to create a sense of place for the guest. Among the unique touches are a "secret garden" in the middle of the property's public space, transformed from what was once an indoor space. The reconfiguration of the lower level delivers a "wow factor" surprise to guests and makes the property wholly unique from other nearby options.
One thing is clear as we look at today's hotel brands: it's time to bid bye-bye to boring ballrooms and standard meeting spaces and to welcome flexible, forward-thinking options that better serve today's fast-paced world.
HotelExecutive retains the copyright to the articles published in the Hotel Business Review. Articles cannot be republished without prior written consent by HotelExecutive.