Innovation Creates Renewed Optimism for Hotel Restaurants
By Eric Spadafora Vice President of Business Sales, Verizon Business Group | November 15, 2020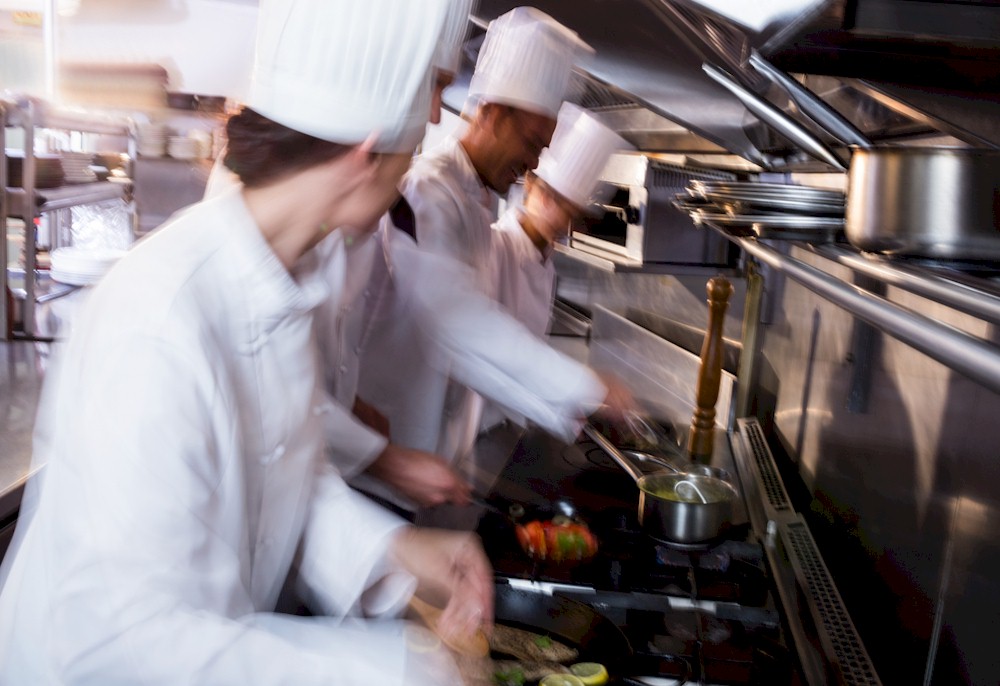 The hospitality industry has been among the hardest hit industries because of COVID-19. The good news is there is a renewed sense of optimism as inside dining resumes. According to our recent Verizon Small Business Recovery survey released in October, less than half (48%) of small business owners surveyed were concerned about their job security as a result of the pandemic.
Those businesses that have survived have weathered an immediate shutdown, pivoted their operations to adjust to the new normal and are now operating amid social distancing guidelines.
The survey referenced earlier 600 small business owner respondents across the country, 90 of which were in the restaurant and bar industry. Overall, the survey findings showed that 91% of small businesses indicated that COVID-19 had negatively impacted small businesses. In addition, 72% of those surveyed felt their own business would be able to survive six months or more if conditions remained the same.
The Initial Shock
According to our first small business survey from April, 89% of small business restaurant and bar owners stated that COVID-19 had a negative impact on their business' financial security. Additionally, nearly a third of restaurant and bar owners felt that if conditions stayed the same they would be able to survive less than three months.
Beyond the financial implications, our survey data echoed some of the changes that small businesses made to pivot and survive. Suddenly, restaurants were forced to source PPE (43%) to maintain operations, as well as offering products and services to adapt to changing customer needs (28%). Additionally, restaurants faced many of the same challenges getting food supplies in the early stages of the pandemic, with 39% of restaurant and bar owners experiencing issues sourcing materials due to supply chain interruptions.
Solving the Demand Challenge
Restaurant and bar establishments were some of the first businesses who quickly figured out how to drive demand and serve their customers, with 31% of small businesses shifting to deliver products and services differently, 28% offering new products and services, and 28% adapting to changing consumer needs. In fact, in my own community, I saw restaurant owners selling cleaning supplies and toilet paper products when indoor dining shut down.
With the pandemic continuing to take its toll, some restaurants have started to host virtual cooking classes on video conferencing platforms like BlueJeans, while others have offered discounted gift cards. Some business owners have taken to creating family-friendly packages and bringing the restaurant dining experience straight to their living rooms. I've also seen an increasing number of businesses offering additional incentives for customers and implementing special delivery measures to boost safety measures, while at same time adapting to state and municipality-wide COVID-19 safety procedures. Nationwide, COVID-19 guidelines and procedures have challenged restaurant and bar establishments to get creative in their business practices and ultimately adapt in order to solve the demand challenge.
Efforts like these helped maintain customer interest and engagement over the last six months. Stores that were able to maintain an active dialogue with customers throughout the pandemic will be best positioned to provide the confidence to return on-premise while maintaining their customer base.
Where We Are Now
Thankfully, in the months since COVID-19 first hit, we've seen an increase in confidence from small businesses, specifically restaurateurs. Key findings from Verizon's latest Small Business Recovery Survey showing an increasing confidence include:
57% of restaurant and bar owners believe if conditions stay the same, they will be able to stay open for at least 6 months or more
We saw a slight decrease across all small businesses reporting declining sales in October (67%) vs. 78% in April
65% of all small businesses polled in September were concerned about the pandemic's impact of their own business' financial security
Only 33% of small businesses polled indicated they had withdrawn from cash reserves due to COVID-19
Only 22% of small businesses polled stated they had reduced employees wages
Only 13% of small businesses polled applied for a new line of credit
We are seeing small businesses and restaurateurs focus on making their business ready for the future. With the restrictions placed on all businesses due to current capacity concerns regarding social distancing, continued efforts to build out online presence and educating customers about the safety on-site and delivery will be critical.
Digitization of services will be the number one priority for the future. In fact, nearly 50% of all small businesses are using digital tools and technologies to create new opportunities and to make money during COVID-19. Restaurants are already investing in contactless transaction solutions amid consumer health concerns. Restaurants and bars are also using remote collaboration tools with nearly one quarter (22%) of small businesses surveyed implementing new systems or tools to allow remote collaboration.
Looking into the Future
As the pandemic continues to take its toll on small businesses, it's crucial that businesses begin to adopt and implement new technologies in order to protect the core of their business, while discovering new ways to both engage and interact with customers. In the age of online customer reviews, happy customers aren't just a nice-to-have, they're essential.
While technology is an important tool that business owners can use to help keep customers happy and informed, health and safety is criticalfor small businesses owners navigating the new reality.
Our recent Small Business Survey data shows that 65% of small business owners are concerned about the health and safety of workers, while 62% are concerned about creating new relationships with clients in order to protect the future of their businesses. This even split creates a need to balance competing, but similar interests -- a solution new technologies can fix. Businesses that have implemented these new technologies have seen a variety of benefits including:
1. Marketing Promotions
With limited in-person experiences, restaurants & bars need to connect with consumers about things they never thought about before. Having constant communication with consumers about in-store dining experiences, social distancing and health precautions is crucial as indoor dining experiences begin to reopen. Those who take the time to connect with consumers will have an advantage in ensuring long-term survival.
2. Leveraging Cloud-Based Technology
As businesses face state-mandated occupancy restrictions, using cloud-based applications will ensure that individuals on site are all driving sales and turning tables compared to activities that they can accomplish remotely. Investing in on-demand tech support and customer service technologies will ensure that food and beverage establishments have 24/7 access to a wide variety of IT and support professionals to help assist them with system or user support issues.
3. Scaling Your Security System
Having an understanding that potential systems may be vulnerable to future attacks is key to managing risks and protecting your business infrastructure. Implementing quarterly check-ins to identify key risks and vulnerabilities is essential for any restaurateur in determining immediate systems to remedy. Now more than ever, we are seeing an increased trend in small businesses making new investments in security. Our Small Business Recovery Survey revealed that a third of small businesses have implemented new systems or technology to ensure security.
4. Mobile Workforce Management Apps
Seeing a recent uptick in implementation among small business owners, GPS tracking and field service management technologies fall under the umbrella of mobile workforce management technologies. Thanks to the advancement of wireless networks, these technologies are scaling in advanced apps, tablets, and other mobile devices that further empower small business owners, operations managers, and mobile supervisors with information and near real-time updates at their fingertips.
In today's uncertain business climate, fleet managers and business owners need to lean into these technologies to streamline tasks remotely to help build efficiencies both in the office and out in the field. These technologies balance small business owners' insistence on keeping employees safe on the road while successfully building new and current customer relationships.
As small businesses and restaurateurs look towards digitization, security has also become a top priority. With the pandemic essentially forcing more businesses from their traditional model of doing business, more decision makers are implementing hybrid models that puts more business being done remotely, creating a major need to protect their data.
Small businesses increasingly are leveraging many of the cloud applications as larger businesses and therefore, have similar concerns. According to a recent security assessment report analyzing the viability of small businesses data protection, more than one quarter (28%) of all cyber attack victims were small businesses. For small businesses trying to understand their overall digital security risk there are free security assessment tools available today that allows owners and executives to receive a snapchat of their overall security vulnerabilities.
As we look forward to the future of the hospitality industry, I am excited by the innovation, creativity and drive we've seen in our local communities. While we are still not out of the woods yet in terms of the pandemic and its lingering effects, small businesses show their resilience in the face of unchartered territory. They are survivors.
HotelExecutive retains the copyright to the articles published in the Hotel Business Review. Articles cannot be republished without prior written consent by HotelExecutive.