Eyeing What's Next in Leading Hotel Design
By Vince Stroop Principal, Stonehill & Taylor | November 19, 2017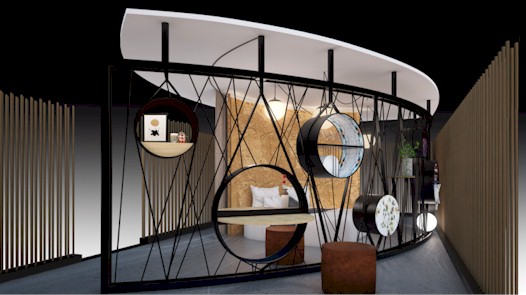 In a time when experiences are moments-long and shared over
Instagram by many users, it is hard to top the surprise factor when it comes to
creating a new destination. Nor should we, as hotel designers, try.
With the pace of changing trends that is being communicated
to us by branding agencies, designing the next new thing can be tempting. But I
am not sure that's what guests genuinely seek. And judging from the rise of Airbnb,
I may be right on my guess that guests want memorable, meaningful experiences,
not more selfies.  
Taking this role of designer as facilitator or enabler of
cultural experiences to heart, I have sought to study closely what the design
industry in general has been up to.   Milan Design Week for example is a platform to
experience so much experimentation in design, spanning the retail, residential,
and hospitality realms. Leading design minds from all over the world
essentially offer their thoughts on engagement.
One notable installation from this year was by the Italian
lighting brand Foscarini. The company gave its showroom space in Brera entirely
to architect Giovanni Filindeu, for him to experiment on the idea of light and
its dialogue with the physical space. Filindeu's studies on light took the form
of six distinct settings or "rooms" each inspired by a different memory or
feeling. Filindeu used his only material available, light, whether it was
daylight, artificial light or fire, expertly to convey a great sense of space
and emotion.  There was the divine light,
represented by a sole candle standing at the end of an empty dark cinderblock
room with daylight giving it contours resembling that of a church. There was
the happy feeling one had in the room surrounded by beams of daylight coming
into the wood paneled room from circular holes on the ceiling and reflecting in
the mirror floor. Each setting was meant to suggest an inspiration, but also
made the visitors think of their own memories and experiences.
In a different vein, Airbnb of all companies created an
interesting happening at the 2015 Milan Design Fair. They simply took over a
charming neighborhood cafe in a central area in Milan, outfitted with a host
and made sure there was an endless supply of food and drinks. They promoted the
installation just enough so people would stumble upon it and be pleasantly
surprised, rather than encouraging lines and crowds to take over. Visitors
walking in would be led to an empty space to sit at the communal tables. Food
was served on large, family-style platters. Through passing food and sitting in
close proximity in the cozy cafe, inevitably strangers started speaking to one
another in a delightfully spontaneous way. The result was a perfect level of chance
encounters or friendly exchanges that allowed people to put down their guard
for the hour that they were present.
Envious of the freethinking that took place in crafting
these inspirational installations, I was thrilled to have been asked to participate
in an opportunity to try our own hand at avant-garde thought.  My firm Stonehill Taylor, was invited as one
of four firms to compete in this year's Sleep-Set Competition that will happen
later this month in London.   In preparation, I organized an in-house think
tank to reconceive just what such an authentic and immersive travel experience could
look like by designing a room concept unbound by brand standards and current
trends.  We collectively discussed the
link between the essence of travel and the part of ourselves, our soul, that travel
awakens. We explored the set of emotions and values that are universal yet so
unique for each trip.
Please Login to read the full story, or you can Get Free 30-Days Hotel Business Review
The Hotel Business Review articles are free to read on a weekly basis, but you must purchase a subscription to access
our library archives. We have more than 5000 best practice articles on hotel management and operations, so our
knowledge bank is an excellent investment! Subscribe today and access the articles in our archives.