58th International Congress of Les Clefs d'Or Concierges Addresses Emerging Trends
. May 17, 2011



TORONTO, CANADA. May 17, 2011 - Over 600 of the world's top concierges, from 42 countries converged on Toronto, Canada, at the Royal York Hotel, in unprecedented numbers recently to focus on global challenges in delivering service, trends in hospitality markets worldwide and the evolution of the concierge profession at the 58th annual Congress of Union Internationale des Concierges d 'Hotels (U.I.C.H.). Considered the service elite in leading hotels and resorts, the Les Clefs d'Or concierge and brand represents the top three percent of the overall concierge profession in the world and are considered the original service role models. Four Seasons Hotels and Resorts Founder and Chairman Isadore Sharp focused on the role of service in sustaining a competitive advantage in his keynote address and how he and his team recognized the value of the concierge early on in that role. "The Les Clefs d'Or concierges are the true specialists. Not only do they know destinations better than anyone, they deeply understand the needs of their guests."
With unprecedented natural disasters, continued war and global terrorism, emerging and intensely competitive markets and escalating needs to serve a skeptical and weary public, hoteliers and service delivery professionals are more challenged than ever. Hotels and resorts are striving to attract profitable guests and provide service solutions in a consumer market where excellent, much less good service seems rare. Amidst these challenges, concierge professionals seem to be emerging as service heroes and role models. The concierge remains the most recognized point of contact for any guest need or desire and the word 'concierge' is now synonymous with service in a variety of industries and customer interaction roles.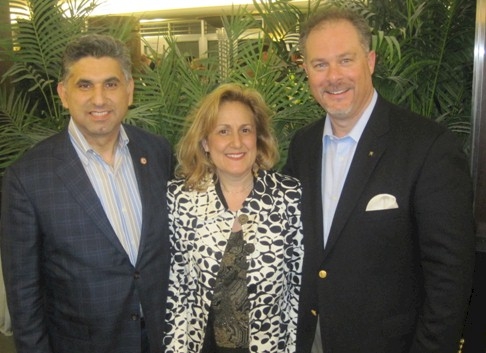 Toni Daoud, Immediate Past President Les Clefs d'Or Canada and Congress
Chairman, Virginia Casale, newly elected International President of UICH and
Gerald Parent, UICH Honorary Member, Education Program Facilitator and
Director, American Express open the 58th International Congress in Toronto, Canada.
Virginia Casale, first Canadian elected as the worldwide president and only the second woman to hold the position in the organization's 58 year history noted that the Les Clefs d'Or brand continues to uphold the highest levels of guest service and experience. "As guest satisfaction becomes a leading metric of market performance in hotels across the globe, the concierge plays an even greater role connecting experience delivery and revenue generation, " said Casale, concierge at the Sofitel Montreal Golden Mile. " Our Les Clefs d'Or network of almost 3,500 concierges around the world, allows us to offer the best of the best through an international rolodex of experiences, personal connections and entertainment options for our guests and all with a personal touch."
President of Les Clefs d'Or Canada, Toni Daoud, Concierge at Sutton Place Hotel in Toronto led the Canadian organizing committee in this attendance record breaking meeting and assembled industry leaders to address trends, challenges and opportunities for the concierge profession and guest experience management around the world. Featured speakers included Stephen Foster, Senior Vice President , Operations, Starwood Hotels and Resorts Worldwide,: Herve Houdre, Regional Director of Operations, InterContinental: Robert Gaymer-Jones, Chief Operating Officer, Sofitel Luxury Hotels; Sophia Lundberg, General Manager and Vice President, American Express and Andrea Torrance, Vice President of Rooms, Fairmont Hotels and Resorts and Gerald Parent, U.I.C.H. Honorary Member.
All of these speakers noted that service is an essential business strategy and provides the competitive advantage for driving loyalty and profitability.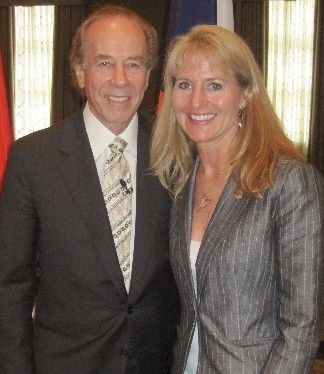 Keynote speaker, Isadore Sharp of Four Seasons Hotels
& Resorts with Roberta Nedry of Hospitality Excellence. This year's Concierge Congress reflects the Les Clefs d'Or organization's increasing business and bottom line commitment to the profession while also addressing the state of the worldwide hospitality industry. For the first time ever, a live audience response survey collected perspective and statistics on the profession and changing role of the concierge and established benchmark data revealing the scope, reach and influence of the Les Clefs d'Or brand. The Congress also welcomed India as the 42nd country accepted into UICH.
Les Clefs d'Or (pronounced "lay clay door") is French and literally translates as 'keys of gold" .Groups began as societies in many European countries at the beginning of the 20th century. Crossed gold keys displayed on hotel concierge uniform lapels assure travelers they are dealing with a seasoned professional who is dedicated to serving their every need and who has fulfilled intense membership requirements. Les Clefs d'Or professionals have a never-ending network of acquaintances, friends and colleagues from around the world to assist them in meeting and exceeding guest demands. Known for rolodexes worth millions, Les Clefs d'Or concierges are in the enviable position of being able to recommend destinations, businesses, companies, and/or products to thousands of business and leisure travelers throughout the world. Members of Les Clefs d'Or International reach over 126 million guests per year at primarily four-and five-star properties and constitute the only international association of professional hotel concierges in the United States. For more information visit www.uichlesclefsdor.org.
Contact:
Roberta Nedry
Phone 954-649-6888
Email: [email protected]