Getting into the Zone: Widening Your Web Influence
By Kristi White Director of Revenue Optimization, TravelCLICK, Inc. | January 27, 2012
The electronic age has arrived. For some hotels, the Internet has represented just another place to market. They've created a website, added a booking engine, and maybe done some rudimentary marketing. Yet for others, it's a renaissance of opportunity-with a new generation of hotel professionals finding endless ways to capitalize and gain market share.
Where does your hotel fit on the spectrum? Are you in the game with a ho-hum website? Or have you put on your boardies, grabbed your board, and popped up to ride the next wave?
If you're in the first category, you have a lot of catching up to do. If you're in the second, you may already be implementing some of the initiatives that follow. Wherever you are in your Internet marketing, opportunities are rife to improve your Web Influence Zone (WIZ).
WIZ measures an individual's or organization's presence on the web. The easiest way to determine your hotel's WIZ is to type in its name and see how many organic or non-sponsored sites show up; the more organic results, the greater your hotel's web presence.
The example below shows results of a Google search for "JDV Hotels":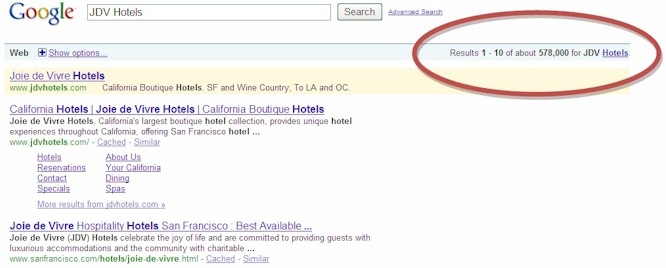 Please Login to read the full story, or you can Get Free 30-Days Hotel Business Review
The Hotel Business Review articles are free to read on a weekly basis, but you must purchase a subscription to access
our library archives. We have more than 5000 best practice articles on hotel management and operations, so our
knowledge bank is an excellent investment! Subscribe today and access the articles in our archives.