Email Marketing Revisited: What Smart Hoteliers Understand Today
Does email matter anymore?
With all the hype over social media during the past several years, email has taken a backseat role in many ways. That's a shame. Email remains a very powerful marketing tool when used correctly. It can serve as the cornerstone of permission-based relationship marketing - a concept Seth Godin developed in his 1999 book Permission Marketing.
Email usually has a higher psychological value than other social media communication. If you are consistently delivering value in your messages, people will listen to what you have to say. And they'll take action.
A Datran Media survey of CMOs found that email was by far the strongest performing advertising channel last year: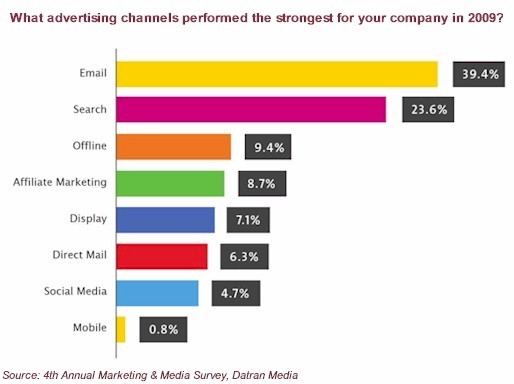 Email in a social media world
I love when people come around and say what they have is better than email. A few years ago, RSS is going to eliminate email. People were working like crazy to build their Feedburner lists. This never worked because they couldn't build a relationship.
It's not that email is a magic solution; it's ultimately about the relationship. Social media is good because it helps to build that relationship. You're showing pictures, you're telling stories, you can hear from customers. But social media also allows you to collect email addresses even more rapidly. Because you can now do it on a Facebook fan page, and in your Twitter feed.
This chart from ExactTarget illustrates that for people who are most active in social networks, email use actually increases.
And here is some more research by Merkle - again, people who are very active in social media tend to check their email far more often:
It seems that both social media and email use correlates with how much time people spend online. One does not reduce the other.
Two things you must do before beginning any email marketing
Know your audience
Ask yourself "Who is our audience?" Who are you sending to? Is each recipient quite similar, or are they split into distinct groups? Good examples are: a)people that have booked with you three seasons in a row, b)people who stayed with you once and c)the people who never stayed at your property at all. You should send different messages to each of these groups.
Know why people buy from you
Once you know your audience very well, it becomes much easier to determine why someone would book a reservation at your property. Maybe you talk with your guests directly, or maybe you've done a survey to ask them why they stay with you. If you haven't done either of those, now is the time to begin. Knowing why someone stays at your property is essential for crafting your messages. If you can understand what's important to them, you know which hot buttons to push to incite action.
The importance of segmentation
What separates great email from mediocre email is the level of personalization and customization. The more relevant you make your offer, the better ROI you'll get, and the happier the recipient will be. This is accomplished with segmentation. Collecting guest preferences should be an ongoing process, but it's helpful to get some basic details when a person first signs up for your email newsletter. This can be done through a preferences center:
Allow people who sign up to select the content topics that interest them.

Give them the option to select how frequently they want email from you.
As time goes by, you should be sending subscribers back to this preferences center from time to time. This allows you to collect bits of information without being overwhelming. (And you then use this to publish increasingly relevant messages for the recipient.)
You may consider using some of the following interest groups as you plan your own list segments:
• Special rates & promotions
• Monthly newsletter
• Health
• Women
• Food & Wine
• Pets
• Romance
• Green
• Outdoors
And when you become more advanced, you may add some of these other segments to provide even more customization:
• Date of subscription (time on the list)
• Most recent visit to your hotel
• Type of reservation typically made
• Type of traveler (business, leisure, family, romantic, etc.)
• Acquisition channel (how the person first heard out about you)
• Geographic region
• People who clicked a link in your previous email
• Active subscribers: people who opened your previous emails
• Non-active subscribers: people who have not opened a message in a long time
Smart automation of email
Email marketing lends itself nicely to automation: systems that run like clockwork. A good email automation system takes quite a bit of time to plan and assemble, but once set up it can run behind the scenes, increasing your profitability.
The benefits of email automation are compelling:
It can provide a superior level of service for your guests and customers
It frees up your time from repetitive tasks
It ensures each step of your online sales system is properly executed
Follow-up leads to higher profitability
For many websites, 80% of the visitors will never return. Email provides us with the opportunity to reach these people - people who otherwise may not come back. It lets us follow up with those who may not be ready to buy now, but may be interested in the future. This provides you a higher return on your marketing and advertising investment. By "recycling" your web traffic, you bring in more sales over the long term.
There are three basic parts in an email automation system:
Welcome messages
Transactional sales email
Transactional service email
Welcome messages provide a nice introduction for people joining your mailing list. You can quickly re-state the benefits of subscribing, and let them know what you'll be sending in the future.
Transactional sales email is the automated confirmations people receive when making a booking. This can be a powerful opportunity for you to increase profits. You have two big opportunities here: cross-selling and upselling. Avoid the mistake of stopping your sales communication once a purchase is made.
Once someone has made a booking at your property, this is also the time for you to offer information and advice that will make their stay with you a positive one. I like to immediately send out a digital welcome kit that includes information on the hotel and trip planning advice. Invite them to join your social media network, presenting this as a way for them to keep in touch with you if they have any questions while planning their trip. Provide extra service at this stage, and you'll create satisfied customers that think of you before the competition next time.
Emails' best friend: The landing page
Landing pages are the first thing someone sees when arriving on your website. If you can create a special page that matches your email offer, conversion rates will improve dramatically. This is because these pages can focus on the offer received by the email subscriber, so that when they come to your website, they are more inclined to act on that offer. They won't get distracted by everything else you have on your site.
Images and headlines should match the email creative. *Aim for a seamless experience for the recipient. * Design the page layout to focus the visitor's attention. You may try:
• Increasing the font size
• Eliminate multiple columns and navigation
• Include a very clear next step
Email works best when it is part of an integrated campaign. And building email campaign-specific website landing pages is the first thing you should do to integrate.
Succeed through testing
As with most online marketing, success is achieved through continual testing…and making changes based on what you learn.
A study by Jupiter Research found only 40 percent of email marketers tested their campaigns on a regular basis, but those who did were rewarded by an average 25 percent improvement in response rates. Tests usually take the form of split-testing: where you send two variations of an email at the same time to the same list. Most email services make this very easy.
Some ideas for testing include the following:
Starting your testing

• "From" line - test once, and stick with the winner
• Subject lines - test as often as possible for improving open rates
• Frequency - test how often you should send, and then build an editorial calendar based on this
Testing the email content
• Content topics - news? promotional offers?
• The offer - Is 15% a more compelling offer than $15 off? Does three nights for the price of two convert better than an extra night free?
• The call to action - website link? Toll-free number?
• The layout
- Copy
- Graphics
- Colors
- HTML vs. plain text
- Length
- Number of links
Testing other factors
• Days of the week (Tuesday…or Saturday?)
• Time of day (morning, afternoon, etc)
• Personalization
• Response difference to various offer types: customers and prospects
• Website landing pages
Integrate your email
In this article, we looked at a number of components in email marketing. I'd like to close with one action step: integrate your email. Email works best as part of a multi-channel campaign: cross-promoted with social media, combined with the direct mail piece, or followed up with a phone call.
Additionally, we can increase email effectiveness when we:
• Match our website's message, look, and feel
• Create dedicated landing pages on our website that echo the email's message
• Use email to support our other marketing and advertising efforts
• Match email with our offline guest experience
Step back and look at the big picture. Email is just one tactic in our toolbox, and when we synchronize it with other channels we can multiply its power.
Josiah MacKenzie is the founding owner and marketing brain of the Gradigio Group, a San Francisco-based collection of media properties catering to the hospitality industry around the globe. He also has roles in other ventures, with business interests in North America, Europe, Southeast Asia and Australia. Mr. Mackenzie has published over 100 articles, and has appeared in the Washington Post, MSNBC.com, and Entrepreneur magazine. His new book, The Savvy Hotelier's Guide to Hotel Marketing Ideas, reveals over 1,000 of the most profitable marketing tactics used by hotels. Mr. MacKenzie can be contacted at 415-671-9629 or josiah@reviewpro.com Extended Bio...
HotelExecutive.com retains the copyright to the articles published in the Hotel Business Review. Articles cannot be republished without prior written consent by HotelExecutive.com.