Why Should I Consider Using Mobile Apps and Tablets for My Hotel?
By Tom O'Rourke, President & CEO, O'Rourke Hospitality
You don't have to be an expert in mobile to recognize the dramatic changes that took place in the mobile arena this past year, both in the U.S. and worldwide. There has been a plethora of new mobile devices on the market, many with advanced features, and mobile has taken on a whole new form with the introduction of tablets such as the iPad. The shift from PC to mobile is happening right before our eyes and is changing the way people pay their bills, make bank transactions, shop, communicate, and travel.
The dramatic consumer shift to mobile affects all industries, especially the hospitality industry, as travel and mobile go hand-in-hand. With the increasing demand for mobile devices including smartphones, iPods, and tablets, comes the demand for apps that are useful for the end-user and can turn the mobile device into a conduit that performs the functions of the app. Travel apps are particularly popular and can turn a smartphone into a trip planner, an interactive map, a guide book, a digital concierge, a weather channel, a social network, a camera, and a source of real-time news.
The travel and hospitality industry in particular needs to take a world-wide view of mobile, as travelers come from all over the globe with various devices, unique expectations, and different levels of technical knowledge. According to a recent study by comScore, "While Europe was 'in the lead' in the mobile race with their early and widespread adoption of text messaging and higher smartphone penetration compared to the U.S., the U.S. has eclipsed Europe in terms of the penetration of mobile media with 47 percent of the American mobile audiences using connected media, compared to 34% of Europeans." 1 Mobile media can refer to browsing the mobile web, accessing applications, or downloading content. One main reason the U.S. may have surpassed Europe in mobile media usage is the adoption of unlimited data plans.
According to this same study there has been rapid smartphone adoption in the U.S. over the past year. As you can see from the chart below, the EU5 (U.K., France, Germany, Spain, and Italy) as a whole surpass the U.S. in the number of total smartphone subscribers, 15% greater than the U.S. However just a year ago EU5 was 25% larger than the U.S. 1 The chart below shows the U.S. with 63.2 million smartphone subscribers, and the EU5 with a combined 72.6 million smartphone subscribers, led by Italy and the U.K.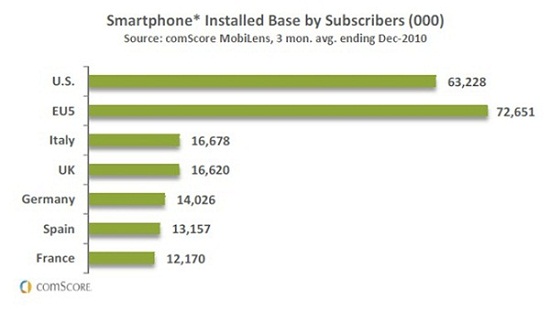 We must also take into account the booming Asian market, which is light years ahead of the U.S. in terms of mobile media usage. Japan is considered one of the most sophisticated mobile markets, and people are accustomed to using their mobile devices for consumer transactions. Japan has also pioneered the mobile wallet. "Japan's mobile audience reached nearly 100 million mobile users in December 2010, with more than 75% of those subscribers using connected media, far surpassing the U.S. and European countries in this measure."(1)
On a recent trip to Singapore last month I observed firsthand the widespread use of mobile, and the various ways that people are using it. Many of the hotels have been using mobile in their marketing plans since its inception, and are now focusing on ways to utilize tablets to achieve greater efficiency and empower their staff in areas such as mobile payment, concierge and guest check-in and check-out services.
Americans are also embracing new mobile technologies, and this trend continues to grow rapidly. Think about this time two years ago, or even last year. You did not see many people on the street with smartphones, and now it is impossible not to. Think about the number of ads you now see promoting the latest mobile device. It's also clear that most of the major brands, as well as many of the smaller brands, have their own app available so their audience can interact with their brand through their mobile device. Think about your own hotel or hospitality brand. Are you providing your guests a way to interact with you on their mobile devices?
More and more of your guests are purchasing smartphones, and will join the thousands of guests that are already using them to make travel plans and hotel reservations. There is a growing number of smartphone devices for consumers to choose from. When considering which device to purchase, consumers take into consideration the network quality, the mobile operating systems, multimedia, and social networking features. They also take into consideration the quality of apps that will be available for them.
Currently the Apple App Store has the highest number of apps available, and the apps are often a higher quality because of the strict Apple approval process. It's often the apps, not the mobile device features, that make your phone unique and help you run your life - especially when it comes to travel. Mobile device manufacturers recognize this as well and often promote a handful of high-quality, useful apps to help them sell their hardware.
Another major breakthrough this past year was the introduction of tablets such as the iPad. These tablets have opened up even more opportunities for your hotel to provide added service and convenience for your guests, especially while they are on-property. Some hotels in the U.S. have already begun placing tablets in rooms that display a software solution, or an app, that can help guests manage their stay. The tablets can cut costs and replace traditional in-room print material. Hotels can also control their own content if the app runs on a mobile CMS system, and they can instantly update content with no waiting time or cost.
Some hotels are also using the tablets as remote controls to do everything from controlling the heating system to turning off the lights. These features are fun for the guest but the real value of having an app on a tablet comes from the added service you are providing your guest in helping them to manage their stay. You can supply them with real-time information about events at your hotel or in your city, alert them of special offers they can use while on-property, and provide them with all the information they need about your hotel and the surrounding area.
As a frequent traveler, I have often found myself in situations where I could really have benefitted from a hotel tablet or mobile app. There are many times I have arrived late to my room, after the hotel restaurant has closed, only to find that I was hungry and had no idea of where I could call or go to get a bite to eat. An app could have solved my problems and showed me the hotel recommended dining options, an interactive map how to get there, and a click-to-call number. Some hotels are also integrating their property management systems to allow the guests to directly order food from the hotel restaurant and check-in and out with the tablet.
The use of tablets and smartphones is not just a trend, they are here to stay and will only become more and more sophisticated. Technology does not go backwards. The iPad tablet was just released at the beginning of 2010 and was quickly adopted by consumers. Apple set the standard for technology innovation and prompted other device vendors to release their own tablets. According to the International Data Corporation (IDC), 10.1 million media tablets were shipped in the fourth quarter of 2010 - more than double the 4.5 million shipped in the third quarter.(2)
Apple is still the clear leader and has just released the iPad 2 where other vendors have not even come to market with their first generation product. That said, Apple's market share of the global media tablet dropped to 73% in the fourth quarter, down from 93% in the third quarter. The primary competitor was Samsung's Galaxy Tab which captured a 17% market share. Media tablets are predicted to reach shipments of 50 million units in 2011.2 According to the IDC research the majority of the tablet market is the United States, Western Europe, and Asia/Pacific (excluding Japan). These regions accounted for 89% of all media tablet shipments in 4Q10, with the US as the largest country market.
If you keep up with the mobile market statistics, watch your competitors, and are in-tune with your guests' needs and expectations, you will recognize that mobile should certainly become a priority for your hotel marketing plan. Mobile is global, and it is important to watch what is happening internationally, as well as in the U.S., as these markets affect each other.
As the definition of 'mobile' expands beyond smartphones to tablets and other devices, your hotel marketing opportunities also expand. There are so many possibilities for your hotel to generate revenue, differentiate your property, increase brand awareness, and build guest loyalty. With a mobile app such as the Smartstay hotel app, guests can use their phone to make a reservation, receive real-time information on the go, and manage their stay at your hotel and in your city. The same can be said for tablets. It is also important to recognize other opportunities in mobile such as in-room tablets, temporary event apps for weddings and meetings, mobile marketing, and affiliate marketing. I strongly advise hotels to incorporate mobile in their marketing plans this year, as it will greatly benefit their property and their guests.
References
(1) The comScore 2010 Mobile Year in Review http://www.comscore.com/Press_Events/Presentations_Whitepapers/2011/2010_Mobile_Year_in_Review
(2) IDC, Nearly 18 Million Media Tablets Shipped in 2010 with Apple Capturing 83% Share http://www.idc.com/getdoc.jsp?containerId=prUS22737611
Tom O'Rourke founded O'Rourke Hospitality in 2001 and grew it into an award-winning hospitality marketing firm specializing in hotel website design and development, Internet marketing, SEO services, and mobile marketing. His innate ability to see new possibilities and generate fresh ideas, combined with his passion to bring these ideas to fruition, differentiates O'Rourke Hospitality from more traditional agencies. Prior to O'Rourke Hospitality Marketing, Mr. O'Rourke partnered in the growth and development of two successful and innovative enterprises where he honed his ability to move a concept into a reality with dramatic results by applying solid business practices and a high level of creativity. Mr. O'Rourke can be contacted at 978-465-5955 or Tom@ORourkeHospitality.com Please visit http://www.orourkehospitality.com for more information. Extended Bio...
HotelExecutive.com retains the copyright to the articles published in the Hotel Business Review. Articles cannot be republished without prior written consent by HotelExecutive.com.