Social Media Success Stories From the Fontainebleau Miami Beach
By Jeff Klein Vice President of Food & Beverage, Fontainebleau Miami Beach | February 24, 2013
BleauLive is Fontainebleau Miami Beach's entertainment platform that incorporates performances by the world's top musical acts into unique vacation experiences. Available only to hotel guests through distinct packages, BleauLive combines elements of performance, personal guest interaction with the artist, and an immersive weekend getaway for the complete Fontainebleau experience. The BleauLive brand helps build on Fontainebleau's reputation as a world-class entertainment destination-a reputation that has been in place since opening in 1954.
In the glamorous golden era, legendary celebrities and artists, including the Rat Pack, Elvis Presley, and Frank Sinatra visited and performed at Fontainebleau. That tradition continues today with some of pop music's most celebrated artists. Launched over Labor Day weekend in 2011, Fontainebleau's inaugural BleauLive concert series featured hip-hop artist Pitbull. Singer Ricky Martin came next, with a Thanksgiving weekend show. In 2012, chart-topping R&B singer Ne-Yo performed as part of a memorable Mother's Day celebration. Most recently, Fontainebleau welcomed living legend Dionne Warwick for an intimate cabaret-style show to benefit victims of Hurricane Sandy. Fontainebleau's largest musical event of the year-organized in partnership with iHeartRadio-saw Maroon 5, Flo Rida, Enrique Iglesias, and more take the poolside stage. Throughout BleauLive's existence, Fontainebleau has strived to ensure that its accompanying social media efforts reflect and promote the BleauLive campaign.
In an effort to engage with guests and fans on a daily basis, Fontainebleau participates in a number of social media networks, including Facebook, Twitter, Instagram, Pinterest, YouTube, and Foursquare. Since that first Labor Day weekend celebration, Fontainebleau has generated more than 100 million impressions on its various social media sites. In laymen's terms, "impressions" refers to the number of people who have seen the content that you've posted. Leading up to an event, Fontainebleau publishes behind-the-scenes videos and teaser photos to spark excitement and buzz. Once an event begins, we post real-time updates, allowing followers to feel as though they are right in the middle of the action and after it's all over, an insider's perspective from the event is shared in multiple installments throughout the next week. In the digital age, an event is no longer just a one-night experience for attendees; it has a life online too. By bolstering social media efforts for BleauLive events, Fontainebleau is able to extend the buzz around an event well beyond its traditional scope. Though the common thought is that social media content has a short shelf life, Fontainebleau acts strategically, posting and interacting with a clear goal in mind. Together, these daily posts and minute-to-minute tweets combine to make a big impact.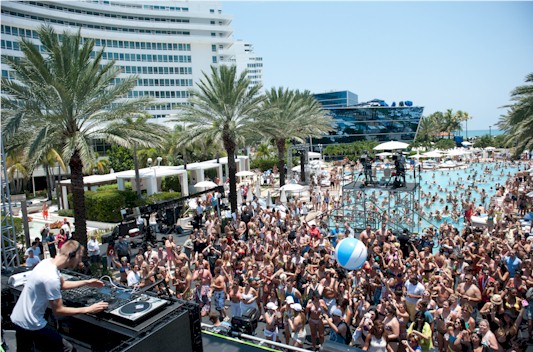 By capturing and sharing memorable moments with followers, Fontainebleau can drive engagement and spark interest in future events. These outlets are vital to maintaining a positive relationship with both those who experienced BleauLive firsthand and those who aspire to attend. Rewarding those who follow Fontainebleau on their preferred network is just one way to express our appreciation. Fontainebleau always makes an effort to provide followers with exclusive content, such as a sneak peek into an upcoming performance, live behind-the-scenes coverage from an event, and even chances to win stays during the hottest BleauLive concerts.
Creating compelling, authentic content is at the foundation of building an effective social media presence. The content must be an accurate representation of the persona that guests have come to know. This means the tone and voice must be consistent regardless of venue, from an interaction on Twitter to a daily Facebook post. By creating engaging content we are able to drive conversations around the property and the BleauLive brand. Once these conversations are sparked, fans are encouraged to supply their own content, becoming, in essence, brand ambassadors for Fontainebleau. Word of mouth has always been an effective marketing tool, and with social media, it has become exponentially more rapid and effective.