Think Local, Go National
How to Give Travelers What They Want: Authenticity
By Pat McBride, Founder and Chief Executive Officer, The McBride Company
The mission of hotels has evolved over the years, from simply providing guests with a comfortable, safe place to sleep to offering a destination that provides much more than shelter. At today's hotels and resorts, visitors have a place to conduct business, enjoy good food and drink, socialize and escape from life's everyday pressures. But travelers often seek something more now, and a new trend has distinctly emerged. Many visitors no longer want to escape. They want to explore and dive into the local atmosphere. Today's travelers desire to experience the culture, attractions, food and neighborhoods of a destination more than ever before.
For instance, if you're a Chicagoan traveling to San Diego, you truly want to experience the Southern California lifestyle. If, however, you're a Chicagoan with an obligation-free weekend at home, then you're likely to seek some of the best experiences your city has to offer - deep dish pizza, Chicago-style hot dogs or maybe a little live blues music at one of the city's great bars. In other words, the out-of-town traveler and the local are in pursuit of just about the same thing - an authentic local experience.
Can a hotel really deliver the local experience? The answer is yes. We have seen the rise of a new breed of boutique hotels that have attempted to capture the local vibe. Some have had success, and others have fallen short. To capitalize on the more adventurous nature of travelers today, the hotel developer needs to strive for a deeper understanding of the homegrown scene and what travelers want out of their visit.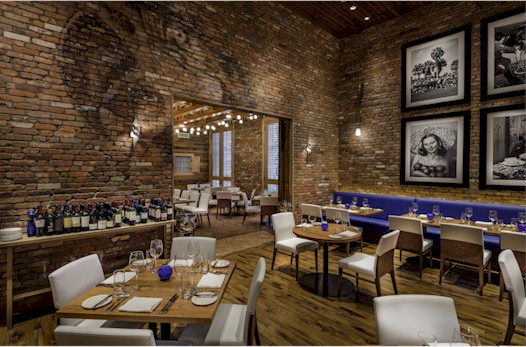 Photo: Eileen Escarda
Producing a Heightened Experience
It can be helpful to imagine you're producing a movie when designing a hotel. A great movie has the ability to transport an audience from the theater into the film. Hoteliers need to think of hotel properties in the same light if the goal is to create environments where travelers feel immediately immersed in the fabric of their "temporary hometown." In this film, the hotel developer is the producer and the designer is the director. Both are responsible for pulling together important elements to deliver a heightened local experience for guests - the stars of the film.
A great strategy for creating an authentic atmosphere is to create "emotional triggers." Emotional triggers are those elements that, when encountered, instantly transport your guest into the local frame of mind. You can provide these emotional triggers by showcasing unique architectural details, music, artwork, photography, local sports and employees' insider knowledge of the city.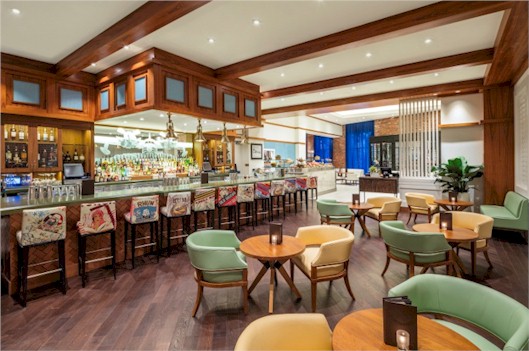 Custom designed bar stools at JWB Prime Steak and Seafood in Hollywood Beach, Florida
were created from vintage Caribbean rum labels.
Photo: Eileen Escarda
The "local touch" in the guest rooms can be subtle, but still impactful, at sparking emotional triggers. Hoteliers can accomplish this through the selection of the color and material palette that are reflective of the local environment. For example, the color palette of Florida is quite unlike that of New England, and they each have the power to make guests feel differently. Artwork and photography should reflect the locale, and when possible, should be created by local artists. Not only does this support the arts in the city, but it gives your guests a more customized experience as well.
Consider the music that greets your guests when they enter the lobby - this is the soundtrack of your film. If you're interested in creating a truly local experience, feature local musicians. Many hotel chains play the same music loop in every location, but creating a unique soundtrack is a great way to flaunt the local music scene. You could even take it a step further and offer live music in the hotel restaurant on weekends, or encourage local artists to visit and give your guests a taste of the city's true music scene.
Maintaining the Brand
Hotel businesses want to maintain elements of their brand across all their properties, and rightly so. However, at the same time, it's important to accomplish this without creating completely identical properties. You don't need to abandon your brand to deliver the local experience. In fact, delivering the quality and security of the brand with the energy of the local scene is a powerful mix.
The goal is to make these brand hotels feel more like a collection and less like a chain. Thus, the ratio of brand elements to unique attributes should be carefully considered. A good rule of thumb is 65/35. In other words, the atmosphere detailing of each property within the collection can be designed as 65 percent pure brand while incorporating 35 percent of the local influence. This approach can go a long way toward making each hotel in the collection feel unique, thus encouraging visitors to experience each of the "different" hotels within the collection.
Brand consistency within a collection is often more about the services and conveniences you provide than about the specific design elements. For example, imagine your collection is made up of 15 properties across the country in cities ranging from Tulsa to Los Angeles. The more intangible deliverables - reliability, cost and quality of service and accommodations - are what help create the brand experience, so these characteristics should always be consistent across the board. This approach allows a designer to really focus on creating a local experience without worrying guests won't identify your brand.
Committing to the Goal
Designing for the growing demographic that craves a unique local experience may well require a readjustment in the business development, planning and operational process. It takes a real commitment to the goal. For example, to get that local feel, you should consider strategies that would help attract a good number of local residents to the hotel property. Not only are these locals wonderful long-term patrons, but they also are a key ingredient in providing "local flair" for your overnight hotel guests. The staff you hire and the establishments you partner with play a role in your hotel becoming a part of the community fabric.
Of course, the hotel's location will play an important role in how well the local experience can be delivered. A dynamic neighborhood - not necessarily the heart of the city's tourist traffic - can be a compelling destination. Seek out ways for your property to incorporate the type of restaurants and funky boutiques that thrive in the area. These partnerships have the potential to really amp up the authenticity of the local experience your hotel can offer.
Here are just a few of the experiential details that help improve the way your hotel brings guests into contact with the local vibe:
Ditch the nationally recognized, brand-name coffee retailer and feature the smaller "mom-and-pop" coffee roaster that everyone in town prefers. Guests will appreciate a taste of the local brew.
Look into nearby wineries and offer guests a regional wine tasting during happy hour.
Use the guestroom minibar as a way to make guests feel adventurous - offer local craft beverages and snacks they can't get in most cities in the country.
Deliver the local and regional newspapers to guestroom doors every morning.
Consider partnering with local art galleries to feature emerging artists in the hotel's common areas.
Have the hotel gift shop feature "discovery retailing" with a prominent selection of local-focus books, crafts and unique products that have local origins.
Finally, hiring longtime local residents to provide front line customer service is one of the most important ways you can commit to creating a "real" local experience. Local team members serve as ambassadors to the city and can provide the best information about the surrounding area. Encourage them to steer guests away from tourist traps and direct them to authentic destinations, restaurants, attractions and events - you might even consider developing a program to incentivize employees to uncover the best local joints well-suited for your adventurous guests. Don't take the traditional concierge approach. Leverage the local knowledge of your entire customer service team to curate a unique menu of guest activities, including bike tours through the most interesting neighborhoods and a bar crawl through the best local pubs. It's also a great strategy to work with quality local venues and tour operators to offer "insider" local experiences.
Looking Ahead
We can see the day when hotels, restaurants, bars, entertainment venues, boutique retailers, spas and even cultural institutions begin to form alliances and locate their offerings under one roof or in neighboring adjacencies. For a long while, hotels have opened their doors in malls or mixed-use centers, but we're predicting a more selective process will take hold. We'll see more prominent brands across several hospitality, leisure and retail segments start working together to create the ultimate destinations. To prepare for this shift, it's important to remember your hotel bar, restaurant or pop-up gallery should be an attraction to everyone - not just out-of-town guests.
Hotels that deliver a local experience, both of escapism and exploration, will continue to grow in demand. No guest should leave their South End hotel in Boston with the impression they stayed in the same property in Phoenix.
Through a creative design approach and thoughtful business decisions, you can deliver a compelling local experience while also providing all the benefits of the brand.
As founder and chief executive officer of The McBride Company, Pat McBride has guided the firm over the past 30 years, He oversees the firmís key projects and manages relationships with clients. He is focused on ensuring The McBride Company continues to deliver on its reputation for design innovation. Mr. McBride is committed to mentoring the firmís talent and instilling the values of a family-owned and operated firm. He has experience in strategic planning, conceptual design, architectural design and interior design. Heís performed in a successful rock band, owned a publishing company. And now owns a recording studio that produces soundtracks for many of the countryís top entertainment destinations and top-selling childrenís records. Mr. McBride can be contacted at 802-362-0700 or pat@mcbridedesign.com Please visit www.mcbridedesign.com for more information. Extended Bio...
HotelExecutive.com retains the copyright to the articles published in the Hotel Business Review. Articles cannot be republished without prior written consent by HotelExecutive.com.