How Hotels Can Approach Technological Sustainability
By Bill Lally, President, Mode:Green
Green initiatives have become widespread across the hospitality market, often denoted from a sign that kindly asks guests to reuse your towels or use less water. These are small steps that hotels can take, but new technologies are making large-scale sustainability programs possible. This next wave is about more than material conservation; now the whole building is starting to get smarter through design, automation systems, sensor technologies and a fully integrated guest experience.
One of the first aspects that hotels consider when going green is the materials for the décor as part of the branding and custom experience. One example of this is the 1 Hotel franchise, which approaches sustainability from both design and technology aspects. The Central Park location features reclaimed wood, 100 percent organic cotton bed linens, LED bulbs, filters in all taps, sinks and showers, as well as an emphasis on cutting down on the use of paper. The property even has botanists on staff to support the plant life.
The hotel also offers a complimentary Tesla electric vehicle and bicycle valet service to help guests travel in an eco-conscious way. The green and earth-conscious design elements in hotels are aimed to appeal to guests and go along with the overall branding of the hotel as an eco-friendly franchise. But for hotels who don't have an overall green image, they can benefit from a sustainability program to save energy and costs. Some hotels can save tens of thousands a year on energy through automation. Behind the leafy décor of the 1 Hotel, there is an automation system that management, housekeeping and guests use both for convenience, as well as sustainable and operational efficiency.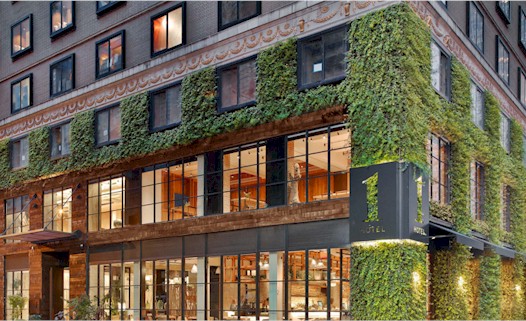 The temperature, entertainment and lighting devices in each room are tied into the system so they can be controlled remotely or pre-programmed to power on or off based on guest check-in or check out or in coordination with an astronomical clock. Scenes coordinate all of the devices for easy activation from management through the system when the room is set to be unoccupied or during long periods of inactivity, or by housekeeping to prepare the room for check-in. Like design, the lighting in a sustainable hotel can benefit both management and guests.
Making lighting part of an energy savings program starts with using low-energy LED bulbs, but can become complex and much more efficient when tied into an automation system. Scenes in hotels can improve the guest experience to help them relax with soft lighting or be more productive with bright daytime lights, but can also keep usage down throughout the hotel. Switching to LEDs might be the first step in bringing energy usage down, but being able to shut down hundreds of bulbs that don't need to be running - or even setting them on a timer - can make a larger impact. With scenes, the lights can be scheduled to lower brightness at different times of day, or to automatically be shut off based on occupancy. This limits unnecessary device usage on a large scale to save energy across all of the rooms in the building.
Other technologies that have been around will continue to advance to improve the guest experience, keep costs down and improve operational efficiency. Automation in hotels is growing in popularity as more and more have planned to invest in the technology in 2017. The first step for them to take is control of lighting and HVAC, and after that the next step is interoperable scenes. This is also growing in the residential market, where tying together several IoT devices creates a simpler activation and more customized experience in the home.
In hotels, lighting scenes can be coordinated with many devices in the rooms to help guests relax, work, or just keep lights off that don't need to be on - always with the added benefit of automatically dimming lights or shutting down devices when possible to cut down usage. A Welcome scene could open the shades, set the lights to a comfortable brightness, turn the TV to the hotel's preprogrammed message, and heat the room based on external weather conditions. It creates a welcoming atmosphere for guests, without putting any pressure on housekeeping to set each device individually in the room that set the mood. Making a smarter hotel from tying together the thousands of devices inside is the future, and new ways of using and incorporating data will emerge.
With lights, HVAC, entertainment and other devices in the guest rooms integrated together, data from these connected devices can be pulled into the backend to benefit management. The provisions of this software are continuing to advance, where it can be used to reduce energy usage by enact a preventative maintenance program, ensure any technology is running smoothly, or seeing room occupancy to limit staff-guest contact. Additionally, guest preferences can be stored, and repeated for future visits adding a new level of guest satisfaction.
Being able to see into the system to know when to replace air filters, for example, can reduce waste. Many hotels may have them or perform other maintenance on a timed schedule, where replacements could be made prematurely. With the insight of an automation system and sensors in the hotel, maintenance can perform this upkeep on an as-needed basis to only use materials when it's absolutely necessary.
When considering a sustainability program, hotels may focus on the central plant as opposed to individual devices. However, automation and coordination of any IoT, lighting, HVAC, AV or entertainment devices can make a much larger step towards reduced energy consumption and costs. It gets to the root of the problem when it comes to energy: things are being left on when they don't need to be. Collecting data on a larger scale about all of the devices in the guest rooms can help hoteliers cut down excess usage and also customize services for guests, by creating systems that automatically trigger devices on and off based on the temperature or time of day. By coordinating the thermostats and lights in unoccupied rooms to turn off their functions when occupancy is zero, it reduces the costs to run them as well as the staffing that it might have taken to individually reset rooms as guests cycle in and out. And it also provides a nice experience for the guests, where they can benefit from the convenience and have a room that's the right temperature automatically if it's connected in to real-time weather data.
When adopting these new technologies as part of a larger energy management plan, hotels have to go through a massive design and construction process. But before any of that can start, the energy savings plan has to be conceptualized and budgeted; this step alone can be a major obstacle, as sustainability can be categorized as different types of expenses. This raises the question: Who pays for it? Energy management gets tied into the design and technology of the hotel, so it could be considered either a capitol or an operational expense. Depending on how it's set up, this could also affect how profitability could be viewed, where an operator is judged on a month-to-month basis, whereas development is more so interested in the real estate investment. When starting such a program, this becomes a balancing act for hotel management. Implementing automation and an energy management solution can help reduce overhead and operational costs to help the hotel become more profitable while keeping room rates the same.
The implementation of these programs has to be planned out completely from design through the end of installation. During the design process, the technologists planning the automation, lighting, back-end and control system have to predict the future as technology moves so much more that the construction itself. For energy management, systems need to be able to expand to incorporate new technologies and upgrades to remain relevant and a worthy investment for ownership. Hotels also have to plan for how the new system will be added into the building, which can vary greatly whether it's a new construction or being retrofitted.
Time to install the system also has to be allotted to install and program these systems. Typically, technology installation is the last piece of construction and gets cut down as delays occur. Allowing more time for the integrators to work on the system provides the best value, and the additional training time to teach staff how to operate the devices and the backend will allow management to make sure that the system they invested in is being used to its full potential. All of these factors from the beginning are crucial to a sustainability program's success.
As more hotels begin to upgrade the building's technology, energy management programs of this scale will become more commonplace and cost-effective. Right now, most hotels may not know the possibilities or where to start when it comes to adding an energy management system, or any new technology that goes in building-wide. The cost-savings and customer conveniences that come with a sophisticated program will help drive adoption of sustainability efforts in hotels.
Bill Lally is the president of hospitality integration firm Mode:Green. A serial entrepreneur, Mr. Lally has experience and background in a variety of areas, which range from commercial audiovisual and control systems to energy management, broadcast, recording, post-production and hospitality. In 2008, he successfully founded Mode:Green, which provides advanced control systems and energy management in the hospitality and commercial markets. Capitalizing on having become the first LEED-AP / Crestron Master's Level Certified programmer, Mr. Lally grew Mode:Green from a small independent programming house to an enterprise which completed several fully integrated multi-million dollar projects over the past five years. Mr. Lally can be contacted at 407-574-6245 or info@modegreen.com Please visit http://www.modegreen.com for more information. Extended Bio...
HotelExecutive.com retains the copyright to the articles published in the Hotel Business Review. Articles cannot be republished without prior written consent by HotelExecutive.com.