Promoting the Value of Personal Interaction in the Hotel Digital Age
By Adrian Kurre, Global Head, Homewood Suites & Home2 Suites by Hilton
Co-authored by Alan Roberts, Vice President and Global Head, Embassy Suites by Hilton
'Little Data' Make a Big Difference
All customers are on a journey: they dream, shop, book, pack, arrive, stay, etc. The more we know about that journey, and how guests feel at each point along the way, the better we become at minimizing any points of friction and enhancing the entire experience. Technology has made it easier for travelers to talk to real Team Members at our hotels about their needs and desires - telling us what they want with every tap. We can then put that information to action, acknowledging our guests in unique and unexpected ways.
For example, a group booking a stay online for a family reunion or wedding celebration could be greeted with a personalized welcome banner on the day of their arrival. Even small gestures based on this "little data" can go a long way to boost the guest experience. When a couple books a stay to celebrate their anniversary, a list of romantic restaurant recommendations (including on-site options) could be provided at the front desk or left waiting in their room. We believe that if you deliver exceptional hospitality and use technology to make guests' lives easier, they will keep coming back.
Hilton Honors is another avenue for the collection of valuable information on preferences and tastes that can be used to personalize guests' experiences. Hotel brands just need to determine the best systems to use this insight in a way that creates personalization at every opportunity and within every corner of the hotel.
Making a Good First Impression
It is important to remember that guests who choose technology to bypass the front desk still physically enter the hotel. Therefore, the opportunities to acknowledge and interact with guests can start in the lobby. Embassy Suites by Hilton and Homewood Suites by Hilton are both undergoing major renovation programs for their older hotels with a specific focus on the lobby. The renovations are based on customer feedback that revealed a desire to spend more time out of the room and in shared spaces. Therefore, the aim is to boost the ambiance, invite more social interaction and even offer unique options in this shared space for those guests who prefer solo time to work or read while others interact nearby. Our research showed that guests want to make their own decisions to interact with others, but they want us to facilitate the ability to make the choice. We created options for them to be alone, but not lonely.
Embassy Suites' "Atrium Refresh" and Homewood Suites' "Take Flight" programs are designed with this versatility in mind. The lobby and common areas now offer a "mixed use" space guests can enjoy according to their tastes. Both programs focus on elevating common areas by reconfiguring the lobby to create opportunities for congregating and working, as well as providing more inviting and lively dining areas.
As older properties undergo these renovations, the new prototypes for Embassy Suites and Homewood Suites, as well as all Home2 Suites by Hilton properties, are designed from the outset to meet these important guest trends.
You Are Where You Eat
Our All Suites brands have a tremendous advantage as approximately 80% of our guests take advantage of our complimentary breakfast, with nearly 30% of our Homewood guests, and more than 40% of our Embassy guests taking advantage of the Evening Reception. This gives us an incredible opportunity to spread the light and warmth of hospitality, and create personalized experiences for guests through our Food &Beverage operations.
The Embassy Suites Atrium Refresh initiative also focuses on another essential aspect of personalization - catering to guests' food and beverage (F&B) preferences on site. In addition to a more inviting environment for complimentary breakfast and evening receptions, the atrium acts as a central gathering place within the hotel where guests and staff interact naturally. Team Members are trained to greet guests at breakfast with a smile and warm demeanor. At the same time, they remain sensitive to how much interaction a guest might want at any given time. Sometimes a simple nod is sufficient to acknowledge a guest occupied with work or on their smartphone. In contrast, people away from home at an extended stay property often welcome more opportunities for conversation.
These upgrades can be done cost-effectively, and, in fact, these investments often pay for themselves. For example, think of the added revenue generated from guests staying in a hotel for all their F&B needs, versus seeking meals and drinks elsewhere. If you build it, and do it right, they will stay.
F&B offers a consistent opportunity to interact on a human level, making it a key to hospitality and to helping a brand stand out from the competition, as we previously pointed out in F&B Drives Hospitality and Human Interaction in the Digital Age. F&B is particularly important for extended stay hotels, because when you offer a focused set of services, maximizing customer touch points throughout a stay is essential.
Providing a personalized experience through F&B will only grow in importance as more hotel transactions go digital. Remember that every personal interaction - or lack thereof - can make or break a guest's experience.
Team Members who appropriately acknowledge guests as they're taking advantage of the F&B options within the hotel property can increase loyalty and revenue moving forward. Beyond F&B, the front desk and the lobby, hotel staff can recognize guests in the hallway, in the elevator and anywhere else encounters naturally occur, even if only for a moment.
Training for the Total Guest Experience
Listening to guest feedback and staying ahead of new trends as they emerge helps hotels grow guest loyalty and repeat business. But it's also important to pair these new technological innovations with Team Member training. Technology and personal interactions don't compete - they are complementary. As we mentioned earlier, we are a business of people serving people. But simply arming Team Members with the customer feedback collected is not sufficient. A more formal process is needed to identify all the appropriate opportunities to create memorable experiences. This essential first step needs to be coupled with providing the tools and training to help Team Members turn insights into action.
Just as technology is transforming the patient experience within healthcare institutions, hotel brands can adopt technology to bolster Team Member engagement in their own training - such as online training modules, or utilizing a fun, interactive gaming approach. In other words, digital advances, when deployed correctly, can improve experiences for both guest and employees alike. Whatever format the training ultimately takes, keep in mind the goal is to retain the human aspect of hospitality in this digital age. Like the futurist Daniel Burrus advises, instead of casting a wide net, you must never lose sight of "hard trends" when choosing technology. This approach is equally as valid for internal innovations like digital trainings, as it will increase the likelihood the best practices being taught will be embraced and become part of your long-term brand culture.
Hotel executives should devise best practices for the brand that individual teams can adopt to drive these levels of customization and personal interaction. This is particularly true with All Suites brands, where guests seek a "sense of home," and often stay for weeks or months at a time.
Train and then incentivize. In addition to solidifying a great foundation through training, acknowledge Team Members who excel at customer service. Embassy Suites, Homewood Suites and Home2 Suites each have brand-wide award programs that recognize Team Members for going above and beyond in the name of customer service. These internal award programs also create a culture where personal interaction and efforts to boost guest satisfaction become the norm.
Guests appreciate the many ongoing efforts to personalize their experience and it becomes ingrained in every Team Member that even the smallest touch points can make a hotel stay more memorable. Ultimately, these efforts can help a brand stand out above the rest in the same category.
Moving Forward
There is no going back to the era when hotel staff handled all transactions. The incredible digital advances in our industry will continue to propel the guest experience into new realms, and hotel executives need to adjust and adapt to stay on the forefront of emerging trends in guest tastes and preferences. Nevertheless, person-to-person acknowledgement and interaction will never disappear completely, nor should it.
Perhaps now more than ever, exceptional customer service in all aspects of the hotel, at every juncture and at every appropriate moment, is critical. Team Members should always treat each personal interaction with a guest as not only essential, but as though it's the only meaningful interaction they've had that day - because for some, it will be. Hotel brands that embrace digital advances to increase customer convenience and foster Team Member training to provide the essential human interaction at the same time will increase their chances for strong guest loyalty and repeat business for years to come. As the world's most hospitable company, we are dedicated to this approach. We Are Hilton. We Are Hospitality.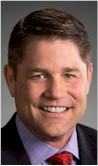 This article was co-authored by Alan Roberts. Mr. Roberts is Vice President & Global Head of Embassy Suites by Hilton, and serves as the chief strategist and champion for the Embassy Suites by Hilton Brand. His focus is on the areas of product and service positioning standards, unit distribution strategies and ownership relations. This Global Head is responsible for achieving operational excellence, ensuring that systems, policies and programs are in place to support the brand direction in alignment with the guiding principles of Hilton. Ultimately, Roberts is responsible for brand growth and development. He strives to drive profitability and further the expansion of the Embassy Suites portfolio. He was named to his current role in 2016.
Adrian Kurre serves as the global head for Homewood Suites by Hilton and Home2 Suites by Hilton; the award-winning brands that are part of Hilton Worldwide's "All Suites" category. Mr. Kurre is responsible for the overall strategy for both brands with his primary objectives to diversify and increase revenue, drive brand growth and development, increase consumer loyalty, as well as maintain collaborative relationships with hotel owners and management company representatives to position both Homewood Suites and Home2 Suites as innovators in the All-Suites category. He also continues to build on the commitment of the brands award winning customer satisfaction culture. Mr. Kurre can be contacted at 703-883-1000 or adrian.kurre@hilton.com Please visit http://www.hilton.com for more information. Extended Bio...
HotelExecutive.com retains the copyright to the articles published in the Hotel Business Review. Articles cannot be republished without prior written consent by HotelExecutive.com.