Hotels Getting Social to Compete With the Sharing Economy
By Simon Hudson Endowed Chair in Tourism & Hospitality, University of South Carolina | February 19, 2017
The sharing economy is having a disruptive influence on the lodging sector, with evidence that Airbnb's entry into some markets has had a quantifiable negative impact on local hotel revenues. Can hotels compete with this new phenomenon without compromising on price? I believe they can. Recent research suggests that the sharing economy appeals to consumers not just because of price, flexibility, and ease of use. Consumers are also attracted by social benefits; guests of Airbnb for example, enjoy interacting with their hosts in an 'authentic' setting, and even gain local connections with the host's help.
There are also emotional benefits to using sharing economy platforms - research has shown that users of Airbnb have more fun than they do staying at more traditional accommodations. So hotels can beat the sharing economy at its own game by providing a more authentic, engaging, and social experience. In fact, a recent research report from Deloitte suggests that to survive, the hotel of the future will have to build more personal connections with and between guests.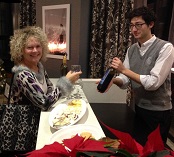 Sutton Hotel, Revelstoke, CanadaThis can be as simple as hosting a social hour for guests on arrival. Recently, I stayed at the Sutton Place Hotel at the base of the ski hill in Revelstoke, Canada, and was invited to a welcome reception to enjoy a glass of wine and a selection of locally-sourced cheeses. The key motivation behind the event, hosted every evening from 4-7pm, is to encourage guests to socialize, says concierge Marco Mahringer. "We also use it as an opportunity to provide guests with further information about the hotel and what they can do during their stay." Mahringer says that about 80% of guests come down for a drink on their first evening. "Often they are a little stressed and tired after a long journey, so it is a great way for them to relax and speak to fellow skiers or snowboarders".
Other hotel groups are completely redesigning spaces in order to encourage social interaction. The M-Beta in Charlotte, for example, Marriott's testing ground for new hotel technology and services, encourages social interaction between guests and staff in several ways. On arrival, there is no traditional front desk check-in. Guests are welcomed at the curb by associates, who guide them through check-in at tables in the lobby, similar to how Geniuses greet customers at an Apple store. In the Immersive Kitchen at Stoke restaurant, the walls between the kitchen and dining area have been removed, placing guests in the center of the action, allowing chefs to interact more closely with guests and entertain them with impromptu culinary offerings. The interactive space also encourages a sense of exploration among guests with a regular rotation of local artisan tastings and cooking classes.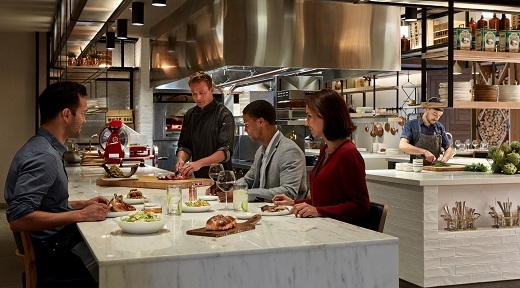 The Immersive Kitchen within Stoke restaurant at M-Beta in Charlotte, North Carolina
Meanwhile, Marriott's Element brand is piloting a bold new guest room design that will feature a communal room in the center of four guest rooms, allowing travelers to share a kitchen, dining room and lounge area. The company says that this will provide more collaborative space for groups who would like to spend time together in a more private setting. Element hotels tend to offers travelers a fresh interpretation of the traditional hotel experience with natural light, modern design, healthy options and eco-minded sensibilities. To date, there are 22 Element Hotels worldwide, with 19 in North America, two in Europe and one in Asia Pacific, with new domestic and international hotels in development.