How to Manage March Madness at Your Hotel
By Brett Ellison, General Manager, Kansas City Marriott, Country Club Plaza
With the annual chaos and excitement of the NCAA Tournament upon us once again, this is a good time to take a closer look at how hotel professionals manage high-volume external events. From concerts to conferences, and festivals to big games, the unique challenges of high-volume special events can put a strain on even the most well run and accommodating hotel property.
When it comes to populous and high-impact events, the NCAA Tournament is near the top of the list. The impact of this extraordinarily popular yearly celebration of the magic of college basketball is significant. In some instances, the impact of the event is felt even outside of the cities where the tournament is being held. In Las Vegas for example, the 2016 tournament week was a record-setter, with an estimated 98% of hotels on the Vegas Strip fully book during the first week of March Madness.
When it comes to overcoming operational challenges and logistical issues, hoteliers need to engage in thoughtful preparation and practice strategic decision-making and increased operational flexibility. Understanding the potential issues-and corresponding solutions-that high-volume special events present is critically important for hotel professionals who want to make their hotel a popular and profitable destination for those events, and do so while providing consistently outstanding service and a memorable experience for guests who will be staying in your hotel. So, what's your game plan?
Flexibility
All events are different, and unknowns are often simply a part of the bargain. When it comes to March Madness, you never really know which teams are going to be successful and which ones are going to lose in the opening round of the tournament. Some fans are likely to leave as soon as their team is out of the running, and hotels that aspire to be a NCAA Tournament destination need to recognize that reality. While not every special event features the same elimination setup, there is an inherent uncertainty that is an inescapable part of large and complex events.
Here at the Kansas City Marriott Country Club Plaza, for example, we understand that some fans will be leaving sooner than they'd hoped if their team does not make it past day one. Knowing that, we have to respond to this anticipated loss of business, and make a calculated gamble: we change our overall selling strategies and take significantly more reservations than we normally would. We also alter our policies as needed for the convenience of the teams and their fans, adjusting minimum length of stay requirements as needed. The ultimate goal with this additional flexibility is to strike a balance between maximizing hotel reservations and giving guests the flexibility they need to attend their events on time.
Strategy
Because special events present an inherently and, in many cases, unavoidable and unusual set of circumstances, a hotel professional's strategy should be developed with that in mind. At our property, we determined that we wanted to attract two teams, as that would create an ideal mix of business for us. Rather than roll the dice and hope for the best, we were proactive, reaching out to teams that had stayed with us before and a had a great experience.
Internal operational staff meetings and clear and consistent messaging are also a valuable way to make sure that your strategy extends all the way from the GM to individual hotel employees. Remember, details matter. For example, if you are expecting more people in a room than normal, it may be wise for housekeeping to include more towels in each room. Mid-week groups might be different than weekend guests, and hoteliers should be cognizant of event-related arrival/departure patterns. But perhaps the most important strategy element is to change staffing levels depending on the number of guests expected and the timing of their stay. Having the correct number of staff members on hand will ensure that all guests receive the care and attention they deserve.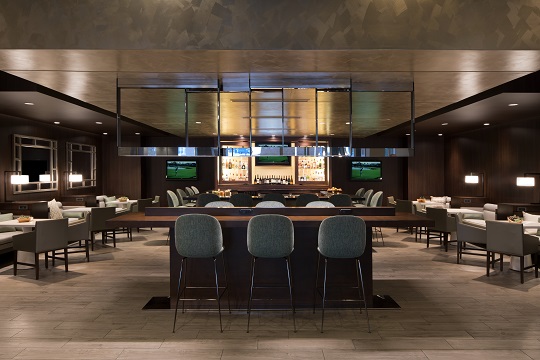 If your hotel has recently undergone renovations, make sure to highlight this in your initial game plan meeting and ensure that hotel employees are making its new features a focal point throughout the duration of the event. Here at Kansas City Marriott Country Club Plaza, we use our reimagined spaces to guarantee that we are meeting the needs and standards of our guests, allowing for a relaxing and experiential stay. Taking advantage of your recent upgrades can greatly assist in the execution of your game plan.
Preparation
Whether your property is a hotspot for fans, or is home to a different mix of guests (in the case of the NCAA tournament, that guest list might include one or more of the teams, as well as the attendant school officials, friends and family members, members of the school band, cheerleaders, etc.) preparing your property and your personnel to meet their needs is critically important. High-profile, high-volume events are not business as usual, and you cannot operate with a business as usual mindset.
Different events and different groups may have a very different energy, and understanding the tenor of the event and the guests/attendees is an important piece of the preparation puzzle. In our case, we have been very fortunate in the sense that the team, students and faculty that come with the team have all been incredibly conscientious and well behaved. Both our NCAA Tournament guests and our standard mix of business and leisure travelers have all been very respectful, and it is a testament both to them and to our team that, despite having a full house on the first weekend of the tournament, we did not have a single word of complaint. That takes a little bit of luck, of course, but it wouldn't be possible without extensive preparation.
Hoteliers' preparation also needs to account for everything from the atmosphere surrounding the event (somber, festive, professional?) logistics and any special needs that your guests may have with respect to event-related service and scheduling. Particular attention should be paid to planning around any planned functions connected to the event. For example, an early morning meeting or start-time might create a situation where a larger than usual number of guests is coming down to breakfast at the same time, and hotels need to be prepared for that.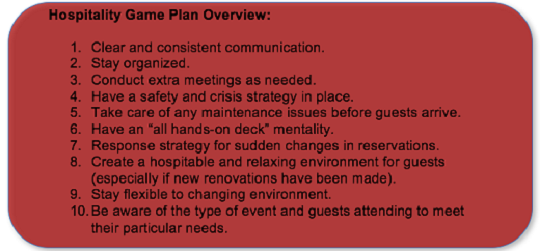 Execution
In some ways, running a hotel under these circumstances is like executing a precision sports play: from sales to service, it is all about being prepared and maintaining excellent lines of communication with your team. It is also about flexibility and preparation: developing contingency plans and being able to adjust on the fly. Ultimately, the right kind of thoughtful and strategic planning, preparation and execution of special event protocols can ensure that your guests come away satisfied and that both your brackets and your bottom line are healthy.
With so much to see and do during March Madness weekend, fans across Missouri and the nation flocked to the lively city to watch teams go head to head. But what was never lost from top of mind, was the need to have a game plan in place for a weekend full of chaos and the unknown.
Brett Ellison, General Manager of Kansas City Marriott Country Club Plaza, began his career with Marriott International as regional sales manager; moving quickly through multiple leadership roles including director of marketing. Throughout his 18-years as a general manager, Mr. Ellison gained much of his knowledge for the hospitality industry with major brands such as Marriott, Hyatt and Hilton hotels, working his way up to becoming an award-winning general manager in hospitality. Ellison graduated with honors from the University of South Dakota School of Business and has been recognized as a General Manager of the Year. Mr. Ellison can be contacted at 816-531-3000 or brett.ellison@marriottccplaza.com Please visit http://www.marriott.com/hotels/travel/mcipl-kansas-city-marriott-country-club-plaza for more information. Extended Bio...
HotelExecutive.com retains the copyright to the articles published in the Hotel Business Review. Articles cannot be republished without prior written consent by HotelExecutive.com.