How Mobile POS Changes Everything
Advice From Operators Who Make it Work Well
By Teri Howe, Principal Product Manager, Agilysys
An incredible meal will be forgotten if there are mistakes or delays during service. The most beautiful property will be forgotten if busy staff are 'missing in action' and inadvertently test guests' patience too far.
One need not remind hotel executives of the criticality of continually evaluating our vision - and execution - of guest service. This is part in the DNA of industry leaders. A less common trait of this same group is an appetite for exploring technologies that might accelerate or enhance the ability to deliver a quality, personal, exceptional guest experience. Hospitality traditionally trails other industries in adoption of - and the creativity around - new technologies. A notable exception is mobile point-of-sale (POS).
The hospitality industry is second only to healthcare in its adoption of handheld device technology. And as technology begins to catch up with the demands of this market, growth continues to accelerate.
Upon first glance, this interest could be explained by reliable and sometimes outrageous revenue increases resulting from the adoption of untethered POS. Although significant revenue lifts of 60-80% have occurred at venues where the below steps were followed, we consistently hear properties reporting 15%, 20% and even as much as 40% growths during their busiest periods.
In addition to this revenue growth, properties boast about entirely new revenue streams. The opportunity to untether POS means that it's possible to perform a guest service transaction in places that previously were inaccessible or too infrequent to justify a dedicated POS setup. Whether it's accepting a credit card, engaging a room charge or redeeming loyalty rewards, hoteliers have more opportunities to provide just the right service to guests wherever they are, and whenever they desire.
This is the fundamental reason why more than 50% of food and beverage outlets list POS mobility as their top IT initiative in the next 3-5 years: it's about serving more guests, more efficiently. The increased greenbacks help justify it, but it's the following benefits that ensure it's at the top of most IT department's lists:
Immediacy - Guests don't need to wonder whether their server will return. The server is more immediately visible.

Availability - Greater guest comfort is established with confidence that servers build by being available to help when guests want help.

Speed of Service - Orders are delivered more timely. Servers no longer need to run back and forth between guests and a stationary POS terminal.

Accuracy - Orders are entered near real time which minimizes opportunity for interruptions and prevents server confusion. Servers are freed from waiting in lines to enter guest orders.
New technologies, applications and integrations on a single tablet enables staff to address additional needs of the guests - "would you like me to check availability and make a reservation for you at our wonderful restaurant on-property while you enjoy the lounge?" -
Even more notable are the new technologies that arm your front-line staff with the information necessary to take guest service to all-new levels. Couples celebrating anniversaries can be honored and recognized graciously upon arrival and throughout the dining or lodging experience as details of the experience are captured at a variety of touch points and shared across the enterprise. Considerations for better service (guest allergies, sensitivities, preferences, favorites, etc.) can be elicited and leveraged during future visits, demonstrating service in ways that differentiate businesses from one another. The art of mobile, personalized hospitality is growing. And it's proving, guest after guest after guest, that the guest matters most.
So, where's the catch? Mobile POS sounds great…Is it too good to be true? With increasing adoption, common problem areas began to emerge with best practices closely on its heels.
Until recently, properties battled the misfit of consumer-based tablet technologies used for guest service applications. Although the slightly lower price points were alluring, IT departments were tearing their hair out in chunks when a model tested and rolled out had soon after been replaced, requiring re-testing and resulting in support issues from the mashup of mixed models that were in use simultaneously.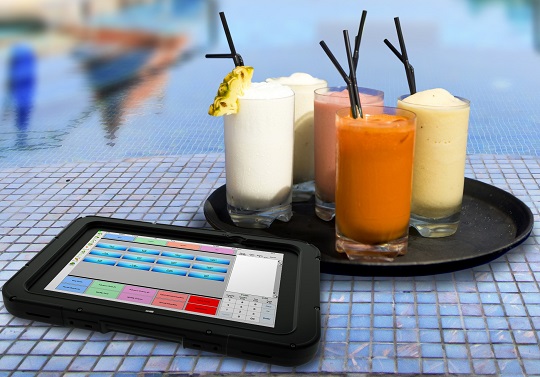 While not providing a 5-7-year lifespan common among some stationary POS terminals, enterprise-grade tablets offer up three years of life or more and include the ruggedness required to survive a hard drop, splash from the pool or a spilled beverage. Various form factors, features and integrated accessories are further improving ease of use.
Although many hardware concerns have been remedied, the infrastructure, Wi-Fi in particular, is sometimes a wildcard. What worked great when the wireless provider was onsite documenting heatmaps has hit-and-miss performance when the space fills up with lots of bodies, each consisting of 90% water, wireless' greatest enemy. Complicating matters, those bodies each have their own wireless personal devices introducing cross-channel interference even when the POS is on its own private network. While many experience nearly flawless performance with POS mobility on their wireless networks, others struggle for the right combination and network configuration. Documented best practices are on the near horizon.
The more persistent catch is the service staff - the actual users of the technology, not the technology itself. Server resistance, if prevalent, and can dampen the success of POS Mobility if not managed well. Here are the most common service staff challenges, including thoughts about how other operators are overcoming them and making mobile POS work well:
Conversational Order Taking - Also called organic order-taking, the skills required to respond real-time while customers change their mind, amend orders and brainstorm their orders out loud all while navigating menus, items, choice groups, modifiers and special instructions require some amount of practice.

Perceived Technology Intrusion - Learning how to present to guests instead of being preoccupied with the tablet while taking orders. Although sometimes referred to as the tablet getting between the server and guest, it is almost always an energetic problem, not a physical one.

Juggling - Mobile POS requires hands. Small tablets usually require two hands - one to hold while the other taps. Some are trying to attach tablets to serving trays and others attaching handhelds to forearms, but some of these scenarios may offer problems of their own. These challenges are increased when servers need to juggle serving trays as well.

Tip Pooling - Often the first issue identified, this is usually the result of moving to a server-runner model, and may be a challenge even in environments where POS mobility is not adopted. However, the full 'guest-experience' power of handheld tablets is realized when mobile devices and server-runner models are adopted together. Data is proving that higher revenue checks combined with higher tip percentages can result with such a model. This includes greater take-home of tips, and a stronger culture of success.
Advice From the Early Adopters
Identify Champions - Properties showing the best results the quickest seem to always have two types of champions: an executive champion and a top performer champion. Natural competition often inspires some to get past any reluctance and dedicate to mastering skills when there is someone on the staff who is excelling using the tablets, usually in terms of conversational order taking as well as maintaining contact with guests while using the technology. This top performer is usually a seasoned staff member who becomes so comfortable that the tablets are only an incremental challenge to master, or they are tech-savvy staff who are comfortable with conversational ordering. Their success provides an example and guidepost for others, including management.

Plan to Tune - Executive champions are particularly important for the second key advice: being aware and tinkering in the first few weeks and months of deployment. Properties that rolled a mobile POS expecting full performance in the first weekend often experienced more setbacks. Often unbeknownst to management, the tablets may be used for a couple of hours and then left in pantries or kitchens for weeks. It is common for IT departments to be informed weeks later that the tablets aren't used because they 'didn't work' only to discover easily correctable problems or user training was all that was needed. Plan to stay involved. Plan to follow up. Plan to bring in network specialists to tinker with settings, add access points and change security settings.

Recognize the Rewards and Share the Vision - once mastered, once the kinks are worked out, all will be participating in the next level of guest experience. Where possible, measure and report on speed of service improvements, revenue lift due to check totals, and tip increases. Share, and encourage sharing of guest comments on improved service, especially in conjunction with social review sites.
Of course, revenue is important to us all. There are a lot of ways to make money, but for those of us in the hospitality industry, we like the financial benefits to follow the joy of providing excellent guest services.
Recently, while on property in the opening months of a flagship property of a tech-forward brand, the server at their posh lounge shared a story of discreetly entering an order into the tablet. The server continued to engage the guest, curious to understand how and why the guest chose the brand new, relatively unknown property and what the guest thought of some of the hotel innovations underway. A few minutes later, in the middle of the conversation, a runner delivered the guest's stein and without missing a beat, the server smoothly handed it to the guest. The guest's eyebrows shot up, "Wow, now THAT's service." Exactly. There's never been a better time to move to mobile POS.
Teri Howe is a principal product manager at Agilysys, a leading technology company providing innovative software solutions for point-of-sale (POS), property management, analytics, inventory and procurement, and mobile solutions and services to the hospitality industry. Ms. Howe is a global subject matter expert on POS mobility and is responsible for the strategic development of the InfoGenesis product family. During her time at Agilysys, Teri has focused on positioning InfoGenesis as the leading point-of-sale technology solution for the hospitality industry focused on delivering value through stronger guest engagement. Ms. Howe can be contacted at 770-810-6053 or teri.howe@agilysys.com Please visit https://agilysys.com for more information. Extended Bio...
HotelExecutive.com retains the copyright to the articles published in the Hotel Business Review. Articles cannot be republished without prior written consent by HotelExecutive.com.