Staying Competitive in the Group Meeting Market
Maintaining Momentum and Honing Strategy
By Jim Vandevender, Chief Marketing Officer, Knowland
Selling to the right group segments is important. Achieving the right mix of group and transient is also key to success. The variances in rate structures, for example, for the transient and group segments (often in stark contrast to one another) are key to maximizing revenue opportunities in a high-demand market.
Transient pricing strategies are, of course, designed for individual guests staying at a hotel, whether for business or for pleasure. High demand enables hotels to quickly raise these rates as high as the market will tolerate. More or less, there is almost no limit as to how high hotels can raise transient rates if the demand is strong enough, as long as the hotels have rooms to sell. Effective pricing and the right segment pricing strategies, therefore, allow inventory management to drive ADRs higher and higher. Group pricing, coupled with variances in booking pace, can present rate ceilings that hinder revenue maximization strategies if careful analysis is not applied.
Group vs. Transient: A Strategic Balancing Act
In order to take full advantage of the lucrative returns possible in a demand economy, hotels must make crucial decisions as to what mix of transient and group room allocations will maximize those returns. The same careful consideration of market demand used for transient business has to be applied to a hotel's group strategy and group sales deployment decisions when pursuing the meetings market to ensure the best possible returns on those diligent group efforts. In other words, the group segments a hotel pursued one year may not be the best group segments to go after the next year. For example, a hotel in Chicago that relied heavily on pharmaceutical business may need to reevaluate its group strategy if it notices stagnant trends in its group business and increasing technology and manufacturing meetings going to its competitors.
When demand is high like it is currently, hotels enjoy being in the driver's seat and choosing among the best meeting opportunities that maximize group revenue. Every hotel has a "best-fit scenario" when it comes to a group's date patterns, room nights, space usage, and food and beverage spend. In today's market, a group that requests lower room rates or asks for an unfavorable mid-week arrival, for example, is likely to be greeted by a hotel with an apparent lack of excitement and interest in that meeting opportunity.
Will demand stay strong enough in 2017 to allow hotels dependent on group business to continue being so selective? If it doesn't, how do sales teams rethink their group game plan?
Currently, reports across the board show continued growth in demand. Record occupancy levels and robust ADRs have been a standard story in the marketplace quarter over quarter for many US markets for the last few years. In June 2017, at the NYU International Hospitality Industry Investment Conference, STR and Tourism Economics' latest joint forecast reported a 1.9% increase in demand, 0.2% increase in occupancy, 2.9% increase in ADR, and 3.1% increase in RevPAR. Though more modest than in recent months, trends continue to point toward positive expectations for continued rate increases, in light of the accelerating hotel construction pipeline pushing new supply into many markets. CBRE and PwC concur, predicting slight increases in rate to continue.
As long as demand holds, hotels in top markets will continue to carefully consider their transient and group mix as well as stay selective as to which groups they offer availability.
2017 US Group Trends
In May, Knowland, an Arlington, VA-based provider of group data and meetings market intelligence, looked at actualized group activity to date for 2017. The Knowland database is the largest source of historical data available on actualized events across all group segments. Knowland's recent study focused on actualized group activity at a sampling of hotels in 30 major US markets from January through May 2017. The results were compared to activity within the same set of hotels the year prior.
The total number of actualized events in most major markets in 2017 was down from the same time period in 2016. Across the top 30 markets, ranked by number of actualized events, 137,072 events were recorded from January through May 2017 compared to 183,595 total events in those markets in 2016.
Overall, these markets saw 25.3% fewer actualized events in 2017 across the time period examined. Philadelphia, Newark, and Pittsburgh were the only three markets with losses in actualized events under 10%.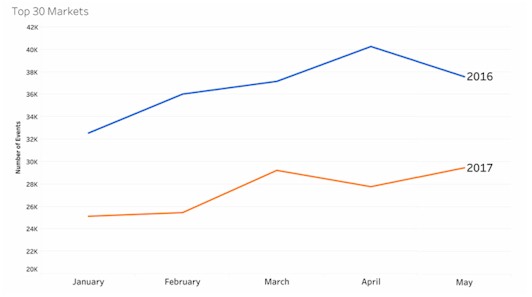 Why does the data reflect decreases in group activity if demand is high? The answer depends on the market in question. Knowland reported that Houston and New York saw significant drops in actualized group activity. Houston had 34.9% fewer events among the sample hotels in 2017 compared to the same time period at the same hotels in 2016. New York had 31.7% fewer events. In both cases, this mirrors reported drops seen in RevPAR, ADR, or occupancy in these markets. According to Visit Houston, annual occupancy levels in that market have dropped each year since 2014. RevPAR has been affected as well: STR reported in April that Houston was one of two markets on its top 25 list to show a double-digit decrease in RevPAR, dropping -13.5% to $67.33. New York hoteliers saw RevPAR dip to its lowest point of the current cycle at the end of April 2017. In May 2017, Crain's reported that New York's Comptroller, Scott Stringer, confirmed small declines in January and February hotel occupancy, falling from 73.8% to 73.5%, as well as slips in room rates, from $212 a night to $209.
The decrease in actualized group activity in these two markets can, therefore, reasonably be attributed to an overall decrease in demand. But what about the decline in actualized events seen in markets with more robust occupancy, RevPAR, and ADR levels?
Washington, DC showed drops in actualized meeting activity, yet demand in Washington is as robust as ever. STR reported that in the first quarter of 2017,among the top 25 markets, that the Washington metro area saw that quarter's only double-digit increase in RevPAR, rising 16.1% to $107.93. DC also saw the only double-digit lift in ADR increasing rates, up 13.6% to $165.94. Occupancy growth in the market saw a slight 2.2% increase to 65%.
When growth is that robust in all three areas of the key metrics used to measure hotel performance, hotel revenue managers want to take full advantage of that strong demand. When deciding how much room inventory to allocate to transient guests or to the group segment, hotels carefully look at which segment in which weeks of the year will yield the highest revenue.
Group bookings, pursued competitively by both large and small hotels, are attractive propositions to a hotel's revenue management team. During periods of high demand and market compression, however, it may be more profitable to refuse a group booking and make rooms available for transient guests willing to pay much higher rates.
In Knowland's recent analysis, the number of actualized events in DC through May 2017 fell to 11,323 from 13,512 in 2016. Though market demand is strong, the drop in meetings and events can be explained by hotels opting to maximize the returns of high market demand by strategically limiting the number of rooms being sold to groups in favor of selling rooms at much higher transient rates.
"DC Room Rates Skyrocket," an article in Hotel News Resource's March publication, supports this theory. The article indicates that on a year-over-year basis, the US average online ADR was up 3.3% in March from the previous year, higher than the previous month's year-over-year growth rate of 1.6%. The article noted that the average Trivago online room rate in Washington, DC for an individual room booking reached $364 a night in March after rising 13.4% from the previous year. This made the nation's capital the most expensive destination among the top-25 US hotel markets. High rates are a clear indication that hotels in DC are enjoying robust transient demand and may explain why some hotels would allot more rooms to transient than to group.
Future Thinking: Evolving Markets and the Role of Big Data
Looking forward, it will be interesting to see if hotels' current level of performance can be maintained through the year. The amount of new room inventory rapidly coming online through the hotel construction pipeline may challenge hotels to maintain positive performance numbers and stay competitive.
In Washington, DC, there are approximately 130 hotels with 31,348 rooms, and in the greater DC metro market, there are 694 hotels with 111,075 rooms. In 2017 and into 2018, 18 hotels are expected to be completed, which would add another 4,118 rooms to the total DC market.
How will hotels in robust markets like DC backfill room nights when transient demand ebbs? How should they plan for the incoming new room inventory?
Historically, the group segment represents the "go-to solution" for hotels when high-rated transient business begins to slow down, but hotel sales teams will face different market conditions with increased room inventory and less demand. Should group strategy be revised to accommodate the new economic environment? If so, how? What is the best way to evaluate group strategy?
Many hotels are turning to new technology and big data sources to get a better understanding of what specific group segments are driving performance in a market in order to sharpen and refine sales strategies to maximize group returns. Hotel sales teams have limited resources when pursuing the group segment, and they have to determine how to direct those resources toward the group segments with the most lucrative potential. They need to know which segments are on the rise and which are in decline, as well as when to redeploy and to which segments.
More and more hotels are focusing on booking trend of actualized group activity rather than relying solely on inbound eRFP traffic as an indicator of where demand is heading in the future. Groups often RFP certain markets simply to compare rates or justify already-made destination decisions in order to meet minimum bid requirements. Large corporate accounts with established Strategic Meeting Management Programs (SMMP) regularly employ this practice. Relying on RFP activity as an indicator of real interest or true segment potential can lead to unwise deployment decisions and misplaced sales focus.
Knowland's May 2017 study evaluated the major group markets with a detailed breakdown of market segments. The corporate group market, unsurprisingly, generated the most actualized group activity, outperforming association, SMERF, and government meetings. The performance of different sub-segments within the corporate group market, however, varied from market to market within the time period considered. Each sub-segment has its own booking patterns that reveal how it trends among certain chain scales and within certain markets.
The Knowland study found that in the top 30 US markets, certain corporate group sub-segments showed more actualized booking activity than others segments. Technology meetings showed the strongest performance over any other corporate subset. The training/education, health care, and financial/banking group sub-segments produced the next highest number of actualized group activity within the corporate market. These four sub-segments had the strongest performance from January through May in both 2016 and 2017. Manufacturing ranked a close fifth in number of events. All of these corporate sub-segments, however, showed fewer actualized groups among the sample hotels when compared to those same properties in 2016.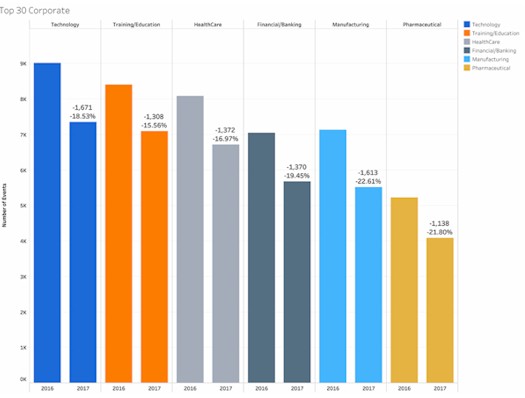 Among the highest performing sub-segments, the biggest year-over-year drops in actualized events were in and manufacturing and pharmaceutical. Manufacturing showed the single biggest drop with 22.6% fewer events, and pharmaceutical followed with 21.8% fewer. Training/education showed the smallest drop among the top-producing sub-segments with 15.6% fewer events.
Other sub-segments showed the significant drops in event count as well. Retail fell 22.7%, and oil/gas dropped 27.4%. This corresponds with recent economic reports consistently confirming declining overall retail sales in the US as well as the rapid decline in the oil and gas industry in markets such as Houston.
Conversely, online retail showed the smallest decrease in actualized events, dropping only 4.4%. The strength of the online retail market aligns with recent reports from publications such as Internet Retailing, which reported in June 2017 that ecommerce sales for textile, clothing, and footwear stores rose by 14.7% over the year to account for 14.4% of total sales.
Knowland's report also looked at the allocation of actualized events by chain scale. Because there were more Upper Upscale properties included in the sample hotels in the analysis, it is not surprising that the most actualized events were found to have occurred at Upper Upscale chain properties. Upscale, Luxury, Upper Midscale, and Midscale followed, mirroring the same order found in the corresponding time period in 2016. The only chain scale that saw an increase in number of actualized events was in Economy with an increase of 17%.
This kind of detail on which individual group sub-segments are actually driving market activity is a welcome change for hotels who have historically worked in the dark to determine optimal market deployment and direct sales strategies. "We live in a day and age where we now have access to big data. Technology is also advancing on a daily basis. Hotel sales teams should not only be proactive but should expect more market insight from data that helps them sell smarter and more strategically," said Kevin Dowdell. Dowdell is Corporate VP of Sales and Marketing for BRP Properties, a North Carolina-based management company that manages nearly 20 hotels in the southeast US. Dowdell is a hotel sales and marketing veteran who has led sales teams for Marriott, Millennium Hotels, and Sheraton, to name a few. He believes in the power of proactive selling and using technology to stay competitive.
"Hotels can get mired in responding to RFPs, many of which are unqualified and have little chance of booking. I think we can do better than that," continued Dowdell. "I know, of course, what kind of actualized business my own hotels see, but we need to be looking at the overall market. I want to know what segments are trending up and which ones are showing a decline. With all the new competition coming into the market, I want to be ahead of the curve not behind it. Having good robust data on actualized events and not just inbound lead activity, and incorporating that into a smart proactive sales plan, is the only way to outperform the competition in today's market."
As hoteliers look at the rest of 2017 and begin to plan for 2018, they need to rely on new data and available tools to help them set a sales strategy that will allow them to stay competitive. Group data now provides a deeper, segment-level understanding of market demand and how a hotel is performing against its competitors. With this level of understanding, group data supports better revenue management decisions on group inventory allotment so hotels can maximize returns. It also supports more actionable sales planning grounded in a more thorough understanding of the market. Understanding group trend is an advantageous first step; but the full benefits of the availability of group data only come to light when that understanding is incorporated into the sales process to create competitive strategies that move market share and take selling to new levels of success.
Jim Vandevender is Chief Marketing Officer at Knowland. Mr. Vandevender joined Knowland in 2012. He has supported various departments, including data and research and has been actively involved in supporting the development team in the redevelopment of Knowland's Insight tool and in the creation of the new Market Analytics tool. He works closely with the sales department in the areas of training and developing customer relationship skills. Currently, Mr. Vandevender manages Knowland's marketing department, including all aspects of social media, new product launches, and supporting all processes for creating, communicating, and delivering Knowland products to customers. Mr. Vandevender can be contacted at 202-351-1552 or jvandevender@knowland.com Please visit http://www.knowland.com for more information. Extended Bio...
HotelExecutive.com retains the copyright to the articles published in the Hotel Business Review. Articles cannot be republished without prior written consent by HotelExecutive.com.