Aftermath of the Las Vegas Tragedy: The Impact Upon Hotel, Resort and Casino Security
By Richard Hudak, Managing Partner, Resort Security International
Information we now know from Metropolitan Police press briefings, confirms protocols, procedures, and security guidelines in place at the Mandalay Bay Resort on October 1, 2017 significantly altered the plans and behavior of Stephen Paddock but did not prevent him from carrying out murder. How will this tragedy impact future hotel and resort security planning?
Mandalay Bay is a prime example of the CPTED (Crime prevention thru environmental design) concept. The resort has excellent "standoff" providing reaction time in an emergency for a police or security response. Use of barriers allows avenues of vision. Windows are designed to remain closed. The shooter had to break two windows to carry out his plan, the first and only time he may have drawn attention.
Security technology enhances Mandalay's security. Digital CCTV, large screen high definition monitors, analytics, biometrics, motion detection, proximity locking systems, external LED lighting and parking garage communications, all dramatically improve the ability to monitor access points, identify suspicious activity, and interdict potential criminals. Yet the shooter did not standout as a risk.
An effective security program depends upon effective communications. Resorts employ a variety of landline (PBX), cell, Wi-Fi, internal and external networks and "talk down security" in appropriate situations. The Mandalay Bay security officer immediately radioed security command after being shot advising there was an active shooter on the thirty second floor. A cell phone backup was also available. Communications with Metro Police pinpointing the location of the shooter may have saved lives.
Most importantly, hotels and resorts emphasize the mantra "every employee is responsible for safety and security." Safety and security issues are discussed in meetings; supervisory updates are provided daily; safety and security posters are placed in staff areas; computerized security training modules are often required; "on the spot" rewards and Employee of the Month recognition are frequently awarded to encourage participation. Furthermore, responsibility for safety and security is documented on most employee and management job descriptions.
Hotel and resort security programs depend upon "360 degrees of safety and security protection" from the moment a guest makes a reservation or drives onto the property to finally securing the door of the guest room. " Layers of security" involving all departments to provide situational awareness for the security department and situational management for property management. The recent tragedy at Mandalay Bay underscored how each department and each staff member had an important safety and security role to play.
Reservations
Security began with the data taken by reservations. Guest(s) names, address, credit information, loyalty membership, and whether they are part of a group or conference were documented. Mr. Paddock had a history at the Mandalay Bay.
"High rollers" or frequent gamblers are often provided complimentary rooms, or priority for a suite in a certain location. It is certain that Mr. Paddock made such a request.
Operators
PBX operators are usually selected for their ability to remain calm during crisis situations. They usually are the receivers of emergency calls. Operators undergo training to ask critical questions and make instant decisions in connection with safety and security issues, and are given guidelines when to contact administrative, medical or law enforcement agencies, and who specifically to contact at those agencies.
Any time discrepancies between the initial communication between the wounded Security Officer and Security Command, and the call from Mandalay bay to Metropolitan Police will be eventually documented. Protocols will be reviewed and critiqued. Who called the Police? Who at Metro PD took the call? What time was the call made? Should confirmation of the incident be made prior to calling? What information was provided? Was the information accurate?
Security Command & Control (C&C)
A hotel or resort security program begins at the property line. Camera systems record those entering and departing. They provide detailed descriptions of clothing, items being carried. They observe vehicles driven into self-parking garages or parking lots. Images are monitored at the C&C. Analytics may be used to differentiate between cars and trucks, persons entering non-public areas (loading docks, maintenance areas, staff only zones). Close coordination is maintained with Casino Surveillance.
Security Management
Security Directors and staff are in contact with local, state and Federal law enforcement on a regular basis. Typically, all departments at resorts along the Las Vegas "strip" receive security awareness training provided by resort security, law enforcement, the gaming commission and fire safety officials. The Association of Las Vegas Security Directors meets monthly to discuss common risks and schemes, and recommended responses.
In the future, more attention will be given to special events, insurance requirements, liability issues, event location and size, and any intelligence affecting the event.
Valet
If a guest parks a vehicle with the valet, initial observations are made. If weapons, drugs, blood or other suspicious items are noted, Valets will contact security.
Apparently, to avoid suspicion, the shooter self-parked his vehicle.
Bellmen
If a guest approaches using Taxi, Uber, shuttle or simply walks up, the bellmen have an opportunity to observe, greet, offer assistance and direct the guest to the Front Desk.
The shooter self-carried two suitcases at a time on different days to the thirty second floor suite, avoiding use of bellmen who may have noted a suspicious smell or stain-something out of the ordinary.
Front Desk
Registration requires the guest to provide "positive" ID, License, passport and produce a credit card prior to obtaining a room assignment. This interaction allows hotel staff to "qualify" a guest.
The Mandalay Bay Front Desk had the shooter's "history" upon registration and apparently did not observe anything suspicious in his behavior.
Lobby Security
Las Vegas resorts have both uniformed and plainclothes security officers, both male and female, on duty at critical locations in public space, near elevators, telephones, shops.
The shooter failed to draw any attention.
Guest Floor Security
A number of guest floors are assigned security officers to patrol. Often a security patrol is expected to pass each guest room a minimum number of times on each shift depending upon the size of the security force and number of guest rooms. During the patrol, security officers are encouraged to recognize guests and hotel staff alike by establishing eye contact and offering a greeting. (During training it is often stated that guests and staff like recognition while persons with evil intent do not want to be identified!) Security Officers are trained to provide "hospitality sensitive" security during their patrols.
Immediately prior to windows being broken out and the shooting initiated, a security officer and an engineer were dispatched to the thirty second floor to investigate a blocked fire stairwell and a door alarm reported either by security or engineering. This procedure along with protocol to walk past every guest room a minimum number of times per shift apparently altered the shooters plan and timing.
Housekeeping
Housekeepers are trained to follow a checklist created by their supervisors which includes the following safety and security checks: the optical viewer, lock and latch, privacy bar (or UBolt), door closer or hinge, the guest room safe, telephone, lights and windows. Housekeepers also receive periodic security training to report suspicious activity or items observed in the guest room e.g. weapons, drugs, cash, blood. If such an item is observed, housekeepers are instructed to immediately leave and secure (double lock) the guest room until security arrives to inspect.
It is a best practice and often a brand standard for housekeepers to avoid entering a guest room when a "Do Not Disturb" sign is posted on the door handle. Some properties leave a note advising the guest Housekeeping attempted to service the room. Some properties leave a recorded message on the guest room telephone. Initial investigation resulted in information that the shooter left the "Do Not Disturb" sign on his suite for several days. In Las Vegas, due to all-night gambling and entertainment, it is not unusual for guests to sleep-in with the above sign posted.
Mr. Steve Wynn, Chairman of Synn Resorts, advised in a recent interview that at Wynn resorts if a "Do Not Disturb" sign is observed for more than twelve hours, Wynn Housekeeping will enter the guest room to ensure the guest does not have a health issue. As previously noted, most hotels and resorts along "the strip" defer to a written message or recorded call for several days before attempting to personally engage the guest. As a result of the Mandalay incident, this procedure will undoubtably be reviewed.
Room Service
At a full service resort, service is provided to guest rooms 24 hours daily. Staff deliver food and beverage to every floor, and has the opportunity to enter guest rooms when permitted. Room Service staff are periodically briefed by security to report any suspicious person or activity observed.
Reports noted that a service cart was located outside of the shooter's door on which a small camera was positioned. Many room service departments require staff to retrieve the service carts by the end of shift. If the Mandalay had such a procedure, a room service employee may have noticed the camera on the cart and reported it as suspicious. It is fortunate that the service cart was not retrieved; it may have resulted in the service attendant being shot. Room service staff can provide valuable information regarding the mindset of guests they service and should be included in security awareness briefings.
If Room Service and Housekeeping at the Mandalay Bay communicated that food service was delivered to Mr. Paddock's suite although the "Do Not Disturb" sign remained on the door, and there was no health issue, that call may have saved the housekeeper from being shot-emphasizing once again the importance of communications.
Engineering
Maintenance is constantly monitoring systems and alarms. If a signal affecting a safety system (e.g. fire, smoke, fire stairwell, elevator) is received a security officer or engineer, or both, are dispatched to evaluate and repair the problem.
In some resorts, all guest room doors (or fire stairwell doors) are "hard-wired" to alert security or engineering that a door is ajar. At times, this procedure overwhelms manpower especially with thousands of rooms to monitor. The efficacy of such a system should be discussed.
In the Mandalay incident, a door alarm resulted in both a security officer and an engineer being sent to the thirty second floor of the shooter, ultimately altering the timing and plans of the shooter.
Landscapers
Staff working outside the buildings performing maintenance often observe suspicious persons approaching the hotel from areas "out of bounds" for the public. They have the opportunity to observe if suspicious packages or vehicles are left near gas, electric, water and telephone systems connections.
Due to the late hour of the incident it is doubtful any outside maintenance staff or contractors were on property who would have immediately noticed the windows being broken out. However, past cases have included valuable information from landscapers who observed suspicious activity and reported to resort security.
Casino Staff
A recent interview with Mr. Steve Wynn, noted above, provided insight into the extent casino operators and staff have become an integral component of overall security, when he revealed the shooter was a frequent player at Wynn Resorts, but never consumed alcohol while gambling.
This information set Mr. Paddock apart from the unusual gamblers in Las Vegas.
Bartenders and Servers
Bartenders and servers have a keen sense of observation. If a patron acts abnormally, they notice. If a patron appears intoxicated (TIPS) they are instructed to respond accordingly. If a server observes a patron choking or appearing to have a heart attack they immediately contact security for medical attention. Bartenders and servers also receive security training. If a weapon, drug use, or illegal activity is observed, they report their observations to security.
Mr. Wynn's comments noted above that the shooter was never observed drinking alcohol may have originated in the casino or one of the lounges, and was an important insight.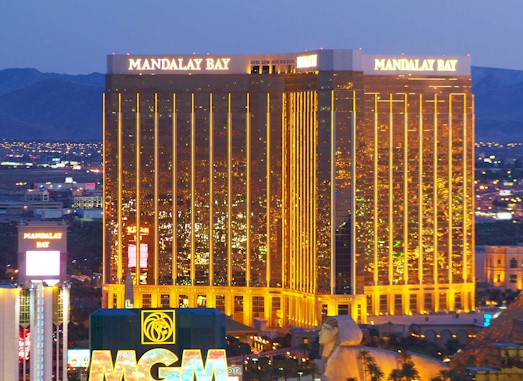 This incident clearly demonstrates the need for hotel and resort management to develop Active Shooter Emergency Action and Workplace Violence Plans. Scheduled training and table top exercises should be conducted periodically.
The above incident underscored the need for a dedicated location in the Security Command &Control Center designed to facilitate response to emergency situations (earthquake, fire, active shooter, workplace violence) with enough space and communications for resort security, management, fire officials, and law enforcement to operate effectively.
Although most hotels and resorts have notification systems, these systems must be tested to ensure effectiveness in both public and "back of house" areas of the property.
There should be renewed discussion regarding the deployment of cameras on guest floors and how it impacts expectations of guest privacy.
Casino surveillance tracks chips, cash and staff movements reporting unusual activity to security. In some locations, facial recognition biometrics identifies known "cheaters." Biometrics can have an important role in future hotel and resort security programs including the ability to track "persons of interest" from one location to another throughout the property.
While many Security Officers at Resorts in Las Vegas patrol unarmed, it may be necessary to employ off-duty Metro Police Officers in uniform to respond when required by resort security.
The concepts of "360 Degrees of Protection" and "Layers of security" should be embraced by resort management. Staff from all departments should be trained to provide situational awareness for the security department and situational management for property management.
While not all the facts regarding the shooting have been developed, it is my opinion large hotels and resorts located on the Las Vegas "strip" have the most competent security departments and most effective security programs available anywhere.
Yet, despite the above security measures in place at the Mandalay Bay on October 1, 2017, which altered the shooter's criminal behavior, these measures failed to deter the shooter or prevent the shooting.
The impact of this tragedy is that although security can alter criminal behavior, even outstanding security measures, may not be able to prevent it. Answers must be sought through the collaboration of resort security professionals, law enforcement, and hotel and resort management.
In his current capacity as Managing Partner, Resort Security Consulting Inc. (RSC), Mr. Hudak provides security expert witness testimony and litigation support for several national law firms. RSC also works with architects and developers during construction of new resorts and hotels to create a practical and cost effective approach to security. RSC conducts security surveys and audits, and provides consultation for existing hotels and resorts, marinas, golf clubs, equestrian and ski operations to ensure that they have reasonable protection and safeguards in place. Finally, RSC provides valuable security expertise to selected vendors of security equipment, technology and services. Mr. Hudak can be contacted at 516-381-5252 or hudak@resortsecurity.com Extended Bio...
HotelExecutive.com retains the copyright to the articles published in the Hotel Business Review. Articles cannot be republished without prior written consent by HotelExecutive.com.