Biophilic Design: Our Future Is Our Past
By Jasmine St. Clair Vice President of Design & Construction, Prism Hotels & Resorts | November 17, 2019
Biophilic design begins with a very straightforward idea: that for the vast majority of human existence, there was no design. Humanity evolved in a world where vast forests met expansive savannahs, and the soaring arc of a baobab tree was as familiar as the texture of the dirt and grass beneath our feet.
To a large extent, we have lost that organic connection. The modern world is a place of slabs and angles-chrome and glass. The warmth of wood and sun is often absent, and the sounds of wind and water are frequently muted.
But the textures and contours of the natural world are indelibly familiar to us. We have an instinctive affinity for natural elements. There is even some compelling evidence that much of our admiration for historical architecture stems from their biophilic qualities. As a species, the places and spaces where we became human are imprinted on both our collective conscious and on our genetic identity. On quite literally a cellular level, humans are in tune with the natural world. We could not and would not have survived and thrived if that was not the case.
With that in mind, the underlying premise of biophilic design is that places and spaces that feature natural elements and designs are good for us: that natural materials and environments are actually beneficial to our mental and physical health and our overall wellbeing. There is a growing body of scientific and medical evidence to support that conclusion. Biophilia is a school of design that not only recognizes our deep and inherent connection to nature, but seeks to capitalize on that connection by introducing natural elements into what have, until recently, often become sterile, linear, unnatural built environments.
More specifically, what does biophilic design look like? What does it feel like? Where is biophilic design most prevalent, how is it deployed, and what are the potential benefits of a well-executed biophilic design scheme?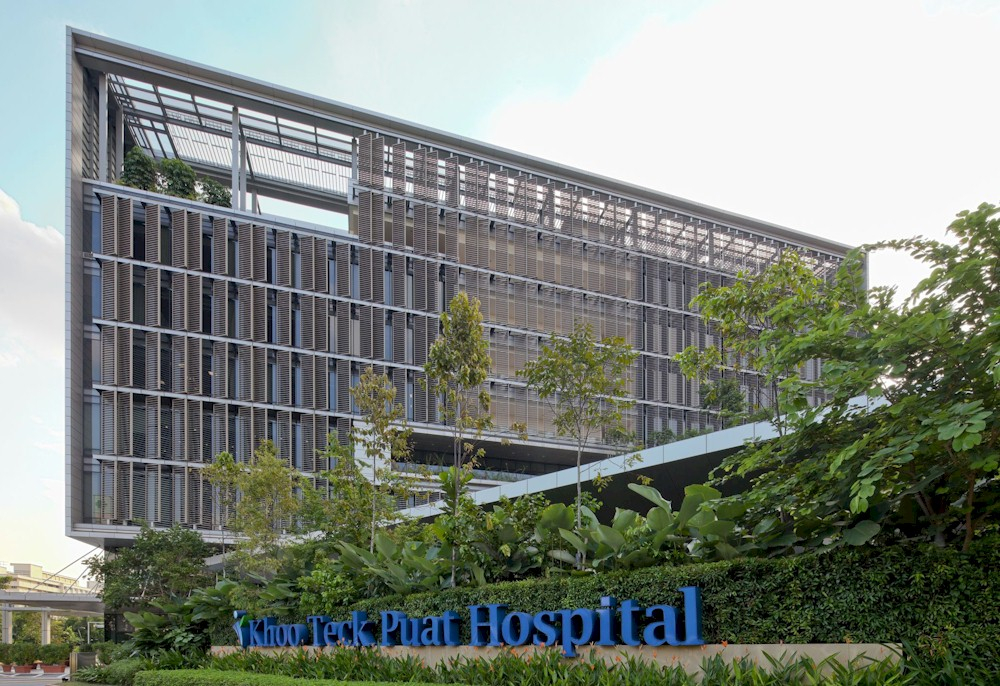 Khoo Teck Puat Hospital, Yishun, Singapore
The New Habitat
The phrase "natural habitat" conjures up images of animals in specific outdoor settings. The alligator drifting through a swamp. A group of deer quietly moving through a leafy glade. Which is why it's such a jarring idea to reconcile those natural environments with what has become the (un)natural habitat for most humans in today's world: the built environment. Today, humanity spends almost all of its time moving across paved or engineered surfaces, living under roofs and between walls. According to Environmental Protection Agency (EPA), Americans spend an average of 93% of their life indoors.
This fundamental disconnection from our true natural habitat comes at a cost. Going from 100% of our time outdoors in the not-too-distant past to 7% today represents a massive behavioral shift for which takes a toll on our bodies and minds. We are more stressed. We have more incidence of cardio-vascular disease. We are more prone to mental health disorders.
By bringing the outdoors indoors, biophilic design proponents strive to balance the scales somewhat-to introduce natural elements into those built environments in a way that makes us happier, healthier, less stressed, and more productive. Studies have definitively shown that this effect is not small: that biophilic design reduces stress, lowers blood pressure and heart rates, boosts cognitive performance, and makes people more creative, optimistic, cooperative and productive.
Biophilic design encompasses an extraordinarily wide range of concepts and styles. Common elements to many spaces designed with biophilia in mind include things like abundant natural lighting, clean air (including spaces that are perhaps open to the outside), water features, abundant plants and landscaping, and features that mimic natural landscapes.
Somewhat more subtle biophilic design features might include things like naturalistic shades, shapes and forms, materials that incorporate or evoke natural substances and textures, and a pleasing blend of contrasts and complexities. It could be something as simple as a wall pattern or as dramatic as an indoor rock wall installation with running water. Some of the best examples of biophilic design reflect natural geometries and proportions, and curvilinear forms and natural imperfections are a common characteristic of some biophilic spaces and structures.
Sometimes, designed spaces conceived and created with biophilic principles including nature in the most literal sense. Most commonly with trees, plantings and elaborate landscaping elements-but also, in some cases, by elevating outdoor spaces or opening spaces up to the outdoors. It may be as simple as orienting a room or a structure to overlook a gorgeous natural vista or to benefit from the surrounding landscape. In some cases, it's possible to blur or even eliminate the boundaries between the built environment and the natural world.
Biophilic designs are also frequently:
Biophilic design is not just a visual medium. Spaces created with biophilic design principles may include much more than just a potted plant or two, but instead present a fully realized natural design vision explicitly created to appeal to multiple senses.
Well-executed biophilic design is engaging in a way that makes those moving through the space feel like they are part of something larger than themselves.
Biophilic design is typically calming, relaxing, inviting and often sustainable. Perhaps unsurprisingly, biophilic design elements have long been a popular choice in spas and other therapeutic settings where tranquility and connection are key priorities.
El Conquistador Tucson, a Hilton Resort, Tucson, AZ
A Biophilic Future
Biophilic design is not necessarily a new concept, but there is growing enthusiasm for natural design concepts, and we are starting to see these ideas deployed with increasingly frequency and growing sophistication. This is almost certainly being driven, at least in part, by the recognition that there are very real (and potentially very meaningful) economic benefits that can accrue from creating more appealing spaces and from bolstering the health and wellbeing of those who live, work and play in biophilic environments.
That was clearly a consideration with the design and construction of Khoo Teck Puat Hospital in Yishun, Singapore, where the design vision of a "hospital in a garden" informed the creation of a project that takes extraordinary advantage of its location amidst natural splendor.
Biophilic ideas have an experiential element to them that makes them popular choices to inform and enhance the design of amenity spaces and elevate the guest experience. It is particularly prevalent in lobbies or in larger mixed-use spaces, and some forward-thinking companies are integrating biophilic principles into their office designs. Perhaps unsurprisingly, hotels and resorts have been leading adopters of biophilic design ideas.
At El Conquistador Tucson, a Hilton Resort in Arizona, for example, the 90-acre property is surrounded by high Sonoran Desert terrain at the base of the Pusch Ridge Mountains. The hotel masterfully reflects, embraces and integrates those beautiful natural Southwestern landscapes, with the colors, textures, materials, and native flora featured both inside the property and throughout the facility's extraordinary outdoor spaces and pools. From a hummingbird sanctuary to an onsite-garden, from housing a stable of horses to providing fire-lit sunsets serenaded by Native American flute, the hotel provides biophilic engagement throughout the entire stay.
These biophilic design principles can be credited for a big reason why the property was named the "Best Experiential Hotel" of 2018 by Hotel Interactive ® Lodging Industry Elite Awards, and named one of the 52 Best Hilton Hotels in the World by Forbes Travel in 2019.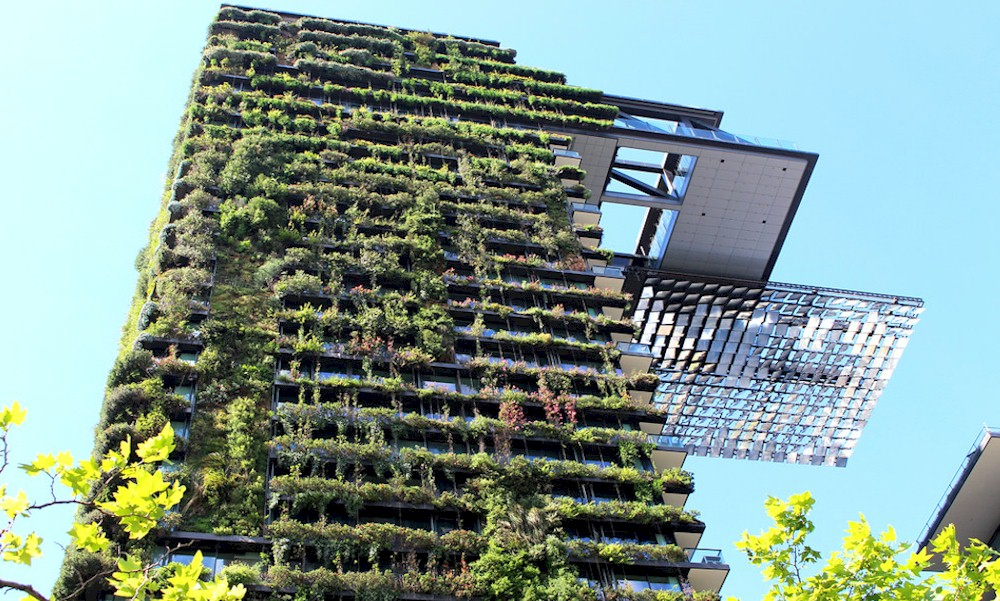 One Central Park, Sydney, Australia. Motorized mirrors capture sunlight, and direct the rays down onto Central Park's gardens
One of the most striking examples of biophilic design in action is the award-winning One Central Park outside of Sydney, Australia. A mixed-use project completed in 2014, One Central Park includes two residential towers bracketing a multi-level retail component. There are a number of biophilic elements that stand out with this project, including a spectacular cantilevered heliostat and sky garden that reflects natural light throughout the retail atrium and public sections of the residential towers, but without question the defining feature of this design is the inclusion of vertical hanging gardens that transform the buildings' exterior faces into "living walls."
At more than 50 meters, the hanging gardens of One Central Park have been cited as the world's tallest vertical garden. A "living tapestry" of more than 85,000 plants (including more than 350 different species) bring the walls of One Central Park to life in a remarkable fusion of the natural world and the built environment.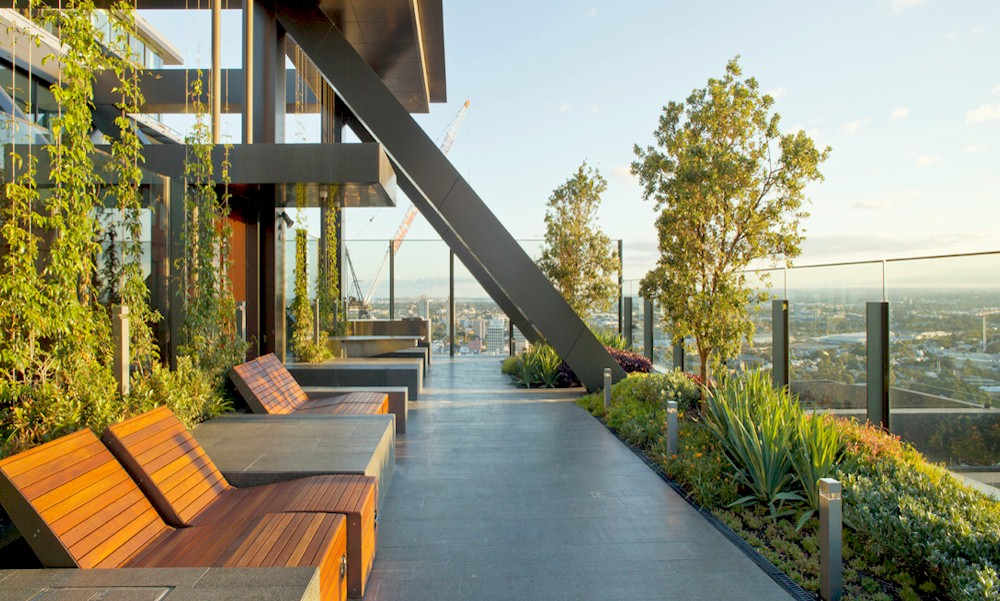 One Central Park biophilic balcony
While dramatic examples of biophilic design such as One Central Park are not always financially feasible, and may even require innovative architectural design solutions to execute (One Central Park's unique living walls required the development of custom planter boxes, support brackets and aluminum framing, along with an automated and centrally monitored irrigation and plant maintenance system), the results can be exciting. One Central Park was named the best tall building in the world in 2014 by the Council on Tall Buildings and Urban Habitat.
At its heart, the growing popularity of biophilic design principles-and the growing prevalence of spaces and places designed with biophilic design concepts-reflects our deep-seated need to connect with the natural world. The origins of that need are primal and profound-and they aren't going to be going away anytime soon. Which is why, going forward, we can almost certainly expect to see more natural design elements in the modern structures and spaces where we spend so much of our lives.
HotelExecutive retains the copyright to the articles published in the Hotel Business Review. Articles cannot be republished without prior written consent by HotelExecutive.