Farm to Table: The Greenbrier Experience
By Jeff Kmiec President & Managing Director, The Greenbrier | October 30, 2011
Imagine a magnificent salad so fresh that the ingredients were harvested just a few hours before. Or a milk-fed veal chop accompanied by a naturally-raised spring vegetable ragout. Or homemade pasta topped with a savory tomato sauce made with pesticide-free vegetables from a nearby farm. The farm-to-table movement is more than a culinary trend, it is a revolution in the way we dine.
For years, we've been hearing more and more about the importance of naturally-raised, organic food products. Farmers' markets, rooftop and community gardens have grown in popularity and chefs around the country are capitalizing on their restaurant gardens to attract new customers. Sustainable agriculture has created healthier eating habits and improved local economies, but how can the hospitality industry fully embrace this movement?
The Greenbrier, a 710-room resort in White Sulphur Springs, West Virginia, has found a way to take farm-to-table to the next level with The Greenbrier Farm, with the help of resort owner Jim Justice. Justice, who owns 50 different companies, has several agricultural operations in states along the East Coast. Shortly after purchasing the resort in 2009, he set aside 44 acres of his land in nearby Eagle Rock, Virginia as the site of the resort's farm.
Located about one hour from the resort, the farm grows over 70 varieties of vegetables solely for the resort's dining venues. In season, the farm provides over 75% of the produce for The Greenbrier Restaurant Collection's nine outlets including a traditional resort dining room, steakhouse, Italian restaurant and sushi bar.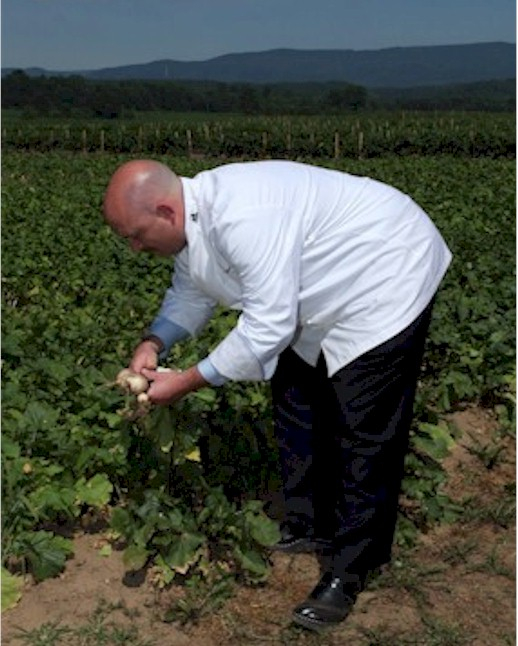 Chef Critchfield makes a quick trip to the garden for some fresh turnips