mPOS Expected to Replace POS
By Michael Kasavana NAMA Endowed Professor, School of Hospitality Business, Michigan State University | January 12, 2014
In May 2013, Pew's Internet Project revealed that 91% of American adults owned a cell phone of which about fifty six percent (56%) possessed a smartphone. In addition, Pew's research also noted that thirty-four percent (34%) of cellular phone users gained access to the Internet primarily via the device. Cell phones have been regularly used to get driving directions, send email, locate and play music, send and receive tweets, play games, maintain personal calendars, as well as snap and send photos. The current trend involves using mobile phone platforms to perform purchase transactions, enact money transfers, and track loyalty programming.
The recent findings of Gartner Research provide solid evidence of the increasing popularity of mobile payments as the US projects $37 billion in m-commerce for 2013. Worldwide mobile payments, estimated at $235.4 billion for 2013, are projected to surpass $431 billion in 2015; and according to Juniper Research, global mobile payments will exceed $1.3 trillion by 2017. Although mobile payments are available in a variety of platform options and capabilities, to date there has been no consensus as to which payment platform will serve as the eventual, common payment standard. To date, mobile payments have no frontrunner platform emerging from a complicated tangle of competitors. It is for this reason that several workable platforms are reviewed in this article.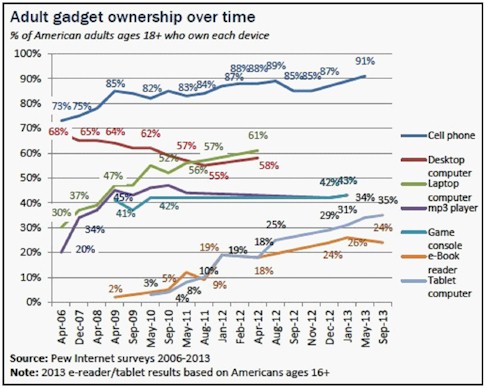 Source: http://pewinternet.org/Commentary/2012/February/Pew-Internet-Mobile.aspx
Payment Platforms
There are two adoption perspectives associated with mobile payments: 1- merchant adoption and 2- consumer adoption. From the merchant side, there is the issue of whether or not the mobile payment platform necessitates upgrading and/or replacing the retailer's point of sale (POS) system in order to accept mobile transactions (mPOS). Hardware, software, and netware components are expensive and alterations or substitutions require capital expenditures and can be costly and time consuming. From the consumer side, the distribution of acceptable forms of payment may require the circulation of millions of new media to replace of legacy cards, fobs, and account authentication triggers. The time needed to complete a replacement process is an important element in the selection of a payment platform going forward. Mobile payment media and equipment must contribute to a high-level of security while providing a convenient and efficient process for checkout, promotions, and rewards.
Near Field Communication (NFC)
NFC is a short-range contact-less technology embedded in a mobile device to function as a payment platform. Among the concerns associated with NFC payments is the requirement that merchants must install NFC-compliant POS equipment to accept payments. Additionally, there is also concern related to the inherent complexities involved in loading payment media into an NFC device. Unfortunately, to date the solid sales growth of NFC handsets has not been matched by the adoption of NFC payment services. In fact, many mobile operators support postponement of a widespread launch of NFC-based mobile payments into early 2014.
Please Login to read the full story, or you can Get Free 30-Days Hotel Business Review
The Hotel Business Review articles are free to read on a weekly basis, but you must purchase a subscription to access
our library archives. We have more than 5000 best practice articles on hotel management and operations, so our
knowledge bank is an excellent investment! Subscribe today and access the articles in our archives.