Converting Hotel Guests into Apostles
By Simon Hudson Endowed Chair in Tourism and Hospitality, University of South Carolina | April 13, 2014
Well-publicized research shows that hotels can increase profits from 25 to 85 percent by retaining just five percent more of their customers, But merely 'satisfying' customers is no longer enough to ensure loyalty. There is little or no correlation between satisfied (versus highly satisfied) customers and customer retention. This means that it is not sufficient just to please customers. Each customer should become so delighted with all elements of their association with a hotel that staying with a competitor is unthinkable. In a sense these customers become 'apostles' for their favorite hotels. A popular model that explains these behavioral consequences of customer service is the Apostle Model, developed at the Harvard Business School. Based on satisfaction and loyalty, this approach segments customers into four quadrants: Loyalists, Hostages, Mercenaries, and Defectors (see Figure 1 below).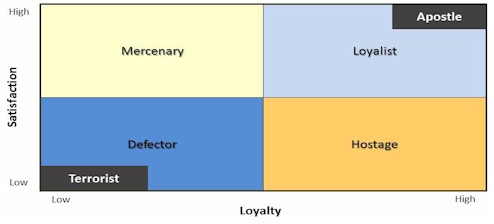 Figure 1. The Apostle Model. Adapted from Jones and Sasser (1995). "Why satisfied customers defect." Harvard Business Review, 73, 88-99.
Defectors are those who have low satisfaction and low loyalty. A sub-segment comprises the Terrorists, with the lowest satisfaction and loyalty scores. In addition with the costs associated with losing them, these customers are so unhappy that they speak out against a brand at every opportunity. Hostages are customers who have low satisfaction, but still report high loyalty. This typically is due to lack of competition or high switching costs. Customers in this category feel 'trapped.' Hotel brands in this category often win business simply due to their location (when no suitable alternatives are nearby) or, because of the strength of their loyalty club. However, these customers exhibit 'false loyalty' - acting loyal even when they are just waiting for a chance to jump ship. Mercenaries are those who have high satisfaction, but low loyalty. These customers are often price-sensitive and will switch easily when they have the opportunity.
Loyalists are customers who have high satisfaction and high loyalty. Sub-segments of loyalists are Apostles, who have the highest satisfaction and loyalty scores. Some 80 percent of Starbucks' revenues come from Apostles who visit their stores an average of 18 times a month. These customers are loyal because they love a business. But how do hotels create apostles? The key seems to lie with customization. In the travel industry in general, requests for customized and personalized vacations are rising sharply, aided by technology and increasingly expectant and discerning consumers. So, leading hotels are attempting to customize the experience for guests to make individual customers feel unique and to make them believe that the hotel has singled them out for special attention.
The remainder of the article profiles several hotels from all corners of the world who are creating Apostles out of their guests by customizing their experiences.
At the HUB Porteño in Buenos Aires, Argentina, this customization begins well before a guest arrives at the hotel. HUB recently launched a selection of curated city experiences for hotel guests to maximize their stay in the city. Working with a team of Ivy League professors, liberal arts experts and interesting locals, the hotel creates customized adventures that "offer a new way of living the city like a local, in style". Prior to arrival, guests take part in a detailed consultation with a member of the HUB Porteño team about what they want to see and experience, and then the team creates a personalized itinerary based on the guest's tastes and interests. Experts will then personally escort guests through the city's history, music, architecture, literature and politics. "In my opinion taking care of the activities of the guests in the city plus personal attention in house maximizes guest loyalty", says Founder Partner & CEO Gonzalo Robredo. Opened in October 2012, the hotel is an 11 room, all-suite palatial retreat in a converted private mansion on one of the most elegant blocks in Buenos Aires, designed to encapsulate the elegance of Buenos Aires's Belle-Époque era. Each room is individually decorated with hand-crafted pieces from highly skilled Argentine artisans, antiques and a collection of Argentine artwork.
Please Login to read the full story, or you can Get Free 30-Days Hotel Business Review
The Hotel Business Review articles are free to read on a weekly basis, but you must purchase a subscription to access
our library archives. We have more than 5000 best practice articles on hotel management and operations, so our
knowledge bank is an excellent investment! Subscribe today and access the articles in our archives.