The Smell of Success: Why Making Scents Makes Sense
At Glenwood Hot Springs and the Spa of the Rockies
By Jeremy Gilley Director of Sales and Revenue, Glenwood Hot Springs | July 06, 2014
Co-authored by David Erlich, Spa Director, Spa of the Rockies
Mineral Springs Medicine
Glenwood Hot Springs is a 125 year old mineral hot springs property with a long-standing tradition of hydrotherapy. More than following any market trend, the health and wellness concept is deeply aligned with our brand identity; even so, growing a profit in this highly competitive niche requires patience and planning. A little history will help readers understand Glenwood Hot Springs' unique position within this marketplace.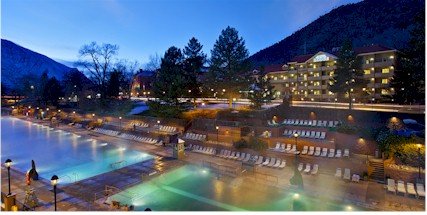 Native Americans were the first to use the mineral hot springs for healing, bringing their sick and wounded to soak in the springs long before it became a bona fide resort destination in 1888. In the late Victorian times, Glenwood Hot Springs was an enclave for the privileged classes and the property primarily focused on "taking the waters" – a term that included soaking in the mineral spring water, drinking the mineral-rich water and inhaling the vapors. At that time the resort employed medical doctors, specialists and massage therapists to provide a variety of health and healing services.
The waters were considered so potent that during WW II, Glenwood Hot Springs was closed to the public and commissioned by the government. The U.S. Navel Convalescent Hospital operated at the hot springs for three years providing physical therapy and rehabilitation services for injured veterans. After it was decommissioned the resort was once again opened to the public and the new owners completely refurbished the property enlarging the pools, adding modern locker room facilities, diving boards, water slides, an athletic club and a 107-room lodge. During this period, the resort focused on attracting families looking for a fun and affordable family vacation destination in the mountains of Colorado.
Please Login to read the full story, or you can Get Free 30-Days Hotel Business Review
The Hotel Business Review articles are free to read on a weekly basis, but you must purchase a subscription to access
our library archives. We have more than 5000 best practice articles on hotel management and operations, so our
knowledge bank is an excellent investment! Subscribe today and access the articles in our archives.