Hotels Add Health to the Menu
By Simon Hudson Endowed Chair in Tourism and Hospitality, University of South Carolina | July 27, 2014
Hotels are increasingly responding to the demands of health-conscious travelers. A recent consumer survey found that a large percentage of travelers are seeking wellness in their travel destinations. Around 87 percent want healthier foods, 82 percent spa or massages, 82 would like some kind of nature experience, 73 percent prefer eco-conscious properties, 70 percent want gyms with cardio and weights, 54 percent would like healthy sleeping programs, and 47 percent are seeking meditation/mindfulness programming.
Even the major hotel chains have launched programs to appeal to these travelers. EVEN Hotels is a good example, a new brand from Intercontinental Hotel Group ( IHC ), which created EVEN after conducting research that found there are 17 million travelers who want hotels to accommodate their healthy lifestyle needs. EVEN is targeting travelers who want to maintain a holistic and healthy lifestyle on the road. There is no traditional check-in desk. Instead, guests are directed to a 'wellness island' where they are handed a cool or warm hand towel depending on the season. A bracelet serves as the room key, so guests can wear it whilst running. Near the wellness island, somewhere off the lobby, each EVEN hotel has a 1, 200-square-foot athletic studio, divided into three zones for cardio, strength training and mat exercises. And if guests prefer to workout in rooms, suites have training zones with yoga mats, balance balls and other equipment. Menus feature healthy options in tapas-style portions that can be ordered via iPad or tablet, and alternatively, guests can visit the EVEN Hotels' fresh markets for healthy food and drinks.
Rather than creating completely new brands like EVEN, most other hotels entering this market are engaging in 'wellness re-branding, ' offering new health programs for guests. Perhaps the most comprehensive is the 'Westin Well-being Movement' recently launched by Westin Hotels & Resorts. The $15 million brand-wide campaign is "designed to enhance the well-being of guests and associates around the world". The year-long initiative will introduce guests to new partnerships and programs that align with Westin's six pillars: Feel Well, Work Well, Move Well, Sleep Well and Play Well. Brian Povinelli, Global Brand Leader for Westin, said that Westin wanted to improve guests' well-being before, during and after their stay. "No other brand is creating a program around well-being, helping guests stay connected to their routines, " he said.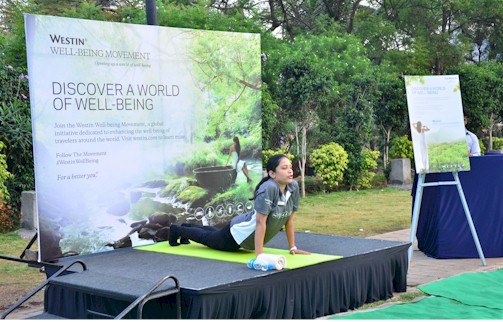 Yoga session at the Westin Pune Koregaon Park, India
Other hotels are adding fitness equipment and/or healthier menus. Omni Hotels, for example, has launched 'Get Fit Kits' and 'Get Fit Rooms' with features like treadmills in the guest rooms. Days Inn now has 'Dayfit' programming, with improved fitness centers and free healthy breakfasts, and Sheraton has 'Sheraton Fitness' that spans healthy, local 'Color Your Plate' dining, free workout kits, online fitness classes and redesigned gyms with group exercise. Swissotel has a new 'Vitality' healthy eating, business meeting and fitness programming, and Las Vegas' MGM has designed 'Stay Well' rooms with vitamin C-infused showers, wake-up light therapy and air purification and aromatherapy.
In fact Las Vegas, believe it or not, has an increasing number of hotels catering for guests seeking a healthy option. There are now seven no gambling, no smoking venues, including a couple I visited recently, Trump and Mandarin Oriental. At Trump, guests have free use of the Fitness Centre adjacent to the long lap pool, which is popular with locals as well as visitors. The spa is also a big attraction and has an unusual DIY aromatherapy bar where you concoct your own lotions with various mood-enhancing ingredients. Trump's Nourish menu lists calories as well as detailed fat/carb/protein/sugar/sodium content, and Trump's Boot Camp has joggers going along The Strip at 7:30 am on Fridays. To considerable applause from bystanders, the running is interspersed with jumping jacks, squat thrusts and anaerobic stair climbing led by an ex-military taskmaster. And for those guests who try to wriggle out of doing any exercise due to luggage limitations, Trump provides complimentary running shoes and work out gear.
Please Login to read the full story, or you can Get Free 30-Days Hotel Business Review
The Hotel Business Review articles are free to read on a weekly basis, but you must purchase a subscription to access
our library archives. We have more than 5000 best practice articles on hotel management and operations, so our
knowledge bank is an excellent investment! Subscribe today and access the articles in our archives.