F&B: What Does it Mean to be 'Local'? Lessons from the Desert...
By Elizabeth Blau Founder & CEO, Blau & Associates | August 16, 2015
People are often surprised when I tell them that I live in Las Vegas, even more so when I tell them that one of my restaurants is local, seasonally focused, and farm-to-table inspired. When my husband Kim and I first came up with the idea for our restaurant, Honey Salt, we wanted to serve the food that we serve in our home. The entire idea was to build a restaurant that felt like you were coming over for dinner, and then serve items inspired by our life together, our friends, and our travels. A big part of our life has always been seeking out great food and great ingredients, and we wanted to make sure that philosophy translated into the restaurant.
It isn't easy to pull this off in the desert, and we certainly face a fair amount of challenges, but I have found over the past three years that thinking about what you produce, what you serve, and where you get it, can carry you a long way. More importantly though, we have learned that being local, or thinking local, is about so much more than just focusing on where our food comes from. For us being local is about celebrating the seasons, building relationships with our community, creating food that is good for us and enjoyed by our guests, and supporting those who are striving to make a difference. It is also about always learning and exploring and trying new things and working with friends.
Over the past several years my husband, my team, and I have learned a lot about what it means to be "local," and we continue to learn. Looking back on it, and thinking about where we live, I feel that there are a couple of core components to our efforts that are useful for operators anywhere, they are: building relationships and being involved in your community. I know that there is nothing revolutionary about these particular words, and that they are key to any thoughtful business owner's vocabulary, especially in food and beverage, maybe even to the point of cliche. However, living in the middle of the desert we have learned to expand our concept of what it means to be local, and learned that it can mean so much more than just having a farm down the road.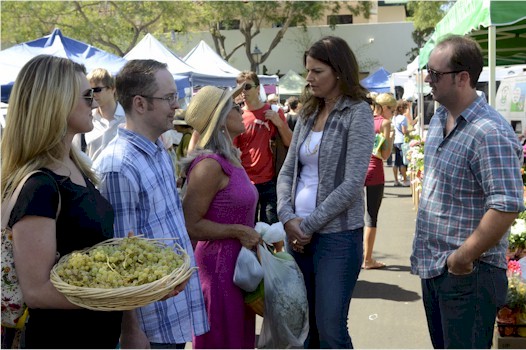 Scouting around at the local farmer's markets can find you some amazing produce
and connect you with the organic community
Right around the time we were developing the menu our friend Kerry Clasby opened an incredible farmer's market at Springs Preserve.* Kerry, who is known as the intuitive forager, has been a passionate force in connecting Las Vegas chefs and restaurateurs with family owned farms in southern and central California, which as the crow flies are actually very close to the valley. We also began to expand our appreciation for some of the local areas, such as Pahrump and Moapa that grow excellent produce and offer high quality agriculture within an hour of Las Vegas. Most importantly, we were able to bring wonderful seasonal produce into our home and incorporate it into much of what we cooked.
As the opening of the restaurant got closer, Kerry offered to take some of the core members of our team and I on a road trip to Santa Barbara to visit some of the farms, about a five-hour drive from Las Vegas. We spent three days touring vineyards, farmer's markets, ranches, and farms, taking pictures and writing recipes as we went. I think for us that trip was really a catalyst to appreciate how much was available on the other side of the desert, and also really inspired our team to think seasonally and locally. When we got back to Las Vegas, Kerry helped us establish the partnerships with purveyors to bring the best possible product into our restaurant with the most direct connection to producers. The trip also inspired our chefs to begin building relationships with local Nevada farmers.