Are Guests Looking for Sustainable Hotels?
By Gaynor Reid Vice President Communications & CSR, Accor Asia Pacific | May 22, 2016
Do you change your bath towels and bed linen every day at home? Most people don't. Today, it has also become normal for guests to reuse them for two to three days when staying at a hotel. More than half of guests are in favour of reusing their towels, especially if some of the money saved in doing so is reinvested in planting trees for the benefit of the local community. This is according to a survey carried out by AccorHotels aimed at measuring changes in guest habits, current awareness of sustainability issues and their expectations of hotels in terms of sustainable development.
Reusing towels and bed linens is not a new concept for hotels. However, AccorHotels takes it one step further than most by reinvesting 50% of its laundry savings in reforestation projects as part of its PLANET 21 sustainability program. Since the program was launched, AccorHotels has saved 13 million euros in laundry savings, half of which has been invested in planting trees and assisting local communities across the world to farm sustainably and alleviate poverty. Over that period the Group has also cut water consumption by 9% across its global network, reduced energy consumption by 5.3% and cut carbon emissions by 6.2%.
AccorHotels partners with Pur Projet, a French collective based on a network of 50 organisations working together to support small-scale farmers. Pur Projet advocates insetting (instead of offsetting), which according to Plan Vivo Foundation, a registered Scottish charity, is essentially a platform for companies to support local communities and supply chains while mitigating Greenhouse Gas (GHG) emissions.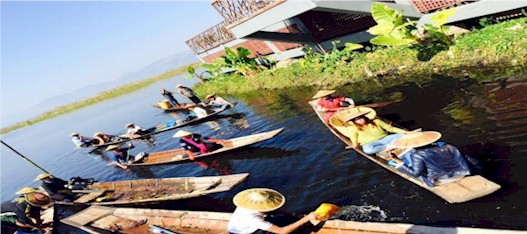 A monthly Inle lake, Myanmar cleaning campaign led by Novotel Inle Lake Myat Min that involves its team members and the local community and educates them to keep the environment clean
The hotel industry is very water-intensive with food and beverage being a crucial part of the business. It is a perfect match for hotels to support local projects committed to sustainable water and agriculture and integrate it into their business strategy as part of their sustainability program.
For example, AccorHotels helped set up an olive oil business in Morocco for women who have trouble finding work in that area. AccorHotels provides funding for the women to take care of the trees and transform the olives into olive oil. Some of the olive oil produced is then sold back to AccorHotels' hotels, completing a cycle that begins again with more money invested into the olive oil farms.
Please Login to read the full story, or you can Get Free 30-Days Hotel Business Review
The Hotel Business Review articles are free to read on a weekly basis, but you must purchase a subscription to access
our library archives. We have more than 5000 best practice articles on hotel management and operations, so our
knowledge bank is an excellent investment! Subscribe today and access the articles in our archives.