Fast Casual Craze Creates Long Lasting Memories
By Jonathan M. Raz Director of Food & Beverage, Waldorf Astoria Orlando | August 21, 2016
When it comes to dining at hotels, guests immediately consider their restaurant, bar and in-room dining options, but there is a new movement taking hold in the hospitality industry: fast casual dining. This trend presents hotels with an opportunity to engage with guests and staff while creating added value, providing guests with an abundance of dishes to explore without leaving the property. Internally, these menus encourage team members to experiment with new cuisine and showcase their culinary talents. Ultimately, fast casual dining allows guests to rediscover food as a social experience, where they interact with staff and other guests while sampling dishes rarely seen on sit-down menus. Hotels can take advantage of the fast casual trend in countless ways.
Create Authentic Experiences
Studies show that travelers are increasingly looking for localized programs and services – they want something they can't find back at home. This is why providing guests with innovative experiences is so important, especially when it comes to food and beverage. A good meal has the power to transport a diner back in time or evoke a favorite memory. Chefs are embracing the fast casual trend because it allows them to create simple meals with classic ingredients executed to perfection, bringing guests back to – or creating – these memorable experiences in their lives. At Waldorf Astoria Orlando and Hilton Orlando Bonnet Creek we pride ourselves in creating the ultimate guest experience, especially with culinary offerings and are embracing the fast casual trend by serving ethnic "street food" on property. Drawing inspiration from across the world, dishes include Middle Eastern chicken shawarma cooked on a spit, served with authentic naan bread prepared in a traditional Tandoori oven and assembled to order, Belgian Ham and Gruyere waffle sandwiches and Neopolitan pizza with flour imported from Italy, pad-thai noodles from Thailand, and Hungarian chimney cakes.
Today's hotel guest has a more modern global palate and experience with cuisines from various cultures, making them more apt to try ethnic dishes such as traditional street food. By offering this variety of global cuisine, we provide guests the opportunity to immerse themselves in a new culture without having to leave the hotel grounds. Leveraging food and beverage to develop authentic experiences, hotels can create a conversation surrounding food, inspiring guests to chat about where they're from, what makes them feel most at home and what makes their culture special. With respect to the quality and integrity of the ingredients, food and beverage teams can create distinctive fast casual moments that are rich in both tradition and taste. These delectable food and beverage experiences not only make their stay more memorable, but keep guests coming back year after year, inevitably driving revenue back to the property.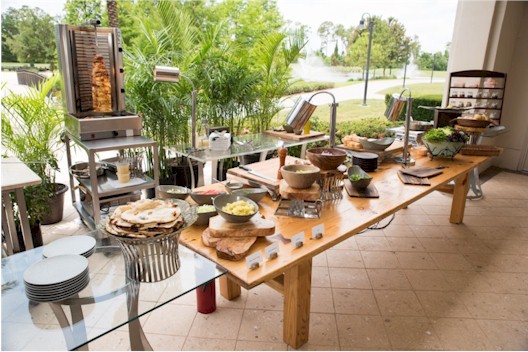 Interactive chicken shawarma station
Social Dining
Please Login to read the full story, or you can Get Free 30-Days Hotel Business Review
The Hotel Business Review articles are free to read on a weekly basis, but you must purchase a subscription to access
our library archives. We have more than 5000 best practice articles on hotel management and operations, so our
knowledge bank is an excellent investment! Subscribe today and access the articles in our archives.