Wellness & Hospitality: Frontiers of Today and Tomorrow
By Mia Kyricos Founder and President , Kyricos & Associates, LLC | July 23, 2017
Wellness Tourism is Thriving
The Global Wellness Institute (GWI) reported in January of this year that the global wellness economy is now a $3.7 trillion dollar marketplace with wellness tourism representing $563 billion slice of that healthy pie. And given the fact that wellness tourists spend more money than their average counterparts, the economics are quite appealing (see Figure 1.0). The spend varies in considerable degree by purpose of trip; a primary tourist, for example, seeks wellness as the sole purpose of his or her trip whereas a secondary tourist attempts to fit in wellness as part of business or leisure travel. Either way, while wellness trips account for 6.5% of all tourism trips, they represent 15.6% of total tourism expenditures, which certainly indicates a thriving market for wellness-driven hospitality.
Figure 1.0: Courtesy of the Global Wellness Institute Global Wellness Economy Monitor, January 2017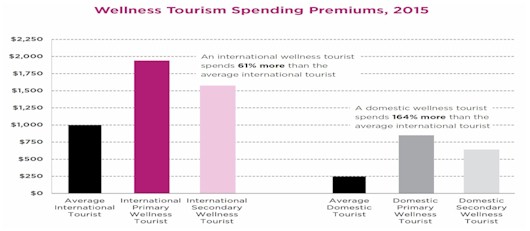 Consumer demand for all things well is clearly on the rise and spanning industry, geography and demographics. When it comes to travel, most industry analysts agree that millennials are applying the greatest amount of pressure on the hospitality industry. For example, half of millennials base their buying decisions on the quality of a fitness center (inclusive of options for on or offsite exercise) whereas less than a quarter of Baby Boomers do.(3) Yet fitness is far from the only thing influencing buying decisions when it comes to how wellness is manifested at today's hotels, and up until just a few short years ago, hoteliers still considered wellness mostly a facility-based value proposition (read: swimming pools, fitness centers and spas). The world has indeed changed.
TripAdvisor, in one of its recent TripBarometer reports, cited that nearly one third of travelers surveyed were willing to spend more on travel because "it's important to their health and wellbeing."(4) That is, consumers, independent of their preferences for hotel features, amenities and programs, see a relationship between travel and personal wellbeing. And this insight is indeed timely since consumers are not the only ones thinking differently about the relationship between travel and wellness; the industry has caught-on as well.
Please Login to read the full story, or you can Get Free 30-Days Hotel Business Review
The Hotel Business Review articles are free to read on a weekly basis, but you must purchase a subscription to access
our library archives. We have more than 5000 best practice articles on hotel management and operations, so our
knowledge bank is an excellent investment! Subscribe today and access the articles in our archives.