5 Reasons Your Hotel Should Engage with Social Media Reviews
By Benjamin Jost Co-Founder & CEO, TrustYou | February 04, 2018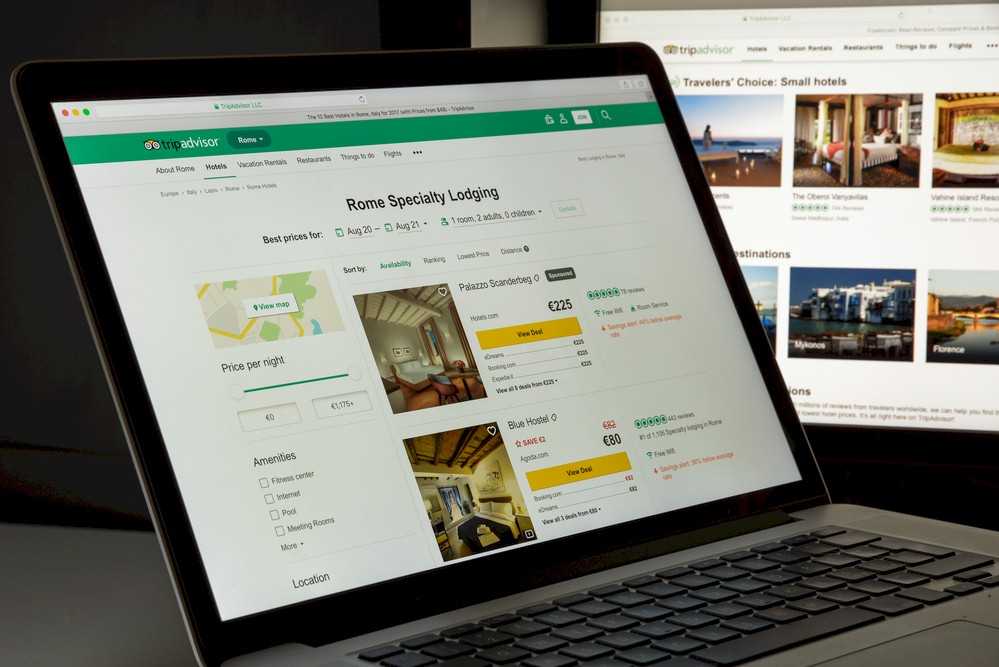 Facebook has been ranked the #1 siteused for travel inspiration, and in 2017, Facebook continued to be the most widely used social media site. Twitter has 317 million monthly users and there are 500 million tweets sent every day. 75% of Instagram users take action, such as visiting a website, from an ad on the platform.
Social media allows hoteliers to put their business in front of potential guests and to communicate with travelers and/or guests, in the easiest way possible. But it comes with certain challenges, too. The most common example is with reviews. While most are great, the occasional bad review can halt your positive marketing to a stop. However, if managed the right way, engaging with social media reviews can increase bookings and even influence direct hotel revenues.
Among all the reasons for engaging with social media reviews, five of the most important reasons are:
To Attract New Guests
To Enhance Remarketing Efforts
To Improve Your Online Reputation
To Keep Up with Trends
To Influence the Influencers
In this article, we will discuss these five reasons more in depth, and provide concrete actions that hotels can take to win business across all facets of social media.
1. Attract New Guests by Adding Social Reviews on Your Website
The number one goal of any hotel marketing team is to convert. Even better, it is ideal for that conversion to happen directly through a hotel's own website, rather than paying a distribution cost to an OTA. Hotels can use social media and reviews to do just this.
After price and location, reviews are the next most important factor in a traveler's booking decision. Adding review content, including a feed of your latest mentions on social media, can ensure that travelers are getting all the information they need to make a booking and eventually become a guest. Integrating social content is a simple step that can add emotional value. It also gives insights into experiences and personal stories, which encourages travelers to book direct.
In addition to providing experiential and personal stories on your website page, this is also user-generated content that can bring more visibility to your website from search engines. Your previous guests are writing what your future guests care most about, so why not use that to create original content on your website?
2. Enhance Re-marketing Efforts by Using Social Reviews as Adverts
Today's generation of multitaskers browse the web without a clear or succinct flow. They have multiple tabs open, on various devices, that can be easily lost or forgotten about. That's where the subtle reminders on banner ads can convert even more of those guests who got away.
Many companies run successful ads by re-targeting contacts on Facebook and Instagram. These sites also have the potential to generate more Lookalike contact lists, to ensure you are sending your adverts to the audience most likely to visit your page.
Running an advertisement on one of these sites is smart, but it has to be the right kind. Think of what you pay attention to most on social sites – you want to hear about your friend's experiences. When you're interrupted with an ad asking you to buy something, you may just scan right over it. But when sponsored advertisements also incorporate experiences and words from your guests, you increase the likelihood that the ad will be engaged with.
Take a look at some of the best posts your hotel has been tagged in. With the right permissions, you can reuse this positive sentiment as your very own ad on the channel it was first posted on, spreading the good word about your hotel while boosting social interactions and conversions.
3. Improve Your Online Reputation by Responding to Social Reviews
In the eyes of a potential guest, a hotel's reply to any type of online review is a sign that the hotel values their guests' opinions and care about their onsite experiences. In fact, 84% of travelers agree that an appropriate management response to a "bad review" improves their impression of the hotel. Answering to positive reviews seems a lot easier than dealing with negative ones and you might sometimes feel like it would be best to leave them unanswered. But there are ways of properly replying to not so great guest reviews, in order to diffuse any issues and leave the right impressions in the eyes of future guests.
When crafting a reply to a negative or positive review, keep in mind a few techniques. First, open with a personal "thank you". Also, let the guest know that you appreciate the feedback, and that it is will trigger the process to help you make future improvements. Always remember that keeping your audience satisfied keeps your business going. Additionally, negative feedback can be looked at through a positive lens, since in most cases it signals actual issues and most of those issues are mendable. This is why you should definitely thank the guest, for their time and for their insights.
Next, clearly address the concern and how it will be resolved in the future. It is not enough to only take credit for the negative experiences of the guest. You have to assure them, directly, and future guests, indirectly, that you will take the necessary measures so that the specific thing that caused a complaint or issue will not happen again. As the public review has now made future guests aware of the issue, it's even more important to truly make the improvement.
Finally, when ending your reply, consider the "sandwich approach". The secret is to start with something positive (thanking the guest), address the negative (taking credit for the issues and trying to solve them ASAP), and go back to the positive, in order to end the reply on a good note.
4. Keep Up with Trends by Considering Content in Social Reviews
Can you clearly define your hotel's Unique Value Proposition (UVP)? You may have your brand's standard definition of this clearly outlined, but that may not always align with your guest's views.
The best way to get to know what your guests value most is by paying attention to what they're saying online. When aggregated, online reviews, including social media posts, can have significant insights into your guest's preferences. The millennial generation is especially apt to sharing their comments through social media, with nearly 97% having shared an experience with friends on Social Media while traveling.
Hotels that are active on social media will see these comments more often, and should take advantage of engaging with these posts. This can not only impact the online perception of your hotel, but also inform your future social media topics and content. For example, if many guests seem to enjoy the new fire pit by sharing a picture online, make sure to incorporate that fire pit into your proactive social posts.
Social media informs hotels of what's trendy on property, and in the travel industry, in general. If you are not finding enough engagement for your own hotel on social media, see what kind of action other hotels similar to yours are receiving. It's a vast social media world, with lots of good information at your fingertips. With the right path of exploration, you're bound to find the trends and topics you're looking for quickly and easily.
5. Influence the Influencers that Use Social Media to Build their Brand
Influencer marketing has increased in popularity over the last few years, primarily as Instagram has grown as a top social media channel. You've probably seen a post like this before – a beautiful picture, of a beautiful person, in a destination or place you have never heard of. Rare destinations and unique hotels have leaned into influencer marketing to spread the good word and boost online visibility.
As I said before, Instagram is the leading channel for social media influencers. That is probably because posts that include images produce 650% higher engagementthan text-only posts. Visuals are the most attention-grabbing type of content that users can understand and engage with easily. Also, it has been predicted that 84% of communications will be visual by 2018, so the time to start focusing on channels that revolve around visuals is now.
Once you've discovered your hotel's UVP, a great way to spread the word is to "influence the influencers". Find out what Instagram accounts are getting the most attention in your destination, or from similar hotels, and engage with these accounts. While they will usually prioritize the companies they have partnerships with, they are nevertheless still the right people to rub shoulders with. If possible, try out a small, short-term campaign with one of these influencers and measure the return. These unique social media strategies attract attention, and can have a reach well beyond brand awareness.
The case for social media has been made as the most successful hotel brands around the world use it to reach their marketing goals. There are many ways you can make social media work for your hotel. Think of social media platforms as review channels. By incorporating review marketing into your social strategy, you can reach new targets, accomplish more goals, and ultimately, drive more revenue for your hotel.
HotelExecutive.com retains the copyright to the articles published in the Hotel Business Review. Articles cannot be republished without prior written consent by HotelExecutive.com.